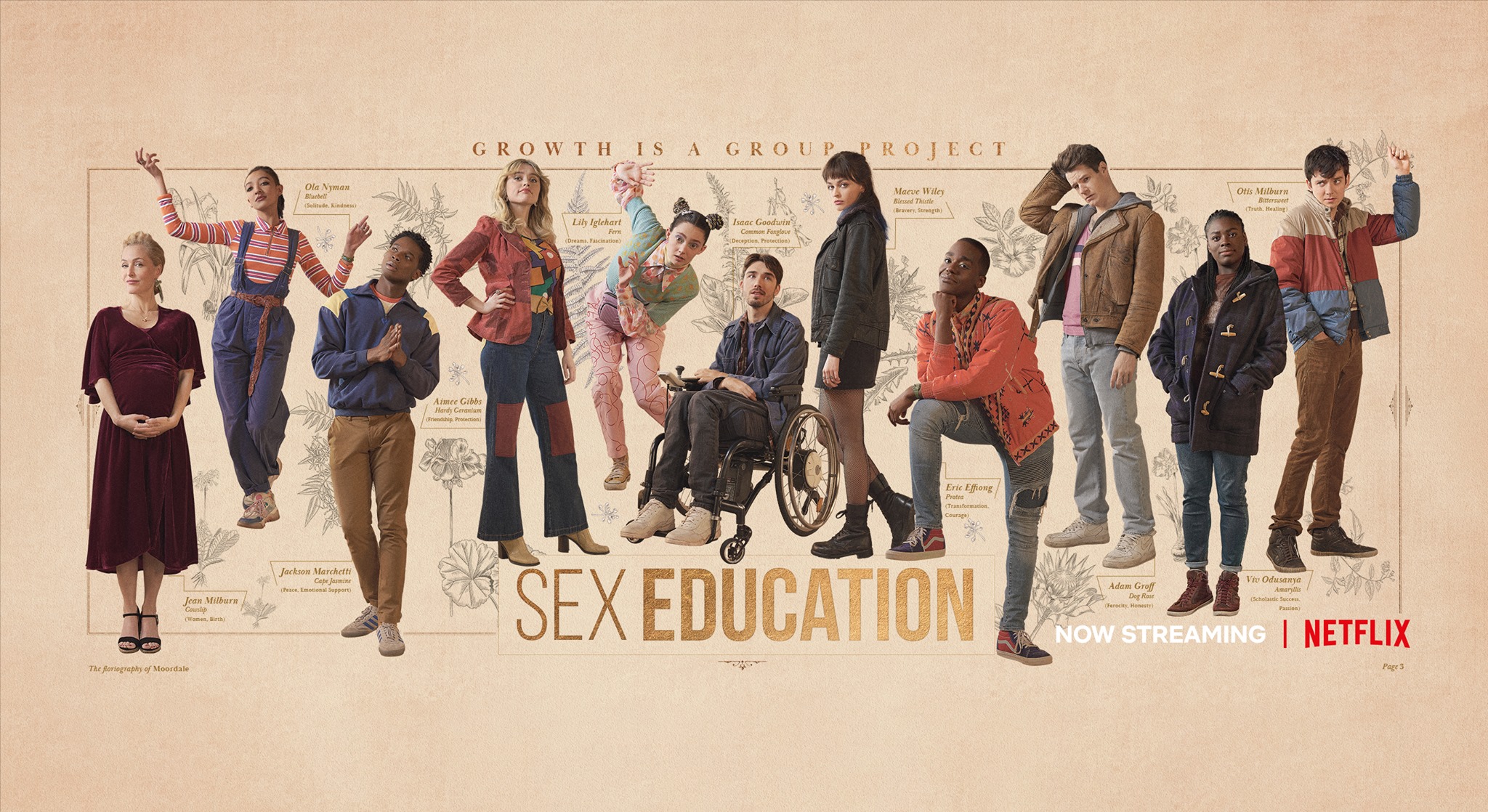 Digital Editor Tamzin Meyer reviews the highly anticipated third season of Sex Education, with its focus on character development and self-expression in all forms
Sex Education stuck its middle finger up to the education system yet again, with season three of the Netflix favourite making its way to our screens this month and it was everything teens and young adults needed. After a pandemic putting an end to our dating game, viewers were bound to be looking towards Otis Milburn (Asa Butterfield) and Maeve Wiley (Emma Mackey) for advice. This season was refreshing as it delved deeper into the love lives of returning characters; it was not as sex focused, with the 'Sex Clinic' being shut down. Instead it focused on relationships and characters finding themselves, using their time at Sixth Form as a time for self discovery and breaking down communication barriers.
The stories that were the most applause worthy were certainly Ruby Matthews (Mimi Keene) and Otis' and Adam Groff (Connor Swindells) and Eric Effiong's (Ncuti Gatwa) relationships. Popular girl Ruby had been portrayed as having somewhat of a 'mean girl' persona in the first couple of seasons of the show, yet this season uncovered a new side to her that instantly made her one of the viewers' favourite characters of the season. Her vulnerability showed through her hard exterior as she let her guard down and confessed her love to Otis despite fears that this may damage her reputation. Otis could have really been the rock that Ruby was looking for as her home life was far from the glamorous one she liked people to think she had, being desperate to be loved by those around her – if only Otis had not been caught up on Maeve – perhaps things could have worked out. 
Adam and Eric's relationship was just as emotional; it was clear that things were not going to work out between the pair no matter how much viewers wanted it to. The sad truth was that they were simply at different stages on their journey to self-acceptance with Eric wanting to be in a very public and free relationship whilst Adam was not yet as comfortable being in a relationship with another boy. Adam's journey really was an emotional rollercoaster, and drew parallels on Ruby's journey to breaking down the personal barriers they both faced. When Adam confessed his love in a poem that Eric never had the pleasure of reading, that was enough to draw on the heart-strings of anybody.
Identity was also a huge part of this season as new headteacher, Hope Haddon (Jemima Kirke), tried to do everything she could to stop students of Moordale from expressing who they were (a scenario that eerily reflected the set up of schools in the UK.) This is where key issues of gender identity, self-expression and sex education in schools were expressed with students such as Cal Bowman (Dua Saleh) campaigning for the right to express their identity. This season was particularly important in reflecting the current education system in today's society; more needs to be done to accept individuals who do not conform to gender binaries and more needs to be done to break the taboo in schools regarding sexual pleasure and expression. Sex Education sticks its middle finger up to the education system as it urges young viewers to listen to the advice of Jean Milburn (Gillian Anderson) and be comfortable in their own skin, standing up for what they believe in. Young people need to feel comfortable in their own skin and how can they do that if the education system is set on making them identical to one another? Sex Education Season Three provides a platform to help young people tackle an issue that they may otherwise have not have had the courage to speak up about.
Rating: 4.5/5
---
Check out more Redbrick TV here:
Why Detectorists is Seriously Underrated