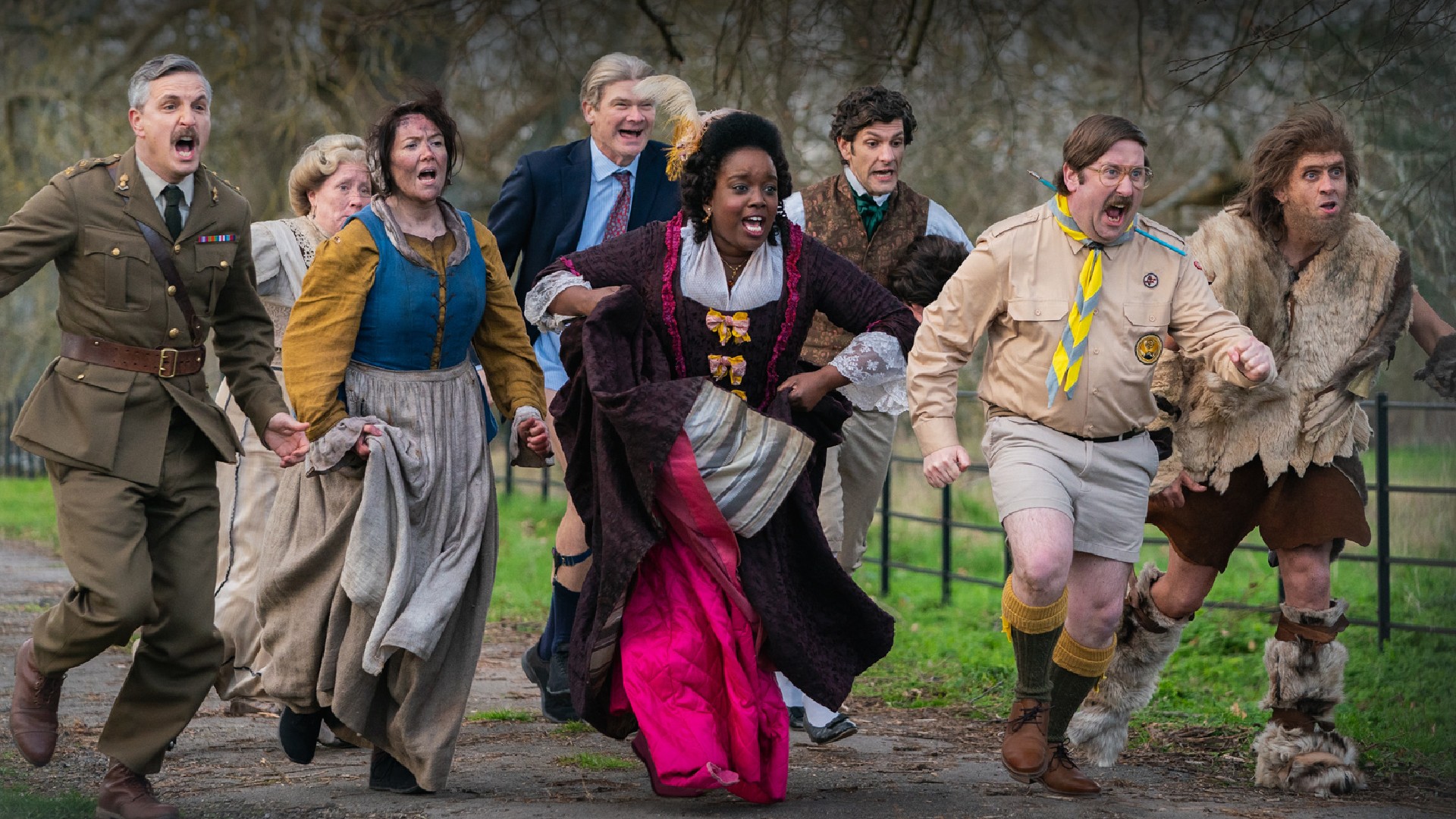 Film Editor Samantha Hicks praises the Horrible Histories gang for the third season of their sitcom Ghosts, compelled by its humour and heart
Like most children growing up in the 2000s, I was obsessed with Horrible Histories, mostly due to the hilarious cast that brought historical figures and events to life. You can only imagine my excitement when I discovered that the very same ensemble features in what is arguably the best British comedy on television at the moment – Ghosts. Known affectionately as the 'Six Idiots', Ben Willbond, Mathew Baynton, Martha Howe-Douglas, Laurence Rickard, Jim Howick, and Simon Farnaby teamed up with Stath Lets Flats director Tom Kingsley to create Ghosts in 2019. Fast-forward two years and Series Three has just finished airing, and it is safe to say that the quality of this show is only increasing with each new instalment.
Ghosts follows the story of Alison (Charlotte Ritchie) after a freak accident involving the ghost of a disgraced Tory MP leaves her able to see and interact with the spirits living in her newly-inherited manor home, Button House. If this sounds absurd, you would be correct – but this is absolutely part of the charm of the show. Series Three continues the story: a new character, Lucy (Jessica Knappett), is introduced, and we watch as the ghosts try to work out whether she is friend or foe. Alongside this, we follow as Alison and Mike (Kiell Smith-Bynoe) work to develop their stately home into the ideal venue, which leads to some hilarious scenes involving Mike attempting to shoot drone footage of the house as ghost Julian (Farnaby) does what he can to meddle with the process.
It is impossible not to fall in love with each quirky character even more in Series Three, from Mary (Katy Wix) rejoicing over the 'pardoning' of ITV's Loose Women, to The Captain (Willbond) going into Word War Two intelligence-gathering mode when a mystery unfolds in Button House. One of the best parts of Ghosts, reinforced in this instalment, is that out of the eleven main characters, not one sticks out as being more important than another – all bring such a valuable and entertaining dimension to the show.
Series Three, whilst on the whole being gentle and entertaining, also explores some of the sadder backstories of Alison's ghostly housemates. In the episode 'Something To Share', a personal highlight of Series Three, we learn about the ostracism faced by Kitty (Lolly Adefope) during her life, and the cruel treatment she received from those close to her as a result. Similarly, we see The Captain attempting to articulate his sexuality to his fellow ghosts and Alison – an aspect of his character which has been heavily alluded to throughout the series. These moments, of course, are balanced with plenty of jokes – after recounting her difficult upbringing, Kitty simply smiles and says she is glad that her sister was 'nice the rest of the time'. It must be noted, however, that the accompanying jokes do not take away from the more serious moments – very real issues are addressed without being the punchline.
It is clear that the collaborative writing process that goes into Ghosts is perfect for creating a show where every single episode is a wholesome and enjoyable insight into what life would be like sharing a house with an eclectic group of ghosts. It may not be the educational programme that Horrible Histories was, but Ghosts certainly does well at bringing history to life for a mainstream audience. Being a work of fiction, we may not be encountering the most historically accurate storylines, nevertheless, Ghosts is perfect for anyone wanting to engage with history in a more accessible and relatable manner – providing a great gateway to becoming interested in the past. For a show that does not claim to be educational, I think that the portrayal of characters from a range of backgrounds (showing both ethnic minorities from the 1700s and members of the LGBTQ+ community) is crucial in subtly breaking down common misconceptions about these peoples' existence in the history of Britain.
Despite my mounting excitement and high expectations, Series Three of Ghosts did not disappoint. If anything, the most recent instalment was even better than I could have anticipated. Ghosts truly is the crème de la crème of British comedy, and my only criticism is the lack of news surrounding renewal for a fourth series. Ghosts is one of those rare series that can appeal to such a wide range of people and interests; the whole series is undoubtedly worth a watch. Hilarious, heart-warming, and charmingly offbeat, Ghosts Series Three continues the series' reputation as a shining example of perfect British television.
Rating: 5/5
---
Like comedies? Check out more Redbrick TV reviews here:
Why Tuca & Bertie is Seriously Underrated
TV Character Spotlight – Leslie Knope (Parks & Recreation)
Review: Brooklyn Nine-Nine – Season 7