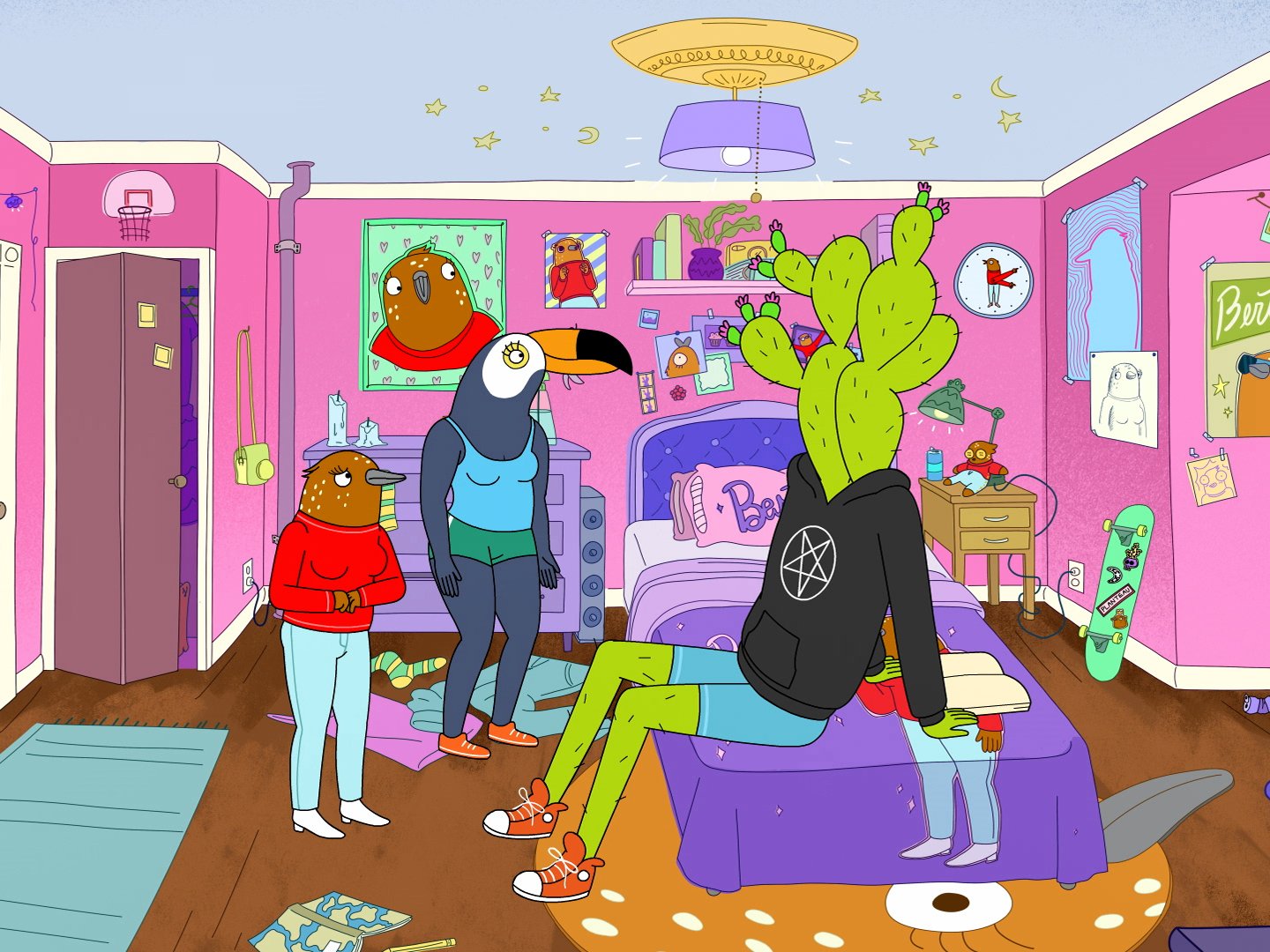 Film Editor Samantha Hicks praises underrated adult cartoon Tuca & Bertie for its ability to perfectly balance comedy and serious topics
An adult cartoon with female leads that caters to a female audience is hard to come by. Adult cartoons are undeniably incredibly popular, with recent favourites such as BoJack Horseman and Rick and Morty quickly gaining the popular following of classics like The Simpsons and Futurama; however, these shows (whilst being hilarious) tend to be skewed towards a male audience. Enter Lisa Hanawalt's Tuca & Bertie, the perfect show to fill this gap in the market. Tuca & Bertie is absurd, wholesome, and unafraid to shy away from important issues. With episodes tackling everything from sexual harassment to anxiety, Tuca & Bertie speaks directly to the experiences and struggles of its audience. Paired with hilarious writing and a charming animation style, Tuca & Bertie deserves much more recognition than it gets. 
Tuca & Bertie is just one show on the long list of programmes that have fallen victim to cancellation by Netflix. Just two months after Season One was released in 2019, the  streaming service announced that the show was not to be renewed, despite receiving critical acclaim and a slowly increasing viewership. This quick cancellation and its smaller United Kingdom audience means that Tuca & Bertie has remained a true hidden gem. 
Featuring the voices of comedians Tiffany Haddish as Tuca (the carefree and wild toucan) and Ali Wong as Bertie (the nervous and lovable songbird) as the titular duo, Tuca & Bertie is perfectly cast. For an animated show to be able to juggle comedy and serious issues, an expert voice cast is absolutely necessary – it is a difficult balance to achieve. Haddish and Wong both flawlessly embody two very different characters, each with characteristics that any viewer can see parts of themselves reflected in. 
Tuca & Bertie is unique in its subject matter, perfectly striking the balance between humour and addressing the very real issues faced by women in all walks of life – issues that are rarely addressed in a sensitive manner within adult cartoons. Created by and for women, the stories told in Hanawalt's show were long overdue attention in popular culture. The animation industry has a huge problem in terms of gender bias – Hanawalt speaks of the 'sheer luck' of her break into the animation world: both behind the scenes and within the content of each episode, Tuca & Bertie pushes the boundaries of popular animation. It is abundantly clear just how important a show like Tuca & Bertie is in addressing these issues, but its unique position in the industry explains why it has been repeatedly overlooked. 
Not only is Tuca & Bertie groundbreaking behind the scenes, but the endlessly relatable stories shown resonate with its majority-female audience. Telling tales of experiences with misogyny, sexual assault, and childhood trauma, these anthropomorphic beings paint a painfully relatable, yet comfortingly affirming portrait of women's issues. Fans of BoJack Horseman will recognise similarities with Tuca & Bertie's charming animation style, as Lisa Hanawalt was a production designer on the show.  
Thankfully, Adult Swim picked up Tuca & Bertie almost a year after its initial cancellation, and whilst Season Two has not quite made its way across the pond, it is a promising start for the show finally getting the recognition it undeniably deserves. As it stands now, Tuca & Bertie is still severely underrated, but one can only hope that this will soon change.
Whether you are the target audience or not, Tuca & Bertie is definitely worth a watch. A true hidden gem, Tuca & Bertie is one of the first animations of its kind, being an adult animation by, for, and about women. The sidelining of women in the animation industry has unfairly caused Tuca & Bertie to fly under the radar, but I could not recommend the hilarious and wholesome series enough.
---
Want to read about more hidden gems?
Why Better Call Saul is Seriously Underrated
Why Mythic Quest is Seriously Underrated