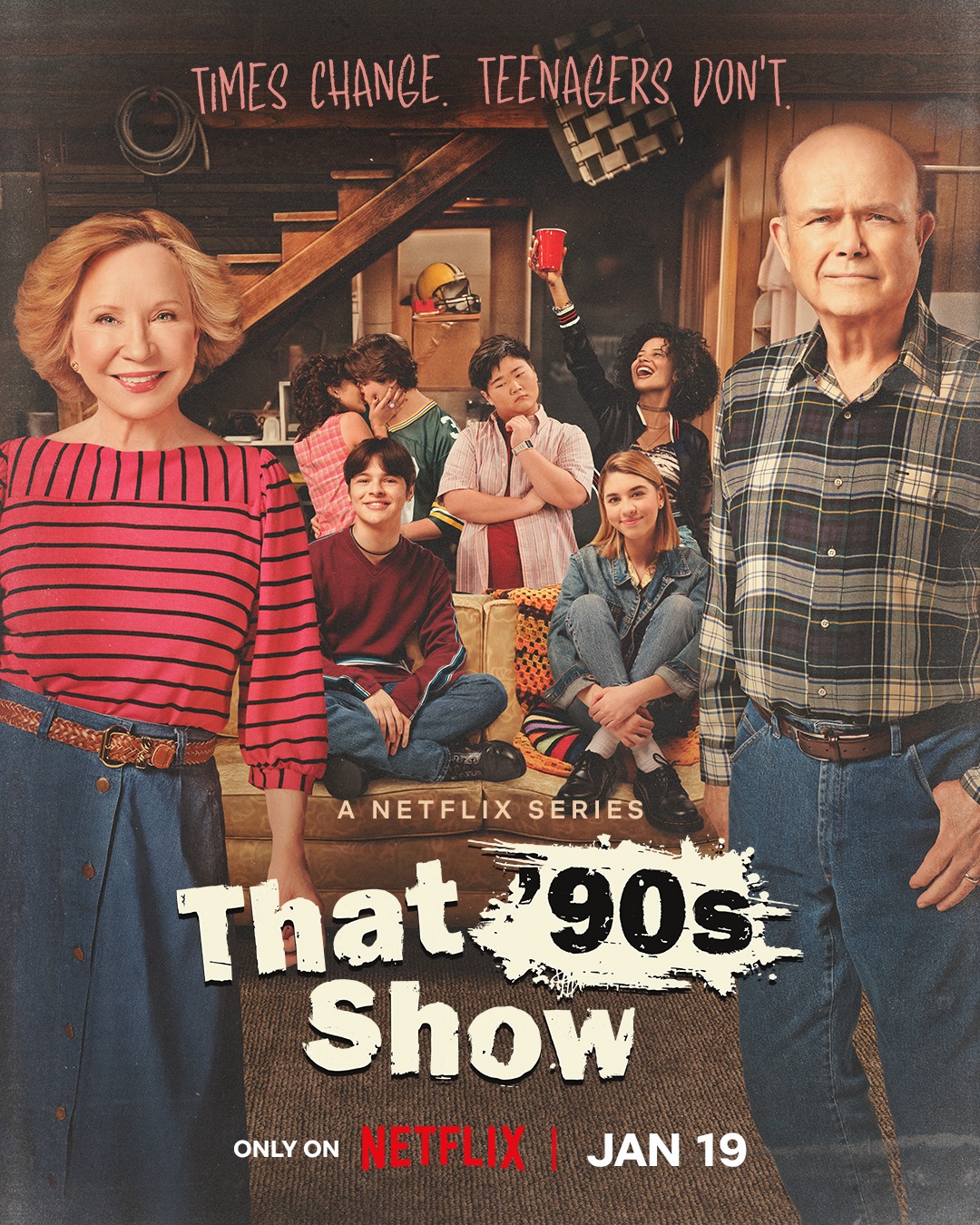 TV writer Sammy Andrews revels in the nostalgic elements of the Netflix series, while believing that its new time setting and characters could be explored in greater depth
If, like me, the lyrics 'Hanging out, down the street' instills a wave of nostalgia in you, it's very likely you hold That '70s Show very close to your heart. Since its release, it has become a cult favourite, and now, a new generation are here to take up the basement for their own in That '90s Show. Kitty (Debra Jo Rupp) and Red (Kurtwood Smith) open their basement once again to a new group of teenage misfits as Eric (Topher Grace) and Donna's (Laura Prepon) daughter Leia (Callie Haverda) stays in Point Place over the summer break. Following mainly Leia and her journey to discover herself, and have an exciting summer break that echoes the fun stories she has been told of her parents' youth, the show follows a very similar premise to its predecessor.
That '90s Show ultimately relies on nostalgia for That '70s Show. But, I also think that it celebrates this in really fun ways. A lot of running jokes return, like Red's aggressive quips and the basement smoke circle. We also see cameos from various fan favourite characters that are throughout the show in a way that keeps you excited for who might appear next.
This is not to say the new generation of teenage misfits do not hold their own in the show. In fact, what the show has cleverly done is used the nostalgia elements to invite back the franchise's prior fan-base, before introducing the new character's story lines to get them hooked. Leia's self-discovery is really engaging to watch, and her growing friendships with the group, and particularly with new best friend Gwen (Ashley Aufderheide), are truly charming. Calling back to the days of Jackie (Mila Kunis) and Kelso (Ashton Kutcher), the relationship between Nikki (Sam Morelos) and Nate (Maxwell Acee Donovan) particularly offers a lot of humour. Equally, Ozzie (Reyn Doi) offers a heart-warming navigation of what it means to come of age as a queer teenager in the '90s. Sadly though, this never quite gets developed enough so that the audience can truly feel invested in his arc.
What does feel prevalent throughout is that this is a new generation of already familiar characters. This is notably demonstrated in how Jackie and Kelso's son, Jay (Mace Coronel) is also a member of the friendship group. I think for a first season, That '90s Show has relies on parallels to its prior characters, and perhaps at times too heavily. The '90s as a period could offer a lot of scope for pop culture references, and whilst the costumes and references to 90210 were very fun, the feeling is always present that more could be achieved through its setting.
Despite relying on the nostalgia of That '70s Show, the characters and story lines are strong enough to have their own appeal. That '90s Show has set extremely solid groundwork to return and fully delve into these new characters. After the news that it has been renewed by Netflix for a second season, I hope that they choose to delve into these new characters with more nuance. Fundamentally, That '70s Show thrived because of its humanity, and I think That '90s Show has a strong chance to do the same.
Rating: 3/5
---
If you enjoyed this, check out more below!
Review: Prince Andrew: The Musical