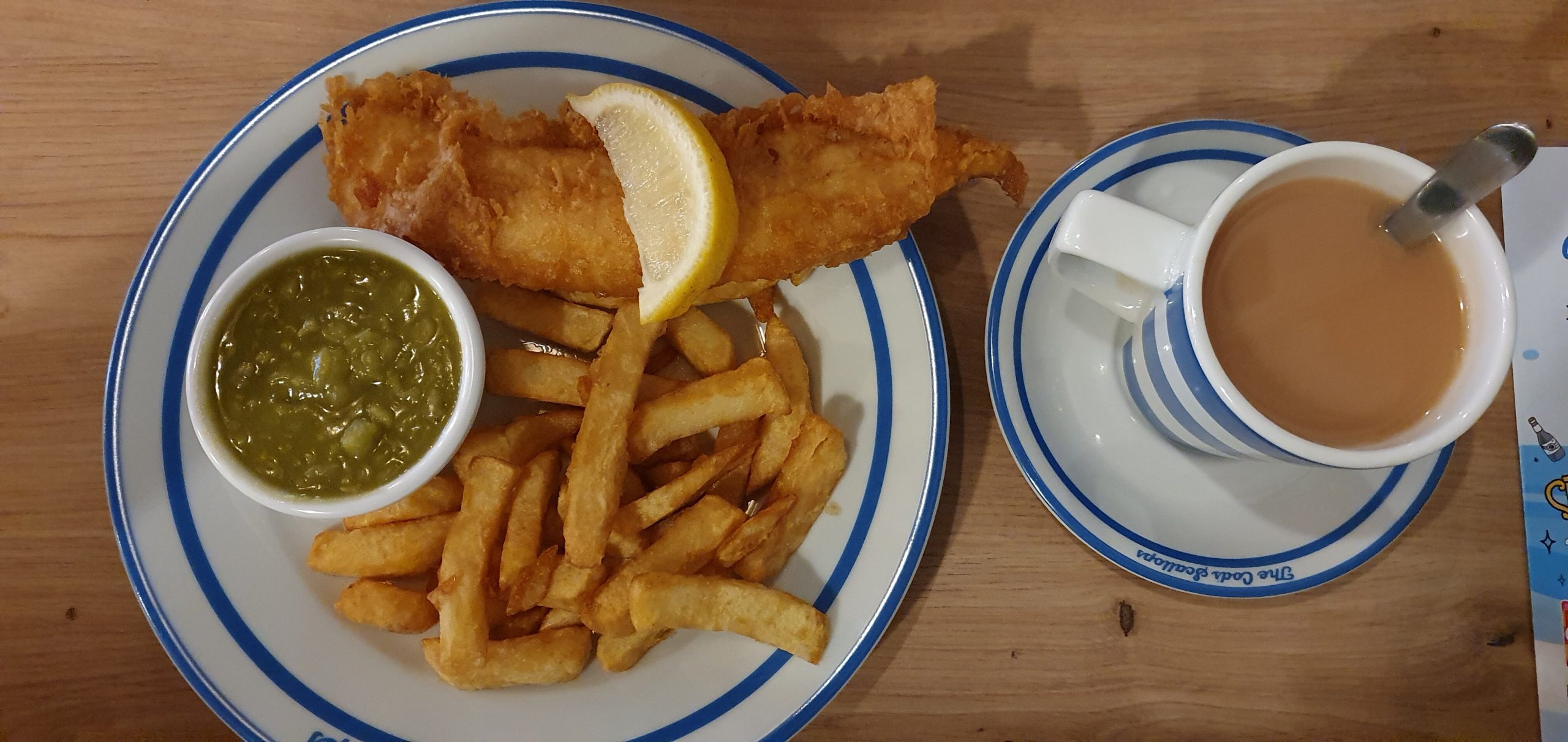 Food&Drink editor, Sarah Cayless, and Food&Drink writer, Nicole Morris review Harborne's new tasty and sustainable fish and chip shop, The Cod's Scallops
We were strolling through Harborne when we abruptly stopped in our tracks, arrested by a sign proclaiming to be the best fish and chip shop in the UK. As we were stood outside perusing the menu, the chef gave us a welcoming grin that reeled us in.
This friendly service continued when we were seated. Our waitresses were attentive and helpful, even offering us a leaflet which explained the flavour profiles of the various fish. The ethos of the restaurant revolves around sourcing their fish sustainably. This is something which makes the restaurant stand out.
In The Cod's Scallops you will find a hybridisation between a restaurant and a fish and chip takeaway which created a relaxed, but bustling, atmosphere. The décor reflected the menu as it is nautical-themed. They have managed to pull this off in a charming way, which was a relief, as more often than not when a seaside look is attempted you feel as though you have stumbled into a poorly decorated bathroom.
The menu was varied and catered to different dietary requirements. The chips are vegan, therefore there is no need to miss out. There were plenty of different alternatives to fish such as arancini, a pie and a range of Indian-inspired small plates. Additionally, the dessert options were just as extensive as the main menu. These included a mixture of hot and cold puddings as well as sundaes.
We opted for the lunchtime special. This consisted of a small cod and chips accompanied by mushy peas and served with a choice of tea or coffee, all for £9. The golden batter was light and crispy, enclosing the succulent fish which flaked at the lightest touch of a fork. Another quirk to the restaurant was that they had a board explaining which variety of potato was being used that day. We cannot remember which variety was used during our visit, but the chips were excellent and not greasy.
If we were to fault the meal in any way, it would be down to the mushy peas. The flavour was adequate, but their texture was akin to that of a pea soup. The meal was completed by the Cod's Scallops' response to Ketchup: their 'Red Sauce' was sweet but had a kick of spice to it which enhanced the chips nicely. In fact, we liked the sauce so much we bought a bottle on the way out.
The final standout was the way in which the fresh fish was laid out on ice as though in a fishmongers. This instantly reassures you about the freshness of the produce. It is nice to see a new restaurant which is committed to working towards a sustainable future.
We would recommend this restaurant as a place to go when you need a relaxed, but reliably tasty lunch. It is also excellent for people wanting to explore a variety of fish. It was indeed the cod's scallops.
---
Craving more tasty articles to read? Have a look at these new pieces:
Review: Mcdonald's McPlant Burger
Comfort Meal Recipe: Salmon Risotto