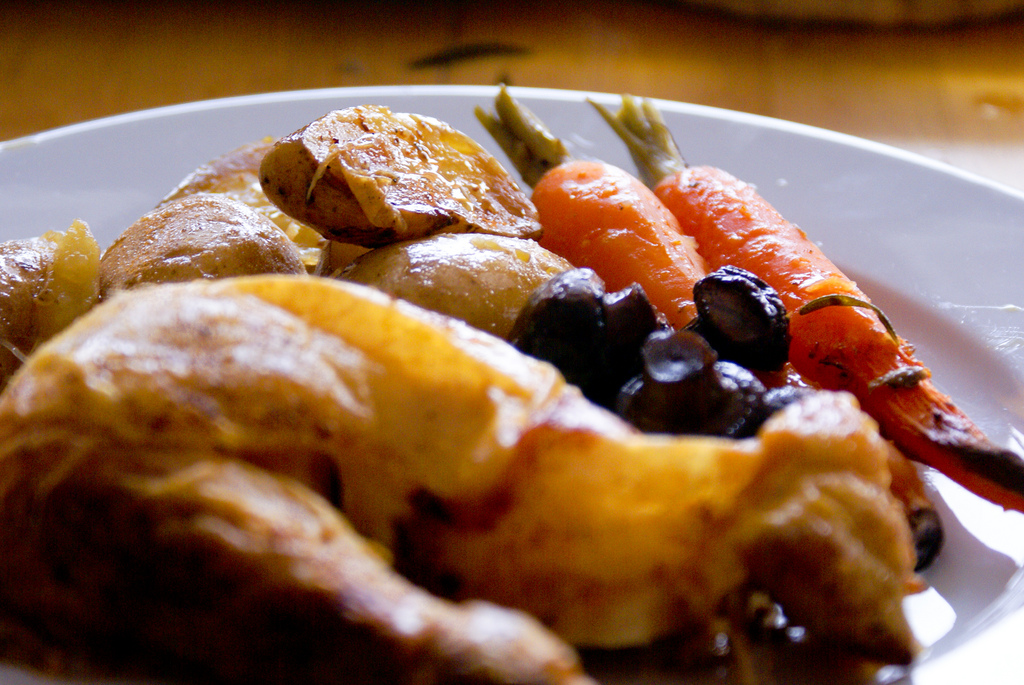 Food & Drink's Emily Breeds reviews The King's Head as one of the top places to go for your celebratory Sunday roast
My housemates and I were in for a treat when we visited The King's Head for our Christmas meal. Only a 10-minute drive outside of Selly Oak, just outside Harborne on Hagley Road, I can assure you that it's worth the Uber fare. The pub, which has been around for over 100 years, was beautifully decorated for Christmas, with lights and wreaths wrapped around the wooden staircase. Though it felt cosy, the room was spaciously laid out, most likely for the busy staff to reach each table with their heaped plates of food and trays of drinks.
Whilst I try and maintain a meat-free diet at university, I (very frequently) slip up, and this meal was no exception. The Sunday Lunch menu came with a set amount of sides, and the final price depended on what meat or veggie option you chose. In the spirit of Christmas and 'treat yourself,' I decided to go for the 'trio' option, comprising of roast beef, honey roast ham and turkey, which came to £15.95.
Though pricey for a student, it was money well spent, as the meats were tender and perfectly cooked, and my plate was also brimming with delicious sides: stuffing, the biggest Yorkshire pudding I'd ever seen, potatoes roasted in duck fat, carrot and swede puree, braised red cabbage, honey roast carrots and parsnips, cauliflower cheese and lots of gravy.
Unfortunately, I missed out on the sugar snap peas they were also meant to serve, but what was on my plate was flavoursome and filling enough, so I wouldn't have had room for them anyway. A refreshing and pretty strong Kiwi Caipirinha cocktail, served in a copper tumbler and decorated with a dried kiwi, finished off my meal. Priced at £6.95, it meant I spent £22.90 overall, but the special occasion and how tasty it all was justified my spending and day-drinking.
My friends wisely went for the cheaper options, though they didn't miss out on anything. Two of them went for the honey-roast ham, which they absolutely loved, and came to £10.95. The lovely staff easily sorted out one of my friend's request for no stuffing due to the possibility of it containing nuts, and continued to check up on us and brought the food quickly, as well as taking our photos after we asked!
A pint of Strongbow and a pint of apple juice were reasonably priced at £3.70 and £2.20 respectively. The pub also offered a good range of cocktails, gins and draught beers and ales, though some brands had differing prices.
My other two friends opted for the vegetarian roasts, which were even cheaper at £8.95 and had veggie-friendly sides without the stuffing and with regular roast potatoes. The goat's cheese was beautifully cooked, mild, and just as filling as the meat. However, that was the only vegetarian option they offered, against the seven meat options and no vegan options. I had a peek at the regular menu on the way out. The 'dirty fries,' burgers and grill sounded great, and the menu contained a good mix of veggie and non-veggie options, though it was sadly still lacking vegan options.
Overall, I definitely would recommend this pub again. Whether just for a pint or a full roast dinner, it is money well-spent, from the transport to the delicious food and drink. If you're looking for somewhere in Birmingham for your latest celebration, The King's Head is the place to go.