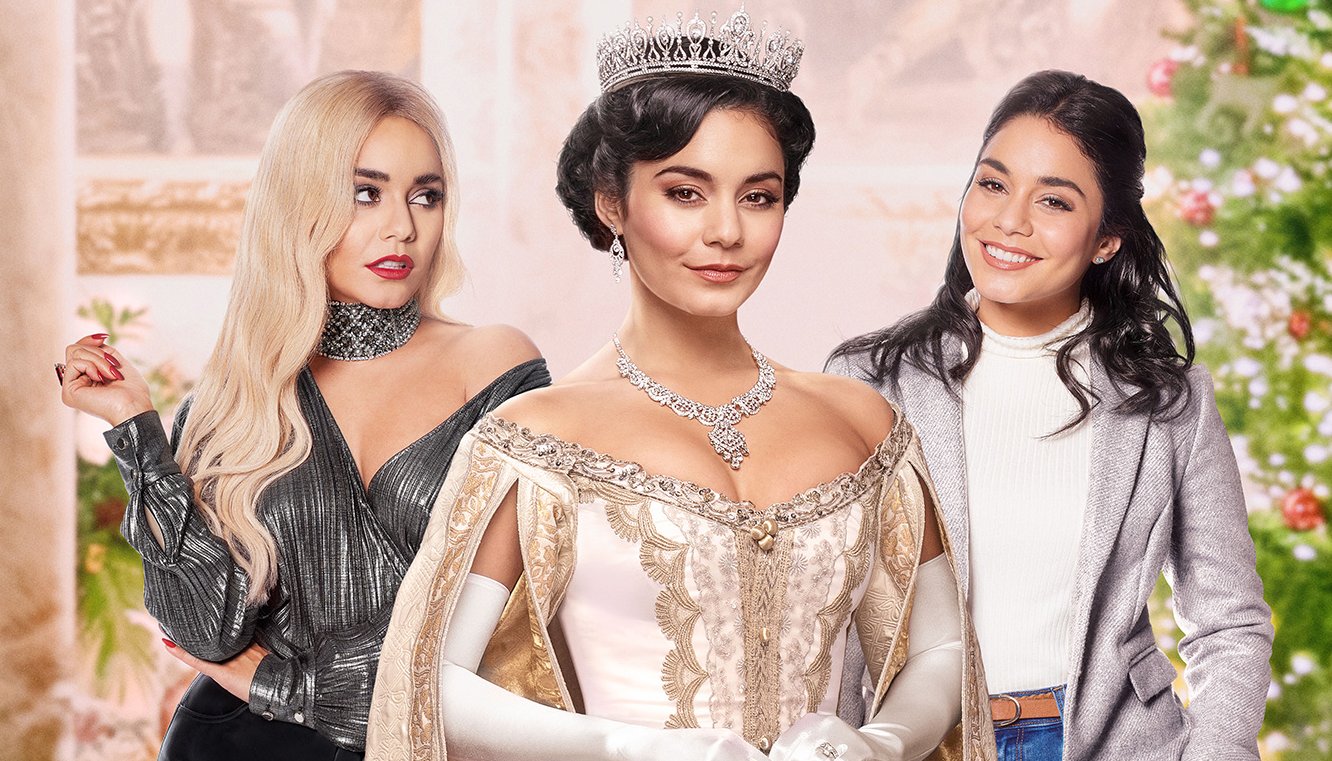 Film Critic Maisie McCormick enjoys the easy-going fun of Netflix's The Princess Switch: Switched Again
The Princess Switch: Switched Again is a striking sequel to the Netflix original The Princess Switch. The film sees Stacy (Vanessa Hudgens) and her husband Prince Edward (Sam Palladio) attempt to reunite Kevin (Nick Sagar) with Margaret (Vanessa Hudgens, again) during her unexpected coronation. The princesses swap places once more to help Kevin and Margaret spend time together without the burden of her queenly duties and understand why they broke up. However, their plans are foiled by cousin Fiona (Vanessa Hudgens) who wishes to take the throne for her own economic gain. Although it might sound like a confusing storyline, the film is easy to follow and provides us with some much-needed light-hearted escapism, perfect for Christmas time. 
Although The Princess Switch: Switched Again is completely predictable and incredibly cheesy at times, these qualities have come to be central to Netflix original festive films. It is impossible to watch one without cringing at some point or another. Yet, it is also impossible to not find yourself drawn into the world of the characters and rooting for the couple to get together in the end. It is a film that you will either love or hate, but if you can look past the unrealistic elements – like how the characters do not see the fact that all three women played by Hudgens are exactly alike – then the film is an enjoyable and easy watch.  
A particularly noticeable part of The Princess Switch: Switched Again is how aesthetically pleasing it is. Beautiful gowns, jewels galore and spectacular Christmas decorations all add to the magic and create a stunning atmosphere. In fact, one scene is dedicated purely to seeing the characters decorate the castle with festive Christmas trees, wreaths and tinsel. One of the most aesthetic scenes is the ball, with gowns which sparkle and shine. Everything remotely associated with Christmas time is included, like making snowmen, hot chocolate and of course, many references to what the true meaning of the holiday is. All of these aspects combine to make one clichéd festive film that we nevertheless enjoy.  
For fans of the film, there is good news, as Netflix has announced there will be a third movie, also directed by Mike Rohl. Who knows what will happen in the third installation? Another switch? Another royal for Hudgens to play? I, for one, am eagerly awaiting the news.  
Verdict: 
If you can look past the cheesiness, predictability and cringeworthy moments, you will find yourself enjoying this easy-going Christmas film. With a plot that keeps you on your toes and rooting for a happy and romantic ending, The Princess Switch: Switched Again is a great feel-good film.  
7/10 
---
Want more Netflix recommendations? Check out these picks from Redbrick Film: