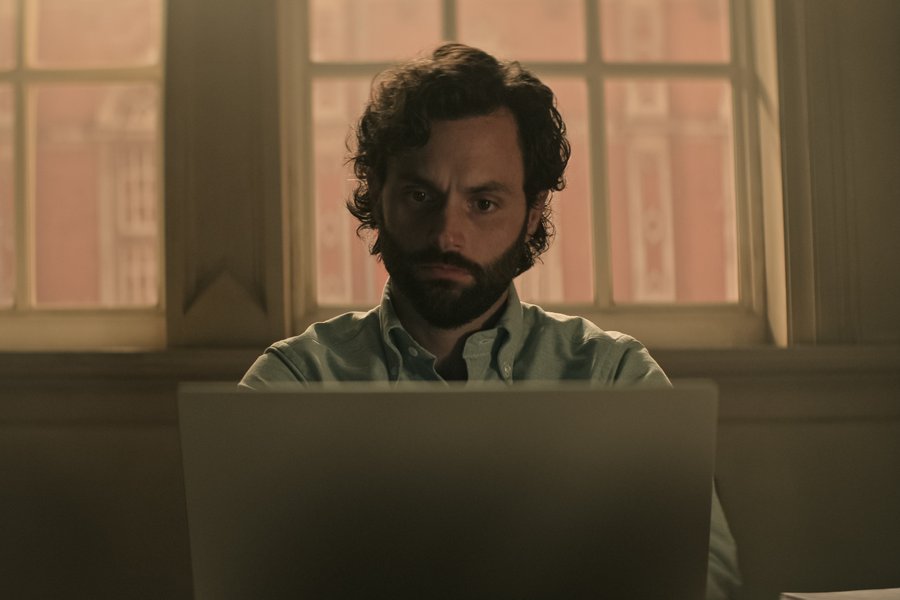 Film Editor Jess Parker reflects on how You's season four adapts the show's formula, praising its attempt at something new, however noting its undeniably shaky premise
The first part of fan-favourite Netflix Original You's fourth season dropped to the streaming platform on 9 February 2023, prompting a vast range of responses from viewers about the new instalment. The series has received mixed reviews, prompting conversations concerning the show's longevity. 
The first three series of You ran fairly formulaically, following Joe Goldberg (Penn Badgley) as he obsesses over a host of different unsuspecting young women. Beginning the first series by stalking New Yorker Beck (Elizabeth Lail), Joe's passion erupts in a violent outburst that means he must assume a new life. Joe moves on to LA-local Love Quinn (Victoria Pedretti) in series two and three, eventually settling into family life with a young son. As his attention predictably sways from Love, his now wife, the two reach an emotional climax that results in Love's death, prompting Joe to assume a new life in England as University professor Jonathan Moore. 
Season Four is predominantly set in London, revolving around the Oxford Circle: a group of friends representing the capital's most elite. As a mysterious serial killer looks to take them down, Joe strays from his traditional prey of attractive young women to the elusive murderer. The series takes on the formula of a murder mystery, inspiring book-lover Joe to pull his eyes away from his possible new love interest Kate (Charlotte Ritchie) and focus on the task at hand. The series peaks as the group take a short break from the university to stay in a remote country house together, narrowing the murder-mystery frame deeper into the genre's tropes.  
Series four's cast evidently worked very hard to bring the series' slightly shaky premise to life. You is trying to find its feet in its transition away from its predictable stalker narratives, and this new group are certainly a breath of fresh air from the intense Americanisms of the previous three seasons. Charlotte Ritchie is probably the strongest of the bunch and does her best to fill the immense void that remains in Love Quinn's absence, however difficult that may be. Fans do not appear to have taken to her performance as kindly as they did with Pedretti's; however, if her fanbase from Ghosts UK is anything to judge by, this hopefully will have calmed down in the show's second part. 
The location is critical to series four, and the show's Britishisms are not handled too thoughtfully. From the caricatured portrayals of English accents to Joe's 6-hour walk to work, it feels as though You's production team have not met a single English person in their lives, let alone consulted them. A single click on google maps would have solved some of the show's most straightforward blunders, making You's production feel rushed, sloppy, and careless. 
As previously stated, Love Quinn's absence is immensely felt after series three's shocking ending. Love Quinn was a fan favourite whose emotional depth and witty intelligence lent well as a balanced opposition to Joe's vivid fantasies and obsessions. Many fans speculated that Love would return to the show and that series three's ending was intended to fool Joe and audiences into a false sense of security. However, the eventuality of Love returning feels ever more unlikely as part one progresses, with many losing hope in seeing Love alive on our screens again.  
Season four (part one) seems incredibly confused as to where it stands on its use of the recently popularised 'eat the rich trope'. Although Joe feels that he is above his newly acquired peers, he continuously works to impress them and keep them present in his day-to-day life, seemingly assimilating farther into their tight-knit group throughout the series. His motives are unclear, as he seems to despise them as equally as he wants to be them.  
Sadly, it feels as though You is nearing the end of the line. Although it has made a bold attempt to alter its repetitive formula, You feels as though it has run out of steam with all that Joe Goldberg has to offer. Even though Netflix will most likely continue to churn out new series of the show for as long as it retains an audience, viewers can probably expect a decline in the show's quality and depth. Perhaps part two will salvage what part one has shakily set up for itself; however, it does not feel like You has much more to give.
Rating: 3/5
---
If you enjoyed this, check out some other articles here!
The Last of Us: The First Successful TV Adaptation