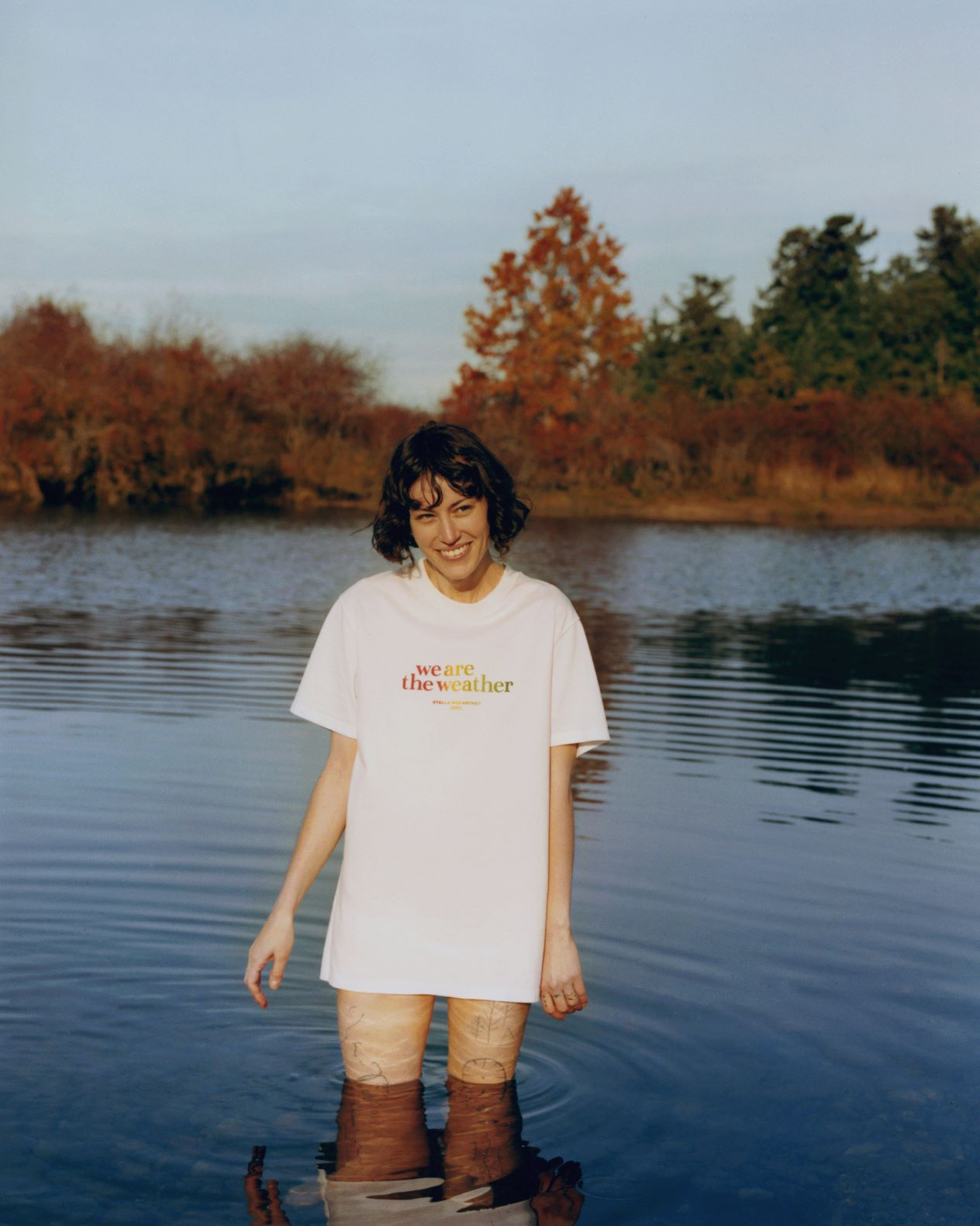 Stella McCartney and Jonathan Safran Foer join forces to create sustainable clothing, Niamh Nicholls reports
Designer Stella McCartney and author Jonathan Safran Foer have recently collaborated on a clothing collection entitled We Are The Weather, which supports sustainable fashion and measures to help save the environment. McCartney, a vegan herself, was inspired by friend Foer's book of the same title, which argues in favour of a vegetarian meat free lifestyle, explaining how 'animal agriculture produces more greenhouse gas emissions than the entire transportation sector.' McCartney found similarities between the animal agriculture sector and fashion, arguing that we need to change our shopping habits urgently. The collection comes at a pivotal time for the fashion industry as its being scrutinised for its negative impact on the environment.
For the design of the line, McCartney focused her attention on light and refreshing spring colours set against earthy tones such as khaki and grey. Throughout the collection, there are many dashes of bright and fun colours including pink flamingo, violet and deep red.
Foer and McCartney recently sat down with Alina Cho at Saks Fifth Avenue to discuss their project. They both agreed that individual actions such as what we buy and eat is what will make an immediate difference when wanting to help the environment.To express their shared ideology, McCartney created many items of clothing with the title of Foer's book emblazoned on them along with some phrases from the book. To support the claim of sustainable fashion, the collection is made from 'sustainable fabrics such as organic cotton, organic linen and regenerated cashmere, which comes from pre-consumer textile waste.'
McCartney is renowned for her disapproval of using real fur and leather, claiming their industries are the worst offenders of fabrics when it comes to fashion. As well as being conscious about the fabrics and materials she uses in her brand, McCartney is also very selective when it comes to the use of plastic and synthetics in her line. For example, in 2012 she developed an alternative to the plastic used for her eyewear products and in 2017 she established a partnership with Parley for the Oceans, 'using yarns made from recycled ocean plastic in her Adidas sneakers and activewear.'
With the recent unstoppable bushfires in Australia, climate change is become a more pressing matter and we should all be contributing to change by making little changes in our lives. McCartney and Foer's collection highlights the importance of taking action and shows how we all have the power to prevent climate change from becoming anymore disastrous.