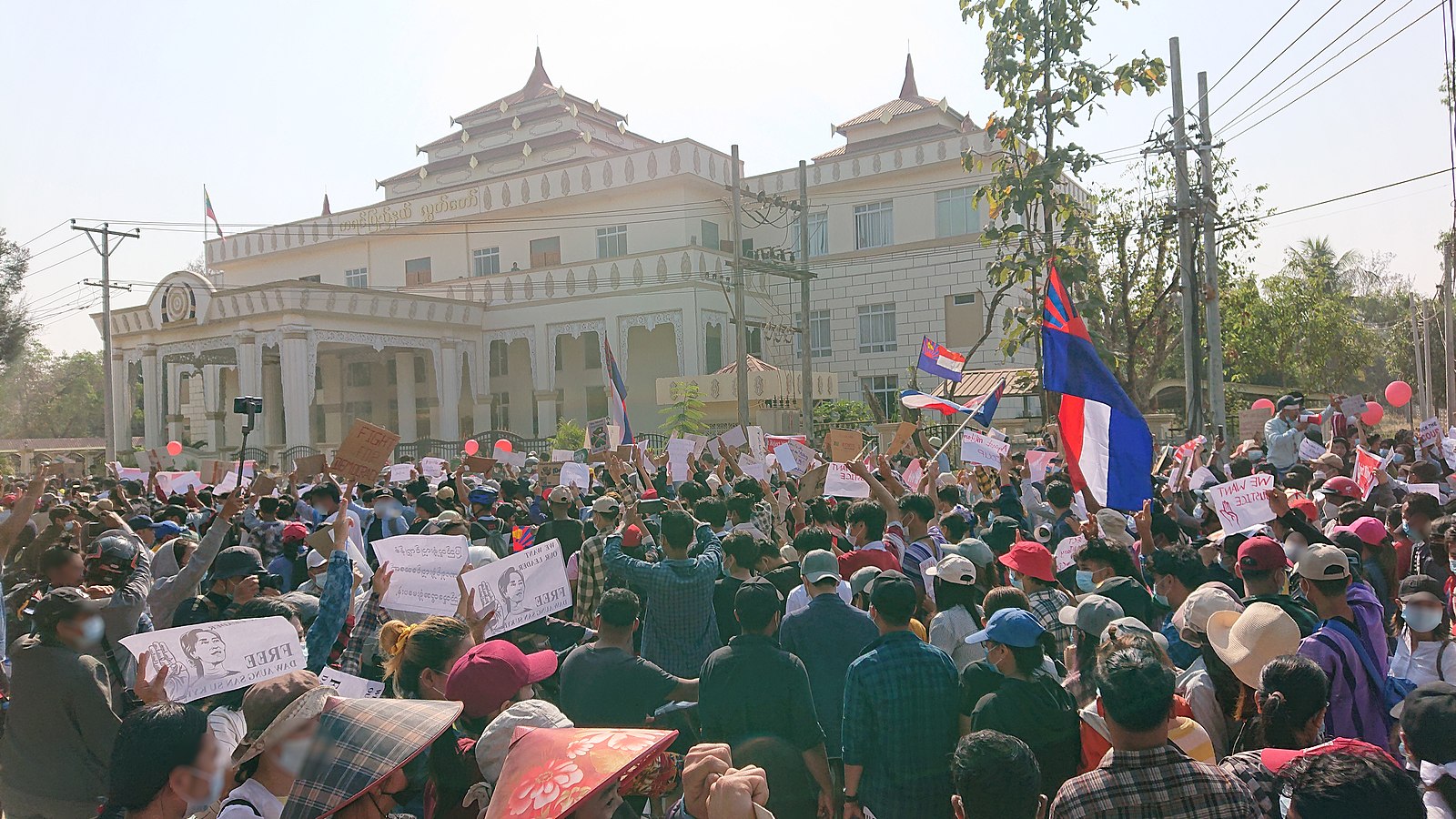 Comment Writer Rubika Latif explains what's going on in Myanmar, arguing in particular that the use of protest and collective action is productive, yet dangerous
The recent news that Myanmar has been seized by its military following Ms. Suu Kyi's landslide electoral victory has received international condemnation and the perilous situation continues with the elected leader and key officials from her party remaining under house arrest. Since Myanmar gained independence from Britain in 1948, the military has played a prominent role in controlling the country, until there was a push for a return to civilian rule through openly contested elections. However, the military, led by General Hlaing, has now declared a year-long state of emergency with a promise to conduct 'free and fair' elections after this time period. Unsurprisingly, this has led to fierce opposition from protesters who are currently gaining in strength, despite facing violent crackdowns and intimidation. Protesters are continuing to provide a relentless challenge to those who have subverted democracy and I think the growing scale of their actions could allow them to make a real impact. 
While there have already been other attempts to undermine democracy on the world-stage this year, perhaps most notably Trump supporters storming the US Capitol in order to defy election results and attempt insurrection, it seems clear to me that Myanmar's situation has been fragile for a longer time. Although there are similarities to the situation that had played out in the US, with the military claiming that the election was fraudulent without any substantial evidence, Myanmar has struggled to establish long-term democracy. The elected leader, Aung San Suu Kyi, is no stranger to house arrest, and she has also previously been in detention for nearly 15 years, after encouraging rallies calling for democratic reform and national elections, as opposed to military rule. Despite this, in 2015 she managed to lead her party (NLD) to victory in Myanmar's first election in 25 years. Nevertheless, it is apparent that her rise to power was overshadowed by the influence of the military and controversies surrounding her attitude towards the plight of the Rohingya and her failure to condemn their persecution. 
The scenes from Myanmar clearly show civilian anger is reaching fever pitch, with emerging evidence of the active use of lethal force, including live ammunition and rubber bullets on demonstrators. This has been promptly condemned by UN representatives who have called the military takeover 'a serious blow to democratic reforms.' It has also resulted in Facebook banning the military's page for breaching its standards, which prohibit the incitement of violence. This is in sharp contrast to the state-run Global New Light of Myanmar newspaper which claimed that there had only been 'soft dispersal of the crowds' and appeared to blame the protestors for engaging in violence instead. This outright denial of any wrongdoing by the security forces has clearly intensified the situation further, with General Hlaing trying to justify his actions, rather than take responsibility.
The tens of thousands of protestors that continue to defy military rule are evidently putting on immense pressure and they say they are adamant that they will take down the regime. In response, the coup leaders have told government employees to 'set their emotion aside', go back to work and have even imposed curfews, fuelling further resistance from the public sector. With protestors ranging from teachers, lawyers, doctors, students, bankers and other essential workers, I believe this is a bold move which could quickly threaten the ability of the military to cement their influence over its rebelling population. The unwavering drive of the protesters is clearly stated by Dr Kyaw Zin, a surgeon, who says that they would 'never go back to work until he [the General] steps down' and that he had no authority to instruct anyone. Workers like Dr Zin are encouraging more people to engage in nationwide strikes to slow the economy and force the military generals to stop their attempts to control the country. I think this collective action could potentially prove to be effective within the tense atmosphere and with hundreds of thousands of essential public sector workers refusing to comply, it could force the military generals to engage. 
However, this collective action also comes at a cost, as further developments include a young woman being killed. She is the first victim killed in the protests, after being shot by an armed officer, clearly indicating that the large-scale demonstrations are spiraling out of control. She has quickly become a symbol of the struggle and the attempts to save Myanmar from a military dictatorship. Arguably, the actions of the military are a huge dereliction of duty because they have turned on their own people and under the guise of promising to restore democracy, they continue to engage in a gross breach of human rights. 
Ultimately, we can see how various recent events have highlighted the fragility of democracy and how those who try to threaten it, will be met with large-scale condemnation, both domestically and internationally. Myanmar's forces have a history of suppressing protests through force but many protesters are currently encouraging each other to 'continue the movement against the regime' until they emerge triumphant and take their democracy from the clutches of military rule. 
---
More from Comment on international events:
The UK Must Follow Biden in Withdrawing Support for Saudi-Led Yemen Offensive
Trump's Impeachment: The Only Way to Unify the United States?