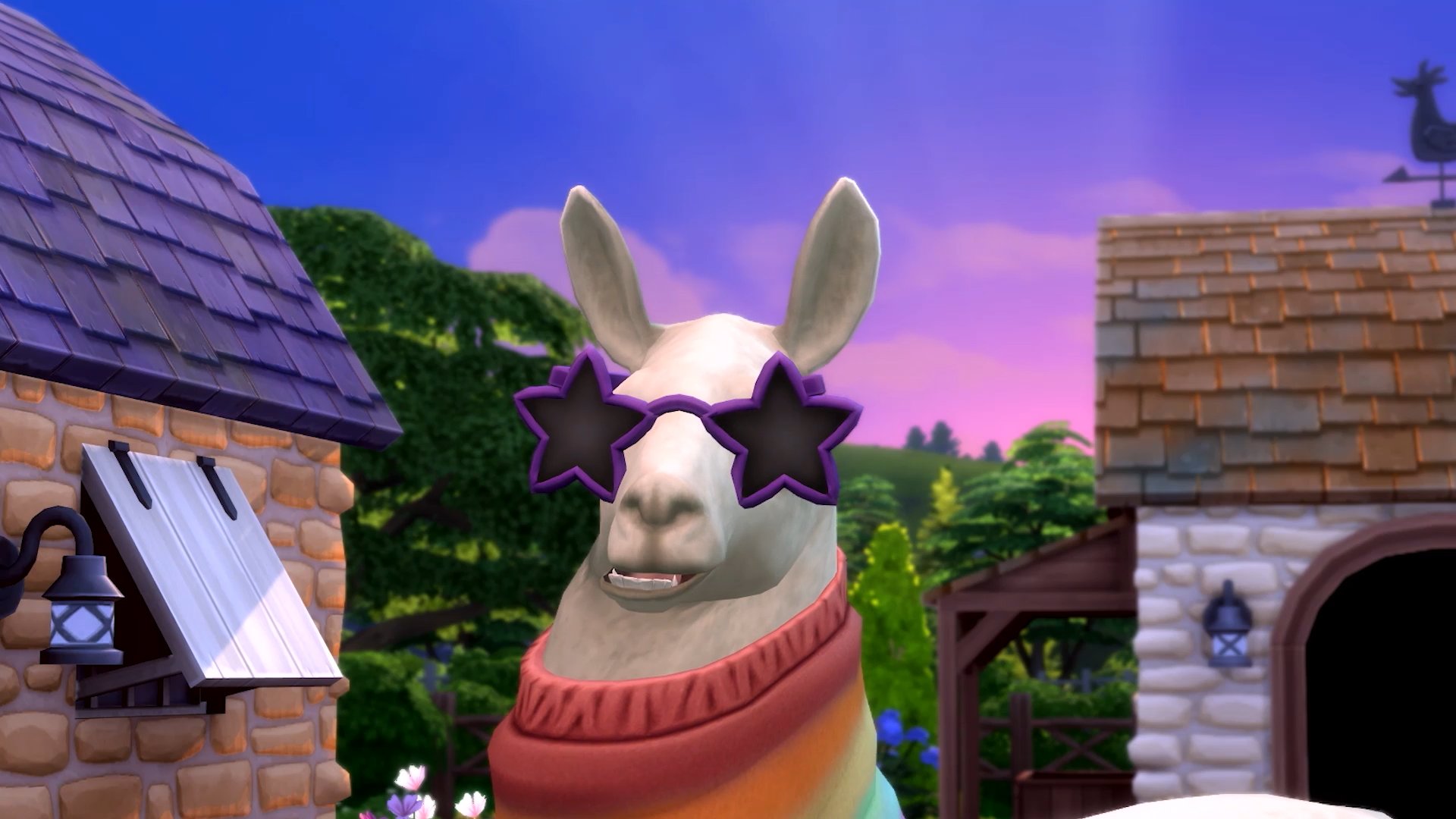 In this feature, Gaming Writer Rhea Phagura breaks down all you need to know about the quality of The Sims 4 Expansions
If you are anything like me, EA's The Sims 4 has been something of a virtual haven during the COVID-19 pandemic. From juggling multiple ambitious Sims' careers to customising my very own Sim in CAS (Create-a-Sim) or even scrolling through the architectural masterpieces found on the EA Gallery, The Sims 4 comforts me every time I switch it on. Nonetheless, The Sims 4 does not escape without criticism. It has faced a lot of negative comments regarding the onslaught of expensive DLCs, all of which are priced at either £7.99, £17.99, or a whopping £34.99. While EA does hold the occasional sale, it is still a substantial amount of money to spend, particularly for the Expansion Packs which have the most add-ons. For that reason, to save you the inevitable Google search of "What packs should I buy?", I'm going to attempt to rank each one of The Sims 4's Expansion Packs that have been released to date.
1: The Sims 4: Seasons 
While enjoyment of the other packs belonging to The Sims 4 is dependent on the style of gameplay you prefer – Seasons is a must-have for all players. First introduced in The Sims 2, the pack has always been a fan favourite. It has a bunch of different features that have been reintroduced and refined, including different weather conditions, the various seasons, a calendar with customisable holidays, a beekeeping hobby, and a new gardening-related career. What I loved the most about Seasons is that EA had nailed the atmosphere of Summer, Spring, Winter, or Autumn in-game, adding a tremendous amount of depth and foundation to your Sims' lives. The pack helps to expand gameplay throughout The Sims 4, adding a sense of seasonal cheer that truly does make a difference.
2: The Sims 4: Cottage Living
Cottage Living is the latest Expansion Pack to be released for The Sims 4; granting Simmers the opportunity to fulfil their Cottagecore dreams. Taking place in the countryside of Henford-on-Bagley, it has been one of the most anticipated packs for years, and Maxis did not miss by a mile. Simmers can choose a 'Lot Challenge' such as 'Simple Living', which requires your Sims to provide their own ingredients to cook the various new recipes, such as Bangers and Mash. Appetising. As well as this, Simmers can compete at the weekly Finchwick Fair, where they can showcase over-sized produce, including their finest bovine buddies. What I adore the most about Cottage Living is that, despite it's much more rural emphasis, it encourages much more interesting and challenging gameplay. You have to hand it to EA; if Cottage Living is a glimpse of what's yet to come for The Sims 4, it's looking pretty good.
3: The Sims 4: Get Famous
Get Famous is all about your Sims taking the next footsteps into becoming the next Simdashian. Beginning in the suburbs of Del Sol Valley, a world loosely based upon Los Angeles, your Sim can grab the opportunity to achieve fame through the 'Skill Tree': a system that is complete with the perks and quirks that can affect your Sims' reputations. One of the main additions to Get Famous is the new 'Active Career' of becoming an Actor, allowing you to follow your Sim to the fantastic Plumbob Pictures and witness them gain fame. What surprised me the most about Get Famous is that it does not follow the mechanical and monotonous structure of the Active Careers found in The Sims 4: Get to Work. Instead, Get Famous is much more engaging, amusing, and interactive, as you can go through hair, make-up, and costume fitting, to enjoying the perk of eating free on-set catering, and to even help your Sim perform their part. Get Famous is essential for a departure from the dullness of your Sims' life.
4: The Sims 4: Get Together
Considering Get Together was released after The Sims 4: Get to Work, it's a miracle that it was as great as it was. Introducing the European-inspired Windenburg, your Sim has the chance to enhance the core of The Sims 4 through the new Club System: a way of arranging 'Get-Togethers' and improving your Sims' social interactions, with the chance of them developing their own DJ and dancing skills. There are so many different uses for the Club System – either for boosting social needs, creating a SimCult, fixing people's broken objects, or just growing flourishing gardens, the tool is a defining feature of Get Together. Personally, I think the best feature of Get Together is Windenburg itself. It is overflowing with a mix of traditional and contemporary architecture, allowing your Sim to explore the many different hangouts. Although I do think that Get Together resembles more of a Game Pack, the possibilities included are simply endless – I'd really recommend purchasing Get Together.
5: The Sims 4: Discover University
Discover University begins with your Sim doing just that – opening the potential to attend either one of the two universities, from the arts-focused University of Britechester, with an ivy-encrusted, gothic appearance, or the high-tech Foxbury Institute, a modern building which takes a slightly more cutting-edge approach. It is decently integrated into The Sims 4, offering your Sim the chance to attend classes, balance a social and study life, and even the freedom to attend on-campus events, providing further storytelling opportunities for Simmers. Among the many highlights of Discover University, is that Maxis have actually put a great amount of CAS (Create-a-Sim) items and build objects into the pack, which are surprisingly up-to-date and trendy. That being said, one of the main flaws to Discover University is just how overwhelming it can become to juggle your Sims' academic life. It really is trickier than it ought to be, but then again, I guess it's much more realistic in that sense. All in all, if you prefer more hectic gameplay, I recommend Discover University. 
6: The Sims 4: Cats & Dogs
Cats & Dogs was a much-needed, and much-anticipated addition to The Sims 4. Following on from The Sims 3: Pets, even though EA had narrowly missed out on the chance to include the many different species that were found in TS3, Cats & Dogs redeems itself through the recently added Create-A-Pet mode. In Create-A-Pet mode, there is a countless array of breeds available for both cats and dogs, guaranteeing that your Sim will find the perfect furry-friend for themselves. Of course, just like Create-A-Sim, you can create a completely unique breed, or crossbreed existing ones, making for some really wacky and wonderful combinations. That's not all – your Sim and their newfound fuzzy friend can reside in the all-new quaint town of Brindleton Bay, filled with a lighthouse, boats, and coastal scenery. Yet, the drawback to Cats & Dogs is that it appears to fall short when compared to other DLCs in The Sims 4. For example, you can't actually play your pets, they just, kind of- exist? It seems like such a basic addition, that it does not make sense for it just to not be there. Similarly, while your Sim can become a Veterinarian, it's more or less like owning a retail store or restaurant like in The Sims 4: Dine Out. For that reason, I'd recommend catching Cats & Dogs on sale.
7: The Sims 4: City Living
Those fond of The Sims 3's Late Night Expansion Pack will love City Living. This DLC will transport your Sim to the vibrant, bustling metropolis of San Myshuno, where your Sim can experience  true city life through either renting an apartment, or a penthouse, attending festivals like GeekCon, and even eating dodgy street food from all around the globe. What I love about City Living, is that Maxis added some refreshing realism by including noisy neighbours, poor landlords, the occasional vermin infestation, and most of all, making the world of San Myshuno one of The Sims 4's most diverse and inclusive. It might be small, but it demonstrates that EA is moving in the right direction, even if it is at a tortoise's pace. Though City Living could have had a lot more potential, such as making lots more customisable, expanding the tiny neighbourhoods, or even adding in more challenging gameplay, I still think it is a fantastic pack and the world of San Myshuno creates a much more meaningful and lively dynamic within The Sims 4. It's worth buying if you catch it on sale.
8: The Sims 4: Island Living
Summer arrived in The Sims 4 with the release of Island Living – affording Sims the freedom to roam the tropical world of Sulani, an island that is inspired by the Hawaiian Islands, and one which is filled with fiery volcanoes, oceanic views, and opportunities for Sims to explore the local Sulani culture. Your Sim can even become a Mermaid, either by ingesting Mermadic Kelp, or designing one through CAS (Create-A-Sim). If your Sim doesn't aspire to become a Mermaid, you can find a part-time role for them in the new careers of Diver, Fisherman, or Lifeguard. However, though I admire Island Living and the beautiful world of Sulani, in contrast to the oceanic atmosphere it has going on, the gameplay can be quite shallow. For example, once your Sim has become a Mermaid, there's not really much else to do. Sure, your Sim can swim at an unusual speed and have other water-related interactions, even changing the current weather if you have Seasons installed, but that's all. It would've been pretty cool if Mermaids had their own panel like in The Sims 4: Vampires or The Sims 4: Get Famous, where they can gain and upgrade their abilities to expand the gameplay a bit more. Overall, while I would recommend Island Living for the visual aesthetic, it isn't worth the £34.99.
9: The Sims 4: Snowy Escape
Set in the Japanese-inspired world of Mt. Komorebi, Snowy Escape had the potential to become one of The Sims 4's greatest DLCs yet, just not quite. Being both a residential and a vacation spot, Mt. Komorebi allows your Sim to unwind, either in the Sutefani Onsen Bathhouse or taking part in adrenaline-fuelled activities, such as sledding, skiing, snowboarding, and rock-climbing. One main feature to come out of Snowy Escape is 'Lifestyles' – a mechanic that can be acquired by Sims performing, or not performing, different actions or activities, which in turn have a notable effect on Sims' behaviours or emotions. Nevertheless, though Snowy Escape is a picturesque Winter Wonderland, it resembles either The Sims 4: Jungle Adventure or The Sims 4: Outdoor Retreat, both of which are Game Packs. Snowy Escape would have been much more enriching if EA had actually put in some effort to develop the cultural significance that Snowy Escape was influenced by, or even adding some more careers aside from becoming a 'Salary Person'. That being the case, I would honestly recommend you skip Snowy Escape. It's nothing new.
10: The Sims 4: Get to Work
A successor to The Sims 2: Open for Business and The Sims 3: Ambitions, Get to Work was the first Expansion Pack for The Sims 4. Get to Work introduces a truckload of work-related content and a new world named Magnolia Promenade, along with the chance for your Sims to become any one of the three new playable career paths: either a Doctor, Detective, or Scientist. These are 'Active Careers' – meaning that instead of your Sim just disappearing when they leave for work, you can follow them there and control their actions. Unfortunately, though the initial novelty of following your Sim to work is appealing, the repeated actions begin to feel rote rather quickly. For example, the Detective Career is just far too repetitive. Yes, your Sim can patrol the streets, investigate a crime scene, and analyse evidence, but there is just no challenge or incentive. Each case is more or less the same, and it's just far too monotonous for a £34.99 Expansion Pack. It's not worth it.
11: The Sims 4: Eco Lifestyle
Eco Lifestyle is all about being green, green, green. In the world of Evergreen Harbour, your Sim can have a direct impact on the environment through the brand-new Eco Footprint system. It's pretty simple – if your Sim does not manage their community and essentially, go-green, the environment of Evergreen Harbour will visually turn into an industrialised, smoggy neighbourhood. While Eco Lifestyle was surprisingly well-received, the reason that I ranked Eco Lifestyle as the worst pack released to-date is because I just don't see a point in it. Sure, it's fun for Sims, but a lot of the features are largely superficial, become more annoying than useful in-game, and the whole changing the environment aspect of Eco Living almost seems like a carbon-copy to cleaning up the beaches of Sulani in Island Living. A lot of the CAS (Create-A-Sim) items and build objects seem to be recycled from Discover University too, including piercings or even the bicycle. I don't see any originality from EA this time. Isn't the point of an Expansion Pack to expand the game? The key word is right there, EA. Eco Living does not achieve this, but rather, just re-uses old ideas from the previous DLCs. It's really just one of those packs you'll play once and never again.
---
Thank you for reading this piece from Redbrick Gaming! Check out more from us below: