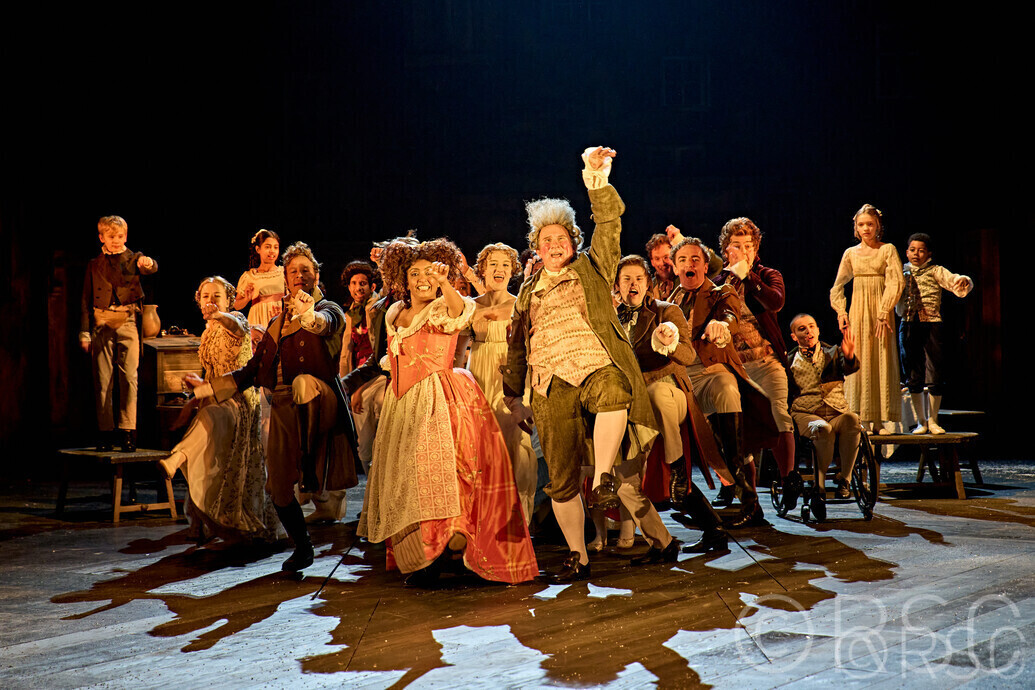 Culture Writer Eva Widdicombe attends A Christmas Carol and finds the play to perfectly display the joy of Christmas spirit
On the 8th November I had the pleasure of watching The Royal Shakespeare Company's production of A Christmas Carol. A night filled with superb acting, a clever yet nostalgic script, juxtapositions of joy and spookiness which firmly put me in the Christmas spirit (which is surprising, really, as I am somewhat of a Scrooge myself and would usually pointedly remark that it is only November).
Written by Dickens in the mid 19th century, A Christmas Carol came into an England facing unprecedented change; Victorian London was rife with poverty, exploitation and suffering in the wake of rapid technological and industrial advancements. The story follows the miser Scrooge, who's ignorance – and penny-pinching, cold-hearted tendencies – are transformed in light of visitations from three ghosts as the clock strikes 12 at Christmas. The ghosts help him to see the error of his ways, so he can instead view the suffering around him with the aim to help, understand the importance of generosity, embrace his family and friends and celebrate Christmas with a new appreciation for life. The novella, retold countless times in theatre and television, is the ultimate tale of redemption, providing an uplifting festive ghost story rife with morality.
David Edgar's reimagination of the tale, brought to life on stage by Rachel Kavanaugh and her team, did not stray far from the original story. Nor did it need to, as the production managed to successfully transport you to the world of the play, as only great theatre can; captivating and enthralling the audience from beginning to end. I was impressed by the vigour and energy of the cast, and the minimal Victorian set provided realism which was offset effortlessly by excellently executed special effects to provide jump scares and ominous spookiness.
RSC's stage utilised trapdoors, lifting screens and holograms to aid smooth set transitions which allowed the actors to shine. It was emotive, funny, at times rather scary, yet filled with song, dance and festive cheer. Adrian Edmondson shone as Scrooge, his twisted bitterness was evocative and comic, the perfect miserable villain, yet his steady realisation when faced with his uncomfortable past and the horrors of the future, was acted with nuance – poignantly and empathetically.
I was pleased to see diversity amongst the relatively small cast – and there was not one weak link, the energy was upheld throughout and cast members managed to play multiple roles with ease and believability. Gavin Fowler (Dickens) was sprightly and eccentric, and made for a lovely comic duo with Bruce Kahn (John Foster). Mitesh Soni (Bob Cratchit) also stood out, there were multiple voice-cracking speeches of making the best of a dire situation which conveyed truthfulness and bravery and his tactile love for his family was acted with a genuineness that expressed true love. I think personally the star of the show was Sunetra Sarker (Ghost of Christmas Present) – who's stage presence was magnificent, a well-known face to those familiar with Ackley Bridge and Casualty, her grand entrance, command of the stage and quips involving chicken legs and sweets were a sight to behold.
Yet more importantly, what really struck a chord with me, was the relevance of the play's message, all these years on from Dickens' time of writing. Aided by well times jokes about the prime minister, and the sneakily modern naming of some of the Victorian characters as 'Snapchat' 'Hinge' and 'Tinder', the play's principles were rocketed into the 21st Century. It goes without saying, in this year's run up to Christmas, people across the country are facing enormous hardship in the face of an economic and cost of living crisis, food and fuel prices are sky high, and affording day to day living, let alone Christmas, is a worry for many.
So let this be a message to help where we can, be this donating to food banks or any of the plethora of Christmas charities, or simply to show human empathy, kindness and generosity to others, in times where it is really needed. I only wish that Rishi Sunak and his cabinet of Scrooges could be visited by the ghosts of the past, present and future this Christmas.
Rating: 5/5
---
Enjoyed this? Read more from Redbrick Culture here! 
Review: The Influence of Shakespeare on Bollywood
Theatre Review: Uncommon Riches, Twelfth Night