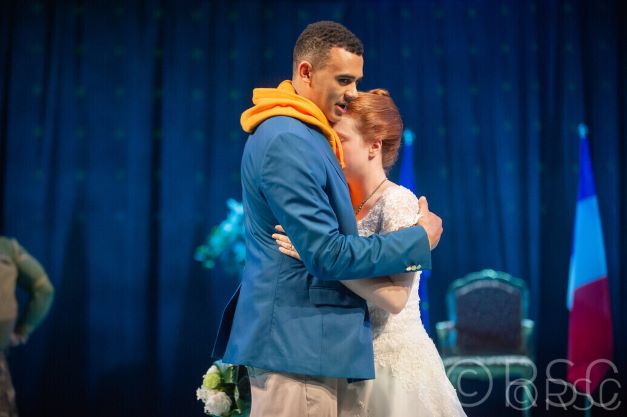 Culture Writer Frankie Rhodes reviews All's Well That Ends Well at the RSC and finds it to be an insightful take on Shakespeare's original play
With its deception, infidelity and betrayal, Shakespeare's All's Well That Ends Well feels like a problematic sentiment for a modern audience. But the Royal Shakespeare Company and director Blanche McIntyre have cleverly leaned into this by creating a production that offers characters who are 'never straightforwardly easy or likeable'. At the centre of it all are two impulsive, headstrong teenagers, glued to their phones and their ostentatious peers. 
Helena (Rosie Sheehy), who in this production is a red-eyed schoolgirl, has been adopted by the Countess of Rossillion (Claire Benedict), and has fallen haplessly in love with her unassuming son Bertram (Benjamin Westerby). When Bertram leaves to serve the King of France, Helena stops at nothing to secure his hand in marriage, even if it means navigating the warzone erupting in Florence. This is helped, or more often hindered, by the clownish friend of the youngsters, Parolles (Jamie Wilkes), whose unrelenting tongue and unwavering pride lands him in trouble with the other soldiers.
Last year, Ola Ince's production of Romeo and Juliet at the Globe presented the star-crossed lovers as what they really are – children – with disclaimers about mental health and the impact of the online world. It feels like even more of a risk to apply this treatment to a considerably less iconic, less well-loved Shakespeare play, but McIntyre's vision is surprisingly effective. Shakespeare's descriptions of Helena's blushing cheeks make sense as Rosie Sheehy emerges on stage as a teary teenager in her school uniform. The actor's rich, slightly abrasive voice resists any hint of immaturity, but in her physicality she is an obstinate, brave and yet terrified young woman. 
Claire Benedict as the Countess exudes all the compassion of an adoptive mother, with an air of sophistication that matches the plush furniture on stage, and the minimalist golden cage-like structure that acts as a backdrop. When she instructs Helena, 'Love all, trust a few, do wrong to none', her precepts are not met with the same eye-rolls as Hamlet's Polonius.
In this first scene, Bertram is a fleeting presence, establishing Benjamin Westerby's portrayal of the character as suitably aloof, verging on cold. When Helena delivers her first soliloquy about her crush, the gauze curtain behind her reveals a projection of Bertram's face inside love-hearts (think 90s-Pop-Princess-album-aesthetic). This screen is used infrequently but effectively throughout the performance, to highlight the social media profiles of various characters, and give snapshots of video content which remind the audience that nothing is private; nobody is safe.
One such avid social-media-user is Parolles, whose TikTok profile reveals him as a Bear Grylls type, with an American accent and bulging muscles. His first conversation with Helena concerning 'your old virginity' (normally very awkward to perform), is lightened with the use of memes, and an obvious rapport between the two actors. The supporting characters follow a vibrant, if a little confused aesthetic – from the Scooby-Doo-gang pastels of the French courtiers, to the Where's Wally outfit of the clown character Lavache (Will Edgerton). Shots of the group playing Call of Duty are gravely contrasted by their participation in the Italian war, and Parolles brings his selfie-stick to the battlefield, creating an atmosphere that is at once absurd and frighteningly realistic. 
When Helena appeals to the French King to assist her in her pursuit of Bertram, the monarch is depicted by Bruce Alexander as comically bossy, but ultimately charming. He offers her as a wife to his courtier, at which point Helena's over-the-top wedding dress and eye-rolling attitude resembles Alyssa in Channel 4's End of the F***ing World. Later, she is compared on-screen to Bridgerton's Daphne – an eerie parallel as both young women deceive their husbands for personal gain. Bertram's reaction to Helena's proposal is essentially to cringe – encouraging a gasp from the audience. The act finishes with Helena resolving to chase her lover, both literally and metaphorically, and Sheehy's hair pin flies out of her bridal up-do at just the right moment to portray her almost obsessive passion and drive.
In the second half, the golden cage sinks down to become an army base, draped in green curtains. Generally, the characters are more muted in this section, and Sheehy's first-act physicality of an ambitious teenager becomes hardened. One exception to this trend is the introduction of Diana (Olivia Onyehara), a maiden now sought by Bertram. Onyehara is able to express her resolute alliance with Helena, but also her reluctant compassion for Bertram, adding an extra vulnerability to the character.
This act also sees the soldiers playing a drawn-out practical joke on Parolles, by pretending to be a rival camp forcing him to reveal the secrets of his comrades. This scene flickers between slapstick comedy and shocking tragedy, which becomes disorientating. Parolles' suffering is filmed and put on TikTok, with on-screen comments either laugh-reacting or responding – 'this is what's wrong with society'. While an interesting interpretation, making Parolles into an extreme Malvolio does not entirely translate.
As the action draws to a close, the golden cage structure begins to mysteriously sway, and they perhaps miss a trick in not having it close down on Helena and Bertram at the very end, to signal her marital mousetrap complete. Indeed, far more risks could have been taken in the final moments, and other than Diana's commendable storming out, many characters are offered no equivalent redemption. 
The astute handling of social media in this production is impressive, and particularly instils the value of taking Shakespeare's characters back to their roots, and exploring the impact of misguided youth. Although the interpretations are a little inconsistent, this All's Well That Ends Well is carried by its daring vision, and commitment to presenting this difficult play as just that: a difficult play.
Rating: 4/5
---
Enjoyed this? Read more from Redbrick Culture here! 
Theatre Review: Much Ado About Nothing
Theatre Review: Uncommon Riches, Twelfth Night