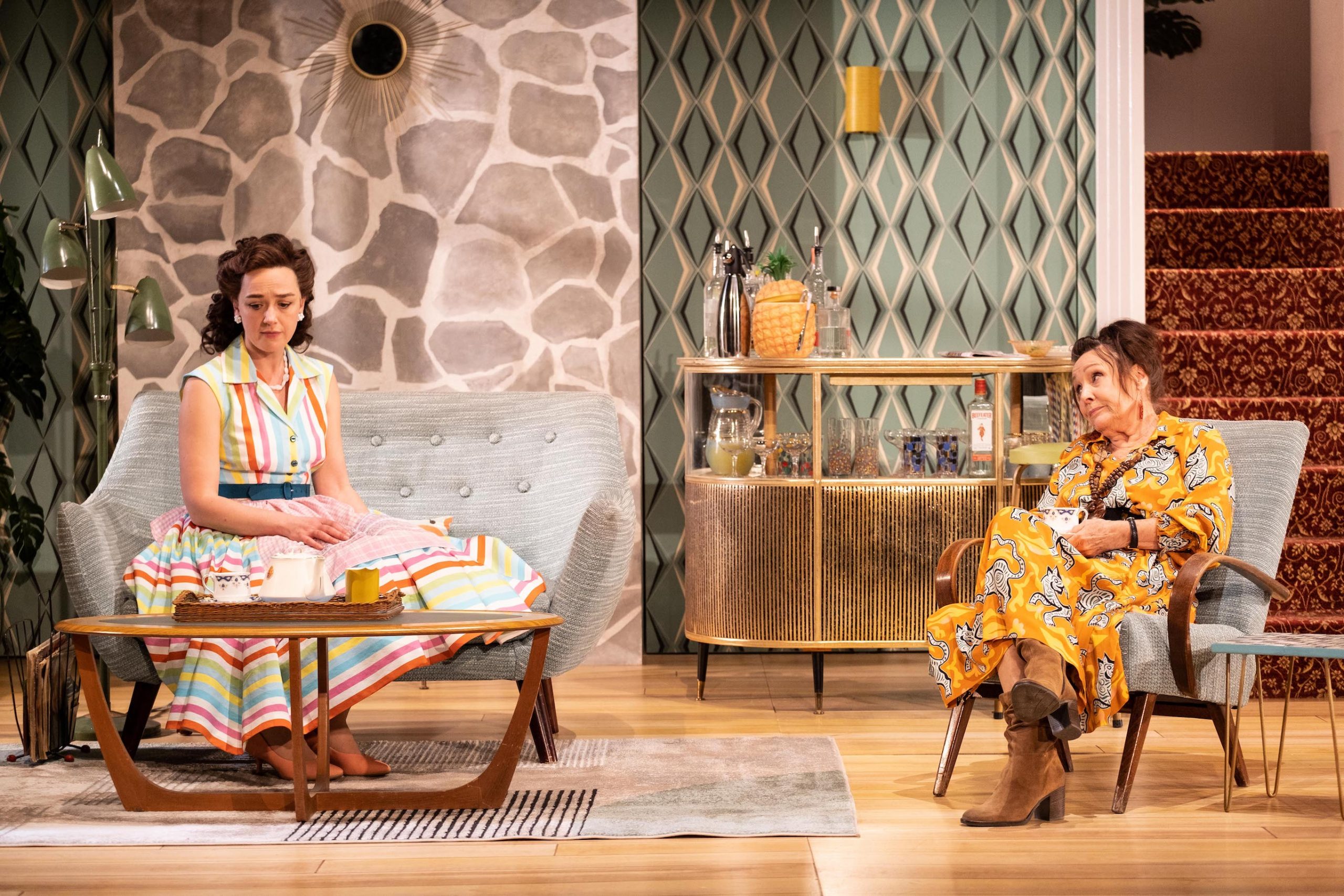 Culture Writer Hannah Dalgliesh reviews the Alexandra's production of Laura Wade's original comedy, finding the play's central messages to hold particular relevance in contemporary life
Laura Wade's Olivier award-winning play opens with a married couple getting ready for their day over breakfast: a beautiful housewife in a vintage dress and heels with immaculate hair and red lipstick puts together her husband's packed lunch for work. They are happy, cheerful and full of love for each other. At the door they share a kiss and she waves him goodbye for the day. Then, she returns to the kitchen table, sits down, and pulls out a MacBook.
Laughter. Confusion from the audience? I was certainly surprised. This domestic idyll is not in fact a portrait of the 1950s, but a modern day couple who have decided to live their entire lives as if it is the 1950s. More laughter as BAFTA award-winner Jessica Ransom, playing the main character Judy, pours semi-skimmed milk from a plastic supermarket container into a glass jug and replaces it in the fridge. She opens packets of sugar and flour, decants them into ceramic jars and begins cleaning.
It is hard not to be amazed by the set. The entire house has been built on stage: a fully functioning kitchen,a gorgeously sweeping living room, a pantry filled with ingredients, and stairs leading to the bedrooms on the top floor. Each room is decorated in bright wallpaper of the period with which Judy's various (and stunning) dresses match perfectly during each scene. The music playing from the corner of the living room is charming. Wade's delightful dialogue and Judy's unfaltering happiness cleverly lull the audience into a false sense of security. This surely cannot be the paradise we are seeing, and yet for a long while it feels as though it may remain so. The domestic harmony and absolute joy is hard to fault, until suddenly it isn't.
The arrival of Judy's mother Sylvia (Diane Keen) is unsettling. In contrast to her daughter's updo and flowing skirts, Sylvia wears a blouse and jeans. She seems thoroughly out of place amongst the immaculate house with her free-flowing conversation and not so subtle hints of disapproval. It is the odd contrast of generations and a total inversion of clinging to the past which sets the wheels in motion. Judy begins to unravel as her mother and her friend feed doubts she didn't know were there. Jessica Ransom's performance of this quiet – and later powerfully explosive – unravelling is phenomenal: in her expression, her movements, and even things as small as changes in inflection. Each moment is painted with incredible nuance. There is no doubt she is not merely following in the footsteps of Katherine Parkinson, the National Theatre lead, but shaping them herself.
What this play does so well is re-shape our ideas and prejudices surrounding values. What does it really mean to be nostalgic about a past you weren't alive in? Can we ever re-create something we didn't experience? Sylvia delivers what, for me, was the stand out speech of the play. In her frustration at Judy she asks her if she really wants to know what life was like in the 50s. She rallies against the domestic fantasy Judy has created, instead reminding her of the horror of the aftermath of the war: men coming back broken and shell-shocked or not returning at all; the continuation of rationing; the extremes of sexism, racism and homophobia. No abortions, she continues, no contraception. She asks of her daughter, and of the audience, how this can be considered a feminist choice following decades of fighting just to be able to vote, to work, and to be someone other than a housewife.
At its heart, however, the play is a comedy. Sylvia's speech is monumental but much of the play's didactic genius is in its sharp, unflinching wit. Wade's characters are pithy, meticulous, and skilfully-crafted. This production is well-timed and the pacing is excellent, most obviously in frequent laughter from the audience. As this familial arcadia collapses, the strained dichotomy between housewife and free modern woman is funny and recognisable: the need for compromise feels all too familiar.
Unearthing deeply-rooted cultural conflicts between past and present, tradition and modernity, marriage and feminism, this is a play for our times. Whether it gets to the heart of the Brexit row or speaks to the domestic dilemma faced by most women in the 21st century, the erudite detail of Wade's writing and Ransom's brilliant performance makes Home, I'm Darling both thoroughly enjoyable and necessary.
Rating: 5/5
---
Liked this? Read more below from Redbrick Culture!
Theatre Review: Pride and Prejudice* (*sort of)