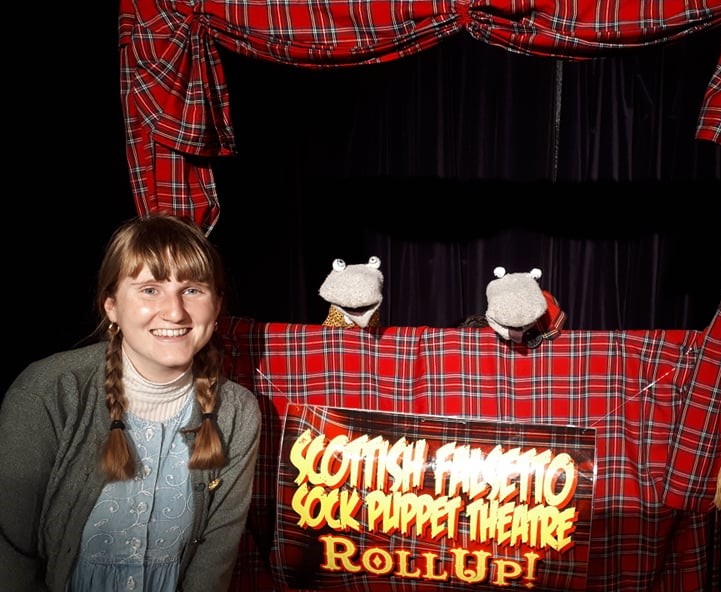 Culture Writer Frankie Rhodes reviews the comedy act The Scottish Falsetto Sock Puppet Theatre as part of Birmingham's Comedy Festival, hailing it as a brilliant mix between 'edgy musical comedy, pantomime, improvisation' and 'pure farce'
The Birmingham Comedy Festival sees venues across the city hosting comedy acts old and new, from the sell-out soloist Russel Brand to up-and-coming Brummie podcast, Tea with the Devil. Amongst this dazzling line-up, including many free events, I was drawn to the double-bill performance of the Scottish Falsetto Sock Puppet Theatre at the atmospheric Old Joint Stock. Billed as the 'Earth's Funniest Footwear', and having performed at the Edinburgh Fringe Festival, I was ready to laugh my socks off (could not resist).
The reviewer faces a difficult task with this sock duo – whether to describe the performance as edgy musical comedy, pantomime, improvisation, or pure farce. The answer has to be that it had elements of all three, and was all the better for it. From the very start, Kev F. Sutherland was able to create two distinct, completely convincing sock characters, who bantered and battled with each other throughout. Slick costume changes and intelligent comedy made this set more Sesame Street than trashy Punch & Judy, making a prominent addition to the puppet show repertoire.
The first hour-long set, Fingers Crossed, showcased a range of pieces that the Socks have produced during isolation, including highlights of their Zoom performances. This made for some clever topical comedy, such as the song 'We Can See Inside Your Zoom', documenting the pitfalls of online comedy sets (where interrupting dogs and dodgy outfits are among the annoyances). Their opening song, 'I'm A Sock', was delightfully simple and introduced us to several of the show's classic props, from a paper piano to a guitar that magically plays itself.
Interaction with the audience was quick-witted without being cutting, and the Socks made the most of the local audience: 'this is Birmingham. When they laugh, they're being ironic'. Moments of more risqué humour were well-timed and carefully selected, so as not to overwhelm the relatively tame viewers. 
One of my favourite moments of this set was the Johnny Cash song, where the pair satirised the country singer with a guitar track that perpetually increased in key. Very on-brand, this hilariously falsetto tune revealed an advanced understanding of musical comedy.
Certain parts of the show fell a bit flat, such as the oddly abrupt Shakespeare sequence (which did, however, don the Socks in two adorable ruffs), and the slightly confusing tale of St Patrick. Having said that, it seemed that each member of the audience had their own side-splitting moment, which for me had to be the rendition of 'Earth Song'. Holding up placards, the Socks poked fun at Michael Jackson's indecipherable lyrics, in a hilarious you-had-to-be-there number.
After an impressive magic trick (which voiced the classic line 'you'll notice there's nothing up my sleeve'), and a bashful light-sabre battle with plastic straws, the Socks closed their first set. Returning after 30 minutes, they brought us their award-winning show 'Superheroes', complete with countless costume changes, and even more songs.
'Superheroes' began by surveying the audience for our favourite action heroes, resulting in hysterical impressions from the Socks. Their first musical number, 'What A Wonderful Film', satirised the generic tropes of superheroes, revealing Sutherland's inside knowledge as a comic-strip creator. Several catchy phrases (my favourite being, 'The Guardians of the Deep-Fried Galaxy Bar'), brought us to the main part of the set, where we were treated with figures like Batman, the Joker, Thor and even a fist-only cameo from the Hulk.
Among this predominantly male cast, the female superheroes did have their own special moment, with Poison Ivy and Harlequin performing their own number about the Bechdel test. With hilarious lines that asked us, 'is it woke? Or is the film just full of blokes?', a topical issue about representation was handled well.
While not as fresh-feeling as the first set, this second show managed to entertain the audience for another full hour. The lowlights, such as the 'Your Brother's A Racist' song that did not quite live up to the ironic humour of its predecessor from Avenue Q, were balanced out with uproarious tracks like Superman's own number that saw him rapidly taking his glasses "disguise" on and off in a delightful farce.
The Socks were consistently engaging and metatheatrical, combining fast reactions with an evident passion for puppetry. As part of the Birmingham Comedy Festival, this offered something refreshingly different to politically incorrect stand-up, and I hope that the Socks (and Sutherland) will come back to Birmingham again soon.
---
Enjoyed This? Read Our Latest Culture articles here!
Theatre Review: The Cat and the Canary
Royal Academy Summer Exhibition 2021