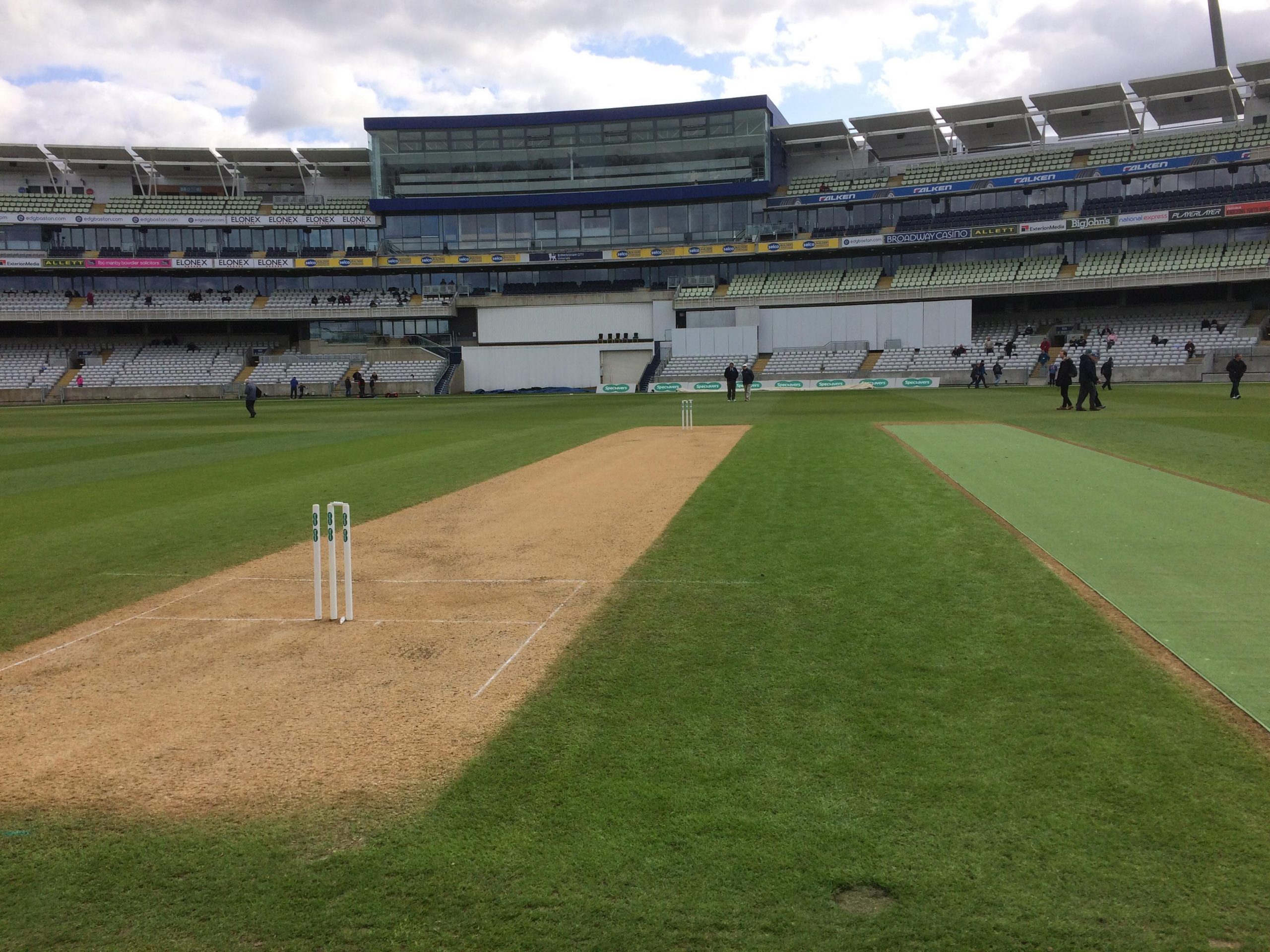 Sport Writer Matt Grubb reports from Edgbaston as Warwickshire celebrated the return of fans with a final-hour victory over Nottinghamshire
Warwickshire (341 & 264) beat Nottinghamshire (297 & 138) by 170 runs. Points: Warwickshire 22, Notts 5.
A breathtaking final day saw Warwickshire seal a memorable victory over Nottinghamshire with just 8.3 overs remaining. In what was the first County Championship game at Edgbaston with spectators since September 2019, the home faithful were treated to an unforgettable afternoon.
After Warwickshire were all out for 264 in the morning session, they had 74 overs to find 10 wickets. Alternatively, Nottinghamshire needed 309 to win.
The visitors – who are the current T20 blast champions – got off to a flying start. Undeterred by the early loss of Haseeb Hameed, they were 48-1 early in the tenth over. England international Ben Duckett made his intentions clear, needing just eleven balls to race past twenty.
But after Duckett miscued a slog sweep against Danny Briggs to mid-on, Ben Slater followed him back to the dressing room in the following over. Having looked well-set on 27, he was caught behind by wicketkeeper Michael Burgess after slashing at a Tim Bresnan delivery outside off stump.
These wickets halted Notts' scoring rate, and their chances diminished further when Burgess produced one of finest stumpings you are ever likely to see to dismiss Joe Clarke for 20 – lightning hands down the leg side while standing up to towering seamer Oliver Hannon-Dalby. The visitors were 79-4 with more than 53 overs remaining.
Heading into the final session, five wickets were needed after a fightback from Tom Moores and Lyndon James. After Will Rhodes and Briggs respectively removed the pair soon after tea, a thrilling finale was guaranteed. The tension was palpable as the crowd rallied around the Bears. And the roar when Miles dismissed Patterson-White for the ninth wicket – making victory inevitable – will not be forgotten any time soon by those present.
It was fitting that Briggs had the honour of taking the last wicket of Fletcher, his fourth of the day after scoring a half-century in the morning.
Despite the sunny weather Nottinghamshire had opted to bowl first on day one. The new ball posed some problems but Warwickshire – led by an inspired Rhodes who fell nine short of what would have been a magnificent century – reached 238-3 before a flurry of wickets from Dane Paterson restricted Warwickshire to 250-6 at the close. This left the game firmly in the balance, as was the case at the end of each day.
Warwickshire were eventually bowled out for 341, but not before Matt Lamb made 67 and Hannon-Dalby and Liam Norwell put on 52 for the last wicket. The partnership produced a fantastic moment as Hannon-Dalby – not known for his batting prowess – hit two consecutive fours to clinch Warwickshire's third batting point on the final ball possible. The roar from the crowd was a truly special moment.
Despite brief disruption from rain, Nottinghamshire closed day two on 173-3, having been pegged back late in the day by three Norwell wickets, including that of Slater for 77. Norwell, who has been Warwickshire's star bowler this season, would end with figures of 4-64.
A share of the remaining wickets between Briggs and Rhodes (two wickets apiece), as well as Craig Miles and Bresnan (one apiece) saw Nottinghamshire dismissed for 297. In addition to Norwell's wickets, Bresnan's economy rate of just 1.75 was crucial in keeping pressure on the Nottinghamshire batsmen, particular with the old ball.
In response, Warwickshire got off to a perfect start and looked very comfortable at 76-0 while scoring at over four an over. Rhodes continued where he left off in the first innings with some gorgeous drives all over the ground, albeit against uncharacteristically ordinary Notts bowling. Paterson in particular struggled to find any rhythm.
However, Warwickshire collapsed from 95-1 to 132-6, which also saw a drop in the run rate to ruin any acceleration and declaration plans. At this point there were fears they would leave Notts with a very attainable target. But a brilliant 80 from Burgess – who was characteristically eye-pleasing on the off-side, as well as a second half-century this season by Briggs (50), saw Warwickshire leave Notts chasing over four an over.
This glimmer of hope for Notts was just too tempting as they were made to pay for losing so many cheap wickets early on trying to chase down a fourth consecutive County Championship victory, instead of securing the draw first.
But credit must go to Warwickshire's bowlers and their captain, all of whom held their nerve superbly well. Two years ago, Warwickshire failed to bowl Notts out on the final day having dominated proceedings; today they did it with plenty of time to spare. This is yet another sign of Mark Robinson's men possessing a newfound grit and maturity this season.
'We've got some guts in the team.' Robinson said. 'We've managed to stay in games when we've been behind the 8-ball – we were behind the 8-ball a couple of times this game and we've managed to stick in there thanks to Briggsy, Matt [Lamb], Burgess, et cetera. A few things went our way, but you'd argue we deserve that as well.'
The reward for this growth and development? With three games to go, qualification for division one is in their own hands.
But the greatest thing to take from the game was the return of fans. Again, Robinson echoed these sentiments perfectly:
'What an atmosphere, all game but today especially, they seemed better than my memories would have it really.'
---
Like this? Check out more from Redbrick Sport:
IPL Cancelled Amidst COVID-19 Crisis
In Conversation with UoB's County Cricketer