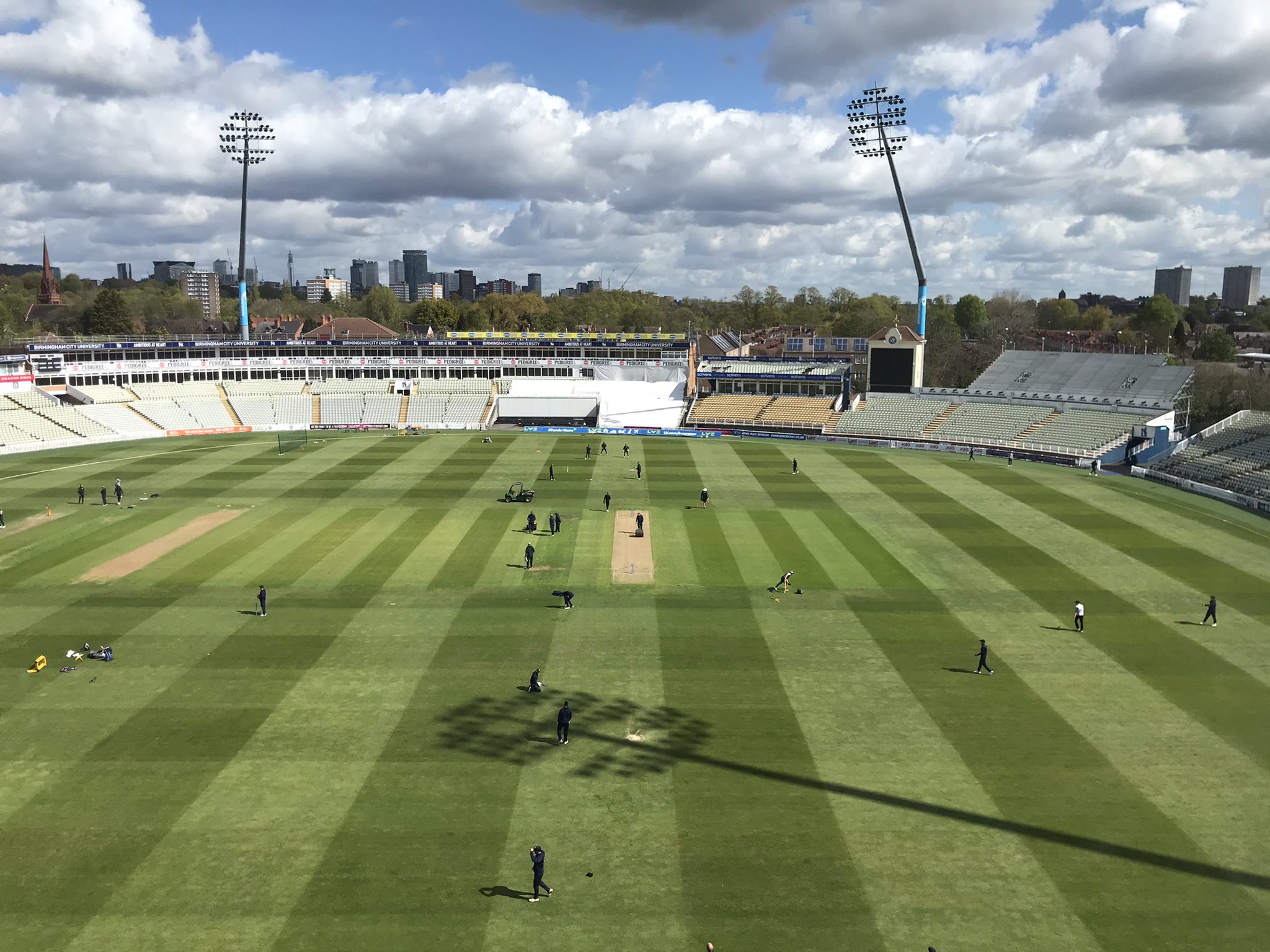 Kit Shepard catches up with UoB Student and Warwickshire batsman Rob Yates to discuss his impressive form and the most famous essay in county cricket
Cricketers know how to kill time.
Rain delays are simply part of the job, as day three of Warwickshire's derby clash with Worcestershire at Edgbaston last week showed. Heavy rain overnight had left the outfield sodden and, with drizzle forecasted for the entire day, the prospect of any play always looked as bleak as the skies above. To the surprise of nobody, a washout was confirmed just before three o'clock.
So, what did the players get up to that morning and early afternoon, as they watched the rain come down knowing that their chances of getting on the field were minimal? Warwickshire wicketkeeper Michael Burgess offered some answers after day two.
'I'll put my feet up and watch TV probably,' Burgess said to Redbrick with a smile. 'The lads have worked really hard for five weeks, so a few of the fast bowlers in there deserve a quiet day.'
Batsman Rob Yates' morning may have been quiet but, rather than relaxing, he was writing about gorillas.
A University of Birmingham (UoB) English Language student, Yates used the rain to find a silent spot in a commentary box and write a now-notorious essay comparing animal behaviour in zoos and the wild.
It seems like a bizarre life. On day one against Worcester, Yates scored his second hundred of the season to hold together Warwickshire's first innings, once again showing his value to this exciting Bears side. Forty-eight hours later, his experiences were much more recognisable for less extraordinary UoB students: using some rare free time to complete coursework ahead of a deadline next week.
Striking the balance does test Yates (though he admits facing some of the world's best bowlers is more challenging), but it does not faze him.
'I wouldn't say it's easy, but I'm used to it, having done it all through school and A-Levels, and getting through first and second year,' Yates told Redbrick.
'It's been made easier because I've split my final year, [but] it's still pretty tough. If I hadn't done that, I'd have been screwed by now.'
Now finishing up his third year at UoB, Yates will be sticking around until next summer to complete his degree. In the meantime, he is eager to continue establishing himself in the Warwickshire top-order.
'I feel like I'm getting more settled. You're never going to be perfect, you'll have ups and downs, so it's just about making the most of being in good form and trying to do the best I can.
'Even when you come into the team, you always want to contribute and be someone who can score plenty of runs for the team, but it would be nice to feel more in that role.'
The 21-year-old is in fine touch at the moment. As well as the hundred against Worcestershire, he hit a sensational, unbeaten fourth-innings century to hand defending county champions Essex their first loss in 21 games last month.
His disciplined approach at the crease has earned praise from childhood idol Sir Alistair Cook, but Yates is not merely a solid defensive player. He is often willing to take bowlers on, and few batsmen in the country play a more satisfying straight drive.
ANOTHER straight one! 💪

Match Centre 🖥 https://t.co/kQNnsqCd6n

🐻#YouBears | #WARvWOR pic.twitter.com/6YGYNCrU78

— Warwickshire CCC 🏏 (@WarwickshireCCC) May 6, 2021
Yates' eye-catching start to the season mirrors that of Warwickshire. Epic run-chases against Nottinghamshire and Essex had moved the Bears to the top of their County Championship group.
Though defeat at Durham and last week's rain-affected draw has seen them knocked off the summit, there is still everything to play for in a ridiculously tight group.
'The aim's been pretty clear from the start, just to win,' Yates insists. 'Every game you go into you try and win, and that won't change and hasn't changed.'
What has changed is the new format of the County Championship, something Warwickshire have benefited from. Rather than the traditional two-tier system, this year's competition involves three groups of six teams battling to qualify for the top division, effectively a second group stage, later this year. For the first time this century, it means all 18 counties can win the title, and Yates is definitely a fan.
'I'm quite enjoying it at the moment, you look at all the groups and they're really, really tight.
'The new format with the groups makes it a bit more exciting and interesting. We're playing teams that we haven't played for a few years, and there are other teams playing teams that they haven't played for years, so there's a lot of new, exciting fixtures this season.
'I wouldn't say I prefer one or the other, but it's definitely an exciting change.'
In fairness, Yates does not have time to meticulously compare old and new formats. He is busy completing that essay which seemingly half the cricket world knows about.
'It's got around,' he chuckles. 'I better do well in it now.'
---
Like this? Check out more from Redbrick Sport:
My Taid and the European Super League
The Tutberidze Figure Skating Saga
Qatar 2022: Will Player Protests Put Controversial Tournament in Jeopardy?