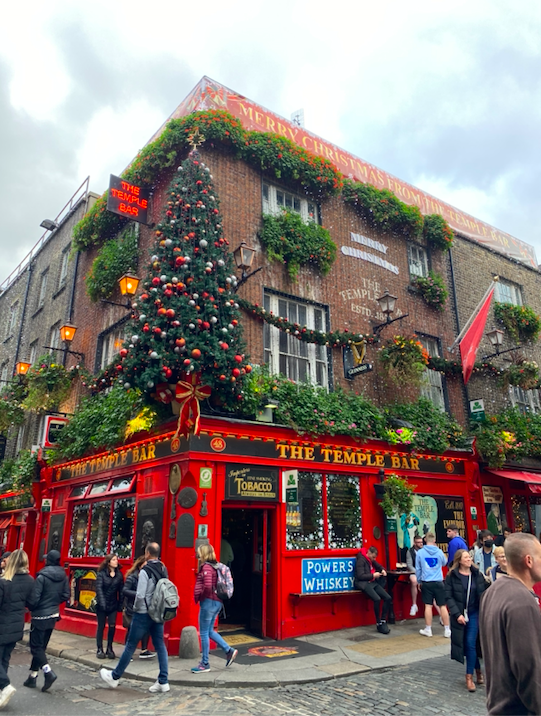 Travel Editor Jessica Haines recounts her recent weekend trip to the capital city of the Emerald Isle
Last month, I took a trip to Dublin to see my friends that I had met on my Year Abroad. After a 45-minute-long flight from Birmingham International (flights can be really cheap with Ryanair if you book far enough in advance), I touched down in a rainy Ireland and took a bus directly to the centre of Dublin, where I reunited with my friends. 
We started the night in Token, a restaurant/bar that also has a large quantity of retro arcade games (very similar to NQ64 in Birmingham), where I tried their 'Burnt End Chilli Fries' (quite honestly the best loaded fries I've ever had). Other items on their menu included burgers, chicken tenders, mozzarella bites, and vegan/vegetarian options. For drinks, we went to Anti-Social, which offers a variety of cocktails (for €12 each – unfortunately quite a standard price for Dublin) and a DJ performing throughout the night.
After that, we went to Camden Street: home to a large variety of Irish pubs, bars and restaurants. We spent the remainder of the evening in Flannery's, an Irish pub renowned by students due to its large (covered) outdoor area and indoor dancefloor, where lots of cheesy tunes were played.
The following day, we ventured to the Guinness Storehouse (of course!) and spent a couple of hours in there learning about how Guinness is made, as well as trying it in their bar with a 360-degree view of the whole city. If you don't drink, you can alternatively trade your drinks token for a soft drink or non-alcoholic Guinness. This experience cost us €26 each, and for an added price, you can learn how to pour your own pint of Guinness and have your face printed on top of one! 
Following that, we went for food at Platform 61, an underground restaurant serving typical brunch foods such as French Toast and Eggs Benedict and offering bottomless mimosas from €19 each. The food was very tasty and also relatively affordable, costing an average of €11 per dish. That evening we went to Bow Lane, a bar-turned-club that hosts a variety of different music events in various styles. 
On our last day in Dublin, we wandered around the cobbled streets of Temple Bar, passed the Molly Malone Statue, traversed the historic Ha'penny Bridge and then enjoyed a delicious brunch at Póg, famous for their protein pancakes. 
Despite feeling like we had a jam-packed weekend, there is so much more to do in Dublin if you want to cram it all in, such as going to Trinity College, home to the Book of Kells – an illuminated Christian manuscript dating back to the 9th century A.D. As well as the Guinness Storehouse, Dublin is home to the Jameson Distillery and the Irish Whiskey Museum. Other popular museums include the James Joyce Museum, the Leprechaun Museum, and the Irish Emigration Museum.
In terms of accommodation, there is a plethora of hotels and hostels dotted around the city centre. Unfortunately, unlike other European cities, it's quite hard to find anywhere that's under €45 a night – Abbey Court, Abigail's Hostel, and Gardiner House (all hostels) are all located just a stone's throw away from the main streets.   
---
Read more Travel articles here:
4 Things I Learned Doing a Year Abroad as a Creative Writing Student