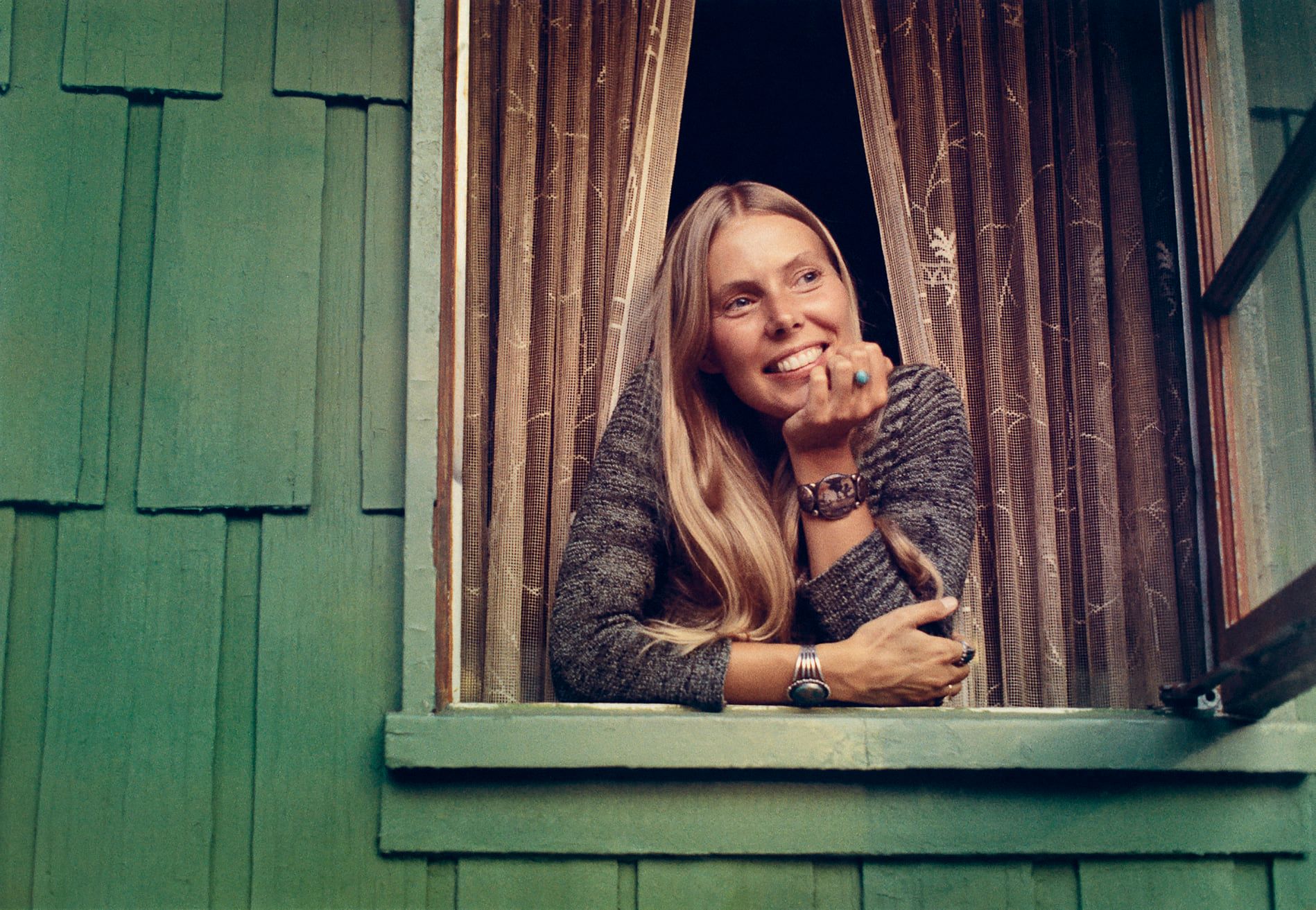 Following the 50th anniversary of the iconic album, Blue, Music Critic Emma Gardner talks us through the highlights of Joni Mitchell's discography.
For those unaware of Joni Mitchell's angelic croon and heart-wrenching lyrical genius, becoming enlightened by her musical mastery is certainly life-changing. A pioneer of the 1970's Laurel Canyon folk scene, the Californian hub synonymous with counterculture activity, Mitchell is a versatile songwriter with a multifaceted approach to the 19 studio albums she has produced since her first in 1968. What particularly draws many fans to Joni Mitchell is her panache for various instruments, the most notable being her skilful weaving of the Appalachian dulcimer into her music, along with guitar and piano. Her proclivity for creating oxymoronic feelings in her lyrics, being agonising yet uplifting, is what makes her still captivating over 50 years after her debut.
For those not familiar with Joni, I have chosen my four favourite albums that I believe represent her best work. Blue (1971) Clouds (1969) Turbulent Indigo (1994) and Song to the Seagull (1968).
Blue:
Blue recently celebrated its 50th anniversary, with Joni herself reflecting on its success in a rare video appearance: 'When it was first released it fell heir to a lot of criticism. So, 50 years later people finally get it.'
Undoubtedly, Blue stands the test of time, and it is easy to see why. Mitchell's autobiographical approach to her lyrics mean that many of the songs on the album provide a relatable comfort to many listeners, both in times of immense sadness, often related to a romantic breakup, or feelings of joy, often linked with a sense of freedom and the appearance of new opportunities. When Blue was first released, The Guardian's Geoffrey Cannon described the lyrics as 'less adventurous,' but I don't think this could be any further from the truth. The opening track, 'All I Want' is an animated reflection of excitement and anticipation that one finds in a new relationship. This is juxtaposed with similar upbeat nostalgic tracks like 'Carey' and which provide a thrilling commemoration of Joni's travels through Europe and the people she met there: 'But let's not talk about fare-thee-wells now/ The night is a starry dome/ And they're playin' that scratchy rock and roll/ Beneath the Matala Moon.' Similarly, 'California' provides an antidote to some of the more maudlin tracks on the album: 'I met a redneck on a Grecian isle/ Who did the goat dance very well/ He gave me back my smile/ But he kept my camera to sell.'
However, the most standout tracks on this album for a beginner to consider are 'A Case of You' and 'Little Green.' The latter is a homage to Joni's estranged daughter Kelly, whom she gave up for adoption in 1965. The track is an agonising ballad reflecting on the various elements of a child's life that a mother misses out on. The guitar melody is reminiscent of her earlier song 'I Don't Know Where I Stand' and provides a thought-provoking subject matter that echoes in later, more sorrowful tracks on the album. My personal all-time favourite is 'A Case Of You', rumoured to be written about Leonard Cohen: 'I remember that time you told me/ You said, "Love is touching souls"/ Surely you touched mine/ 'Cause part of you pours out of me/ In these lines from time to time.'
This, in my mind, is where the talent for other instruments is best highlighted. Joni's melody for the Appalachian dulcimer provides a sorrowful backdrop for her wounded lyrics. This is perfectly juxtaposed by folk legend James Taylor's guitar skills.
Evidently, there is a running theme over the album of a romance lost and words still left unsaid, this instance being directed towards Joni's former flame, Graham Nash. Joni Mitchell left behind a string of famous paramours in the 1970s, and recalling both the highs and lows, Blue is the ultimate synthesis of all these romantic experiences.
Clouds: 
Joni's earlier 1969 endeavour, Clouds, provides a more nonchalant and insouciant approach to life for the listener to get stuck into. 'Chelsea Morning' is a straightforward, classically cheerful hippie track, supplying an optimistic and innocent track about Mitchell's experience living in the Chelsea neighbourhood of New York City. The calm and collected nature of 'That Song About The Midway' allegedly is Mitchell's farewell song to former boyfriend David Crosby, who had been caught cheating: 'I followed with the sideshows to another town/And I found you in a trailer on the camping grounds/ You were betting on some lover, you were shaking up the dice/ And I thought I saw you cheating once or twice, once or twice.' Whilst the pain in this track is noticeable, the overarching sentiment is much more indifferent and hopeful for better days to come.
Whilst over the years Joni's singing style hasn't changed, her voice certainly has. Her piercing falsetto over the years has blended to become a more bewildered contralto, a likely effect of her life long smoking habit. However, this change and development has not necessarily been negative for Joni Mitchell's later endeavours. If anything, it is a more rueful and wise voice, an aspect of her music that is best demonstrated on her 1999 reworking of her classic track 'Both Sides Now.' Whilst the lyrical content remains the same, Joni's evolution as an artist and a person are certainly heard. She is more knowledgeable and perhaps remorseful, two sentiments that are juxtaposed with the original recording in 1969, which still sounds somewhat wholesome and immature.
Turbulent Indigo
Although a lesser well-known endeavour, Joni Mitchell's 1994 album Turbulent Indigo is a blunt and honest endeavour, showcasing Mitchell's ever developing maturity as a songwriter. Rolling Stone's John Milward described it as 'her best album since the mid 70's' and it is hard to disagree. The chilling theme of 'Not to Blame' is contrasted with a despondent melody, carried by Joni's comforting croon. My personal favourite is 'The Magdalene Laundries' which once again showcases Mitchell's panache for weaving unconventional tunes with her tendency towards an ethereal deployment of various open tunings. The subject itself is heart-wrenching, with Joni having cemented herself in the point of view of a fallen woman 'Prostitutes and destitutes/ And temptresses like me/ Fallen women/ Sentenced into dreamless drudgery …Why do they call this heartless place Our Lady of Charity?/ Oh charity!'
Song

to the Seagull

:
A beginner's journey into the world of Joni Mitchell would not be complete without a visit to Joni's 1969's debut Song to the Seagull and the track 'Cactus Tree' being a perfect reflection of Mitchell herself, demonstrating her desire for freedom and lack of romantic commitment: 'He has called her from the harbour/ He has kissed her with his freedom/ He has heard her off to starboard/ In the breaking and the breathing/ Of the water weeds/ While she was busy being free.'
The age or the decade at which one discovers Joni Mitchell is irrelevant. At whatever time of life you come across her, her music is a gift that will always be one of the most comforting, relatable and captivating discographies to grace our existence.
---
You Might Also Like:
A Beginner's Guide to: JPEGMAFIA
A Beginner's Guide to: Sara Kays