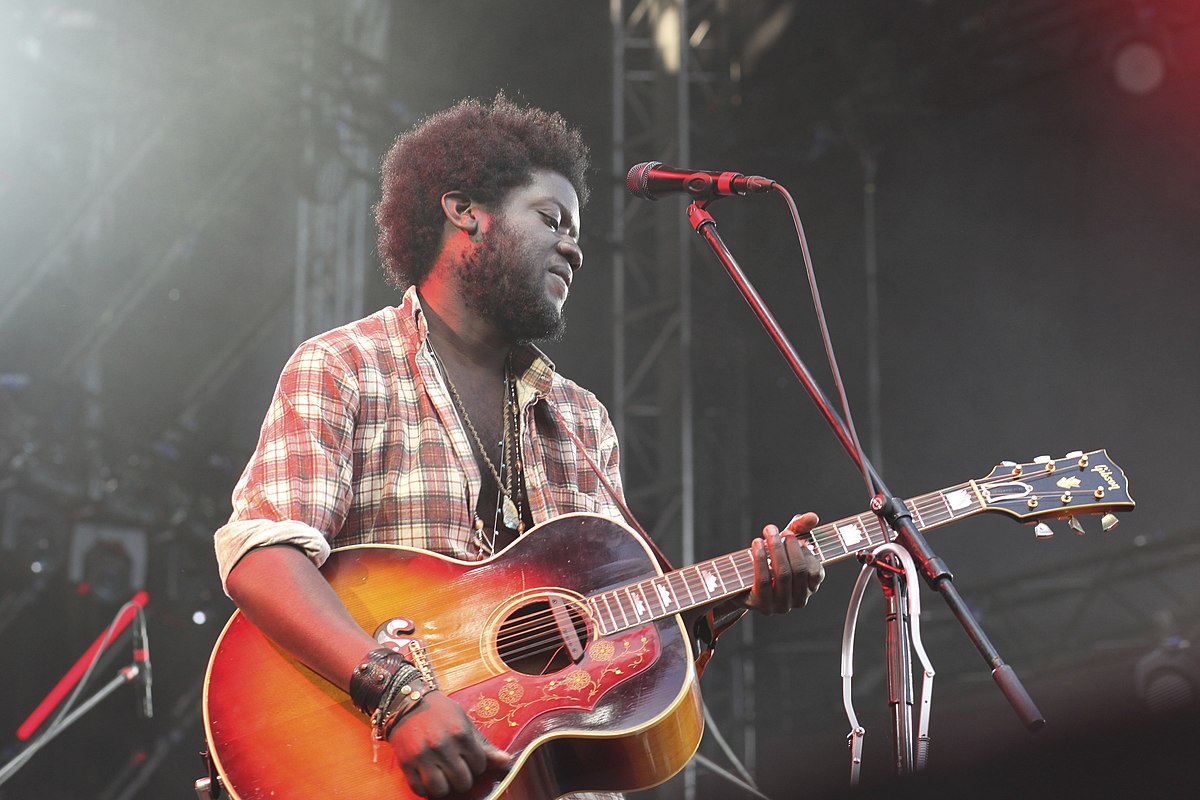 Following his recent Mercury win, Music Critic Lauren Ramsden makes a whistle-stop tour through some of her favourite tracks by Michael Kiwanuka, and instriduces us to him as an artist
Last month, Michael Kiwanuka celebrated his rightly-deserved Mercury win for his third studio album; 2019's bold and expansive Kiwanuka. Citing influences such as Bob Dylan, Bill Withers, and Otis Redding, it's no wonder why Kiwanuka's poetic music seems to transform from album to album without losing its sublime quality. I first saw Kiwanuka with my mum at the 2016 British Summertime Festival in Hyde Park, opening for Carole King. Having no clue who he was, I quickly googled him before he set foot on stage and found a BBC interview from 2012. Fresh faced and nervous in the video, Kiwanuka explained to the camera how to pronounce his name (its Key-wa-noo-ka) whilst showing the crew around the shop where he bought his first guitar. Before I could hear any of his music, Kiwanuka emerged, a small figure in the middle of the enormous stage, holding a guitar. Cue the opening chords to 'Cold Little Heart,' from his second album Love & Hate, prompting one of the best and most striking live performances I have ever seen. He filled the stage. Over the past four years since that concert, Kiwanuka keeps drawing in new fans with his soulful voice and introspective songs, but I would still argue that he deserves more attention as one of the greatest songwriters and performers around today. To demonstrate this, here are a handful of my favourite songs to introduce you to Michael Kiwanuka.
– Michael Kiwanuka
---
'Home Again'
Kiwanuka's 2012 debut definitely reads as less of an experiment than his later work. In fact, I would argue that it could be classed as acoustic folk-soul akin to Nick Drake more than the Withers-Gaye vibe he's used to being compared to now. As a result, it's a great way for new listeners to focus on Kiwanuka's voice and song writing, as it shines more than anything else on this album. The titular song is objectively not the strongest, but the themes it expresses within the layers that build around Kiwanuka's voice and guitar encapsulate the delicate and warm atmosphere on the album as a whole. He sings 'I've left my head/many times I've been told. All this talk will make you old' in the refrain, suggesting struggle beneath the upbeat feel of the song. His repeated desire for strength and comfort in finding a home feels confessional and spiritual, bringing the listener closer whilst also hinting at the self-doubt that is explored further on his next album. It's clearly been crafted with great care and is easy listening for those who need to rest their ears.
---
'Black Man in a White World'
From his extraordinary second album Love & Hate, 'Black Man in a White World' sees Kiwanuka 'earnestly grappling with the world as it is' in a more explicitly politicised manner. What we heard of Kiwanuka's desire to 'feel home again' in his debut is expanded upon as he explores his struggles with his British-Ugandan background and feelings of alienation within both cultures. In his 'Song Exploder' podcast episode on this song, Kiwanuka talks candidly about how growing up as an immigrant in a white, middle-class area of North London meant a minimal exposure to black culture, affecting the type of music he loved and would go on to produce. He also expressed frustration that, perhaps as a result of this separation, he saw few black people at his shows: 'How come it's not mixed? How come only one type of person comes to certain types of gigs?'. The sense of living in between worlds is thus explicit in this song, with Kiwanuka repeating the title as a mantra over 40 times over a simple clapping rhythm; an expression of his blackness in a ruminative manner, invocative of early blues (he cites Nottingham band Son House as an inspiration). This is before the masterful production (by Inflo) and musical instrumentalists kick in, with the sweeping violins evoking 70s disco, along with the afro-beat feel of the drumming and congas. The organic and improvised nature in the writing process, as expressed in the podcast, shows that this was the unflinching and cathartic song Kiwanuka needed at this point in his music career, making the message all the more poignant for the listener in this age of BLM.
---
'Hero'
'Hero', from Kiwanuka's most recent self-titled album, is a show stopper. Inviting comparisons to mid 60s protest songs, it is both rooted in an era that has inspired him whilst also seeing Kiwanuka spread his proverbial creative wings and fly. This goes for the whole album, which finds an aesthetic and sound that is wholly his; the cover shows Kiwanuka's face, straight on, not hidden in shadows, proudly and confidently displaying himself as an emperor to the world. This reflects the messaging in 'Hero' especially, in which Kiwanuka struggles with his image as an artist and public figure, being placed on a pedestal as a result of his successful previous album. Feelings of inadequacy and doubt linger with each question: 'Am I a hero now?' Also, continuing on from his last album, there's an aspect of politicisation that, since this was written in 2018/19, is at times haunting and couples with 'Black Man in A White World' fittingly. This message and the catchy tune, mixed with Danger Mouse's excellent production, creates a unique blend of psychedelic rock (the guitar on this track is insane) and soul that is truly his. Kiwanuka told The Guardian, 'I was definitely more confident outwardly but, in the studio,  I would cower: Somebody's going to find me out. Without the superheroes I'm rubbish.'
---
'The Final Frame'
The last song on Love & Hate is my favourite Kiwanuka has produced, so I had to give it a mention. It's intense, all-encompassing and, after listening to the whole of the daring album, is the touching aperitif the listener needs. The grinding chords, whining guitar and exquisite yet painful vocals make this song, at times, overpowering. It's a perfect example of Kiwanuka's emotional ability, which is pushed even further in his next album. I watch the Live at RAK Studios recording of the song on a regular basis, and so should you. It's a exemplar performance of a legendary artist living in our midst. It's why soul is called soul and needs to be seen to be believed.
---
Something that I love about Kiwanuka is his courage to find himself through experimenting with his sound. Yet, you can still hear the through line of his albums, despite them being so different from each other. The running theme of identity is one that has fully formed in his latest album, and despite his varied influences making it difficult for him to settle within the industry, he has found his soul within to confidently express himself on every album in a different way. Ironically, Kiwanuka believes his early sense of alienation helped push him to find himself: He told The Guardian, 'Ultimately, I don't know if it's a bad thing to be alienated…People say it is, but it makes you who you are.' No longer wasting his time with self-doubt, Kiwanuka has truly come into his own, and isn't it exciting.
---
You Might Also Like:
Essential Albums: Queen – The Works
A Beginner's Guide To: Lausse the Cat
Black History Month: Celebrating Black Artists