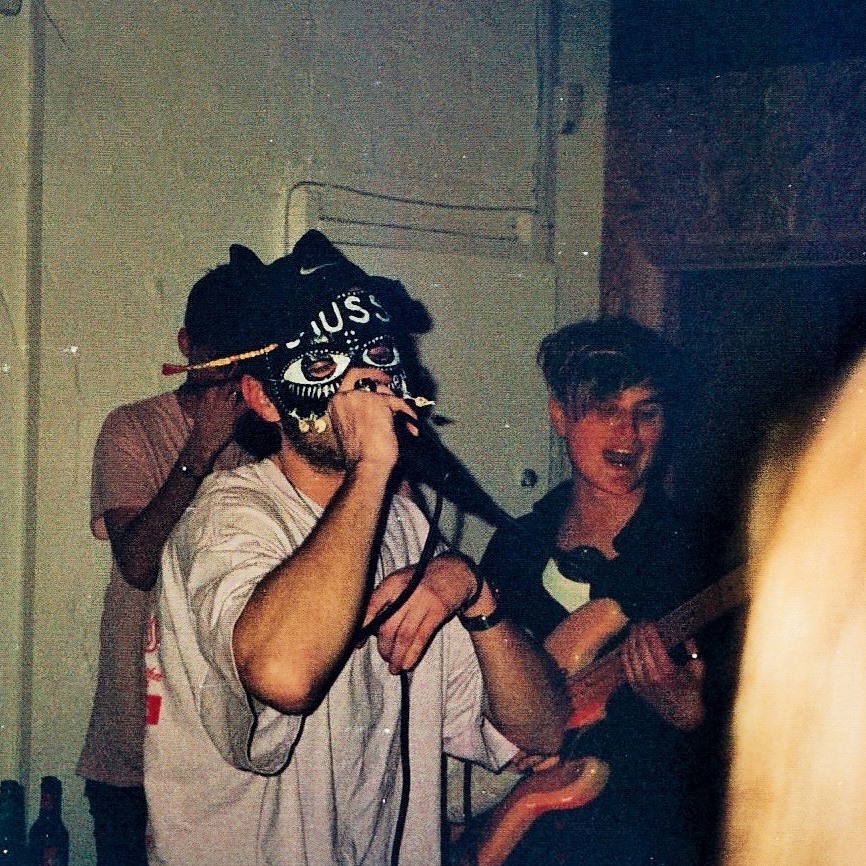 Music Critic Raphael Kalid gives an introduction into the dark and surreal world of Lausse the Cat. Featuring a unique collection of lo-fi, experimental hip hop, the alleycat's work is worth a dive for any fan of the genre
Google 'Lausse the Cat' and you will be informed that he is 'Prince of cats and Lord of the bins of Motor City.' The lack of much more information on the artist only adds to the mystique of someone who is one of the most creative and interesting voices in the UK alternative hip hop scene. From London but working out of Leeds, Lausse has developed a small but devoted fanbase by releasing several singles and an EP on his SoundCloud page. While the artist's identity is a mystery, his alter ego Lausse is a womanising cat struggling with alcoholism and substance abuse. The world created in his music is noir and downbeat, ideal for walks down dark alleys on winter nights. The stunning artwork released for each single reflects this off-kilter mood perfectly.
Most of Lausse's work consists in delivering vivid tales of debauchery over melancholic, jazz inflected instrumentation. All the staples of alternative/lo-fi hip hop are here; contemplative reverb-soaked keys, seventh chords, crackly samples. However, Lausse injects creativity into a genre that can too often feel stale. His matter of fact delivery counterbalances the melancholia of the instrumentals preventing his self-introspection from becoming melodramatic. This coupled with occasional pitched up adlibs, narration and surreal imagery create a self-aware distance which allows it to be self-critical and never maudlin. While many of the singles rely on generic instrumentation, intricate production choices and the use of live bass and keys afford the tracks more movement and presence then is often the case. These are the kind of lo-fi beats that command attention.
Lyrically, there is an unnamed sadness that permeates Lausse's stories of drugs and alienation. He brings to the fore the lack felt by many in an age of hedonism, where pursuing pleasure can seem like the only goal. 'Zinfandel Rosé' and 'Kitten Blues' both detail disillusionment with the university lifestyle. Lausse explains, 'Witness my demise on telly, but I don't need no Louis Theroux tellin' me/ On documentary, that I'm sipping way more liquor than I am meant to be.' He admits he drinks 'to confuse my innards/Some parts hollow, these parts need filling.' But Lausse wisely never lets his music devolve into self-pity. Even on tracks like 'Ciao Bella' which explore the darker consequences of substance abuse, Lausse's delivery remains characteristically numb to emotion.
The Girl, The Cat and the Tree

While there is an aesthetic consistency to all Lausse's music, it is on his EP The Girl, The Cat and the Tree where his world is most vividly brought to life and he does something really exciting. The story is the bizarre tale of the titular Lausse, a depressed cat seeking advice from a tree wizard about his empty heart. The 21-minute EP's mix is noticeably better than the preceding singles. The lo-fi aesthetic is retained but Lausse's voice is clearer and more present. The album opener 'Motor City' starts with narration, setting the scene of 'a sad cat…. wondering and pondering his lonesome thoughts.' The beat kicks in as haunting vocal snippets and keys start to flutter over live bass. 'Drink with the Leaves' showcases Lausse's sonic creativity as what sounds like a pan flute gives the track an other worldliness uncommon in a genre reliant on keys and guitar. The beat switch to a wonky groove halfway through is one of many great production choices on the EP.
'Toy's Story' details Lausse's youth in a painfully eerie walk down memory lane and the sombre cello of 'Interlude' provides the EP a filmic grandeur that elevates Lausse's hedonistic downfall to the poignancy of tragedy. The melody has a slightly eastern inflection, an influence built upon by Lausse's artwork, some of which looks similar to the Japanese nihonga style. 'Fuccboi Lullaby' recounts a house party Lausse goes to with his friends. A playful, single note keys line dances over grooving bass as childlike innocence underscores the simple excitement of a house party. Lausse arrives and immediately starts flirting, sleeps with a girl, and then ultimately neglects her. The sweetness of the instrumental is made melancholic as the track ends with a brutally efficient description of Lausse ripping out and eating the girl's heart. The realism turned surreal is a stunning moment. Then comes 'A Cat's Demise', with its lack of clear harmony and relentless kick and sub. It is a truly frightening track – think Kendrick Lamar's 'U' levels of self-hate. This is Lausse's punishment for his hedonism and the track is seeped with a sense of guilt. 'Belle Boutelle' provides a satisfying close to the EP.  It is more melodic than any of the other tracks and strangely morphs into a rendition of Lou Reed's 'Walk on the Wild Side'. Lausse also raps confidently in French which, while in isolation works great, is the one element that prevents the EP from being an aesthetically consistent whole. Thankfully, the track ends with 'to be continued' suggesting that it is not the end to Lausse's story.
Redstripe Rhapsody
Aside from the EP, the multi-phased 7-minute single 'Redstripe Rhapsody' is an equally excellent introduction to Lausse's music. It is an amalgamation of all the things Lausse excels at. It moves from trap to grime to house and samples both Tyler the Creator and Drake on the way. The lyrics, in typical Lausse fashion, deal with getting drunk. Then equally typically, a trumpet interlude makes way for a mock medieval proclamation ('Hear ye, hear ye'), mythological allusions are made, and something about dancing in the 'Garden of the Moon.' Realism turns surreal and then back again. Debauchery and promiscuity are elevated and then brought right back down to earth.
One can easily imagine Lausse the Cat obtaining a cult status similar to that of MF Doom, an artist whose alter ego's escapades also cast him in a less than perfect light. This creative lineage is implied by Lausse himself who wears a cat mask on stage, its wide emotionless eyes suggesting one bump of ket too many. A Genius annotation made by Lausse seems to confirm the influence. Unfortunately, there is no information as to when Lausse might next release music. We can only hope that when the Lord of cats eventually does return, his tale will be just as exciting and creative as it has been so far.
---
You Might Also Like
Classic Single Review: Van Halen – Eruption 
The Best and Worst Song Covers
Black History Month: Celebrating Black Artists