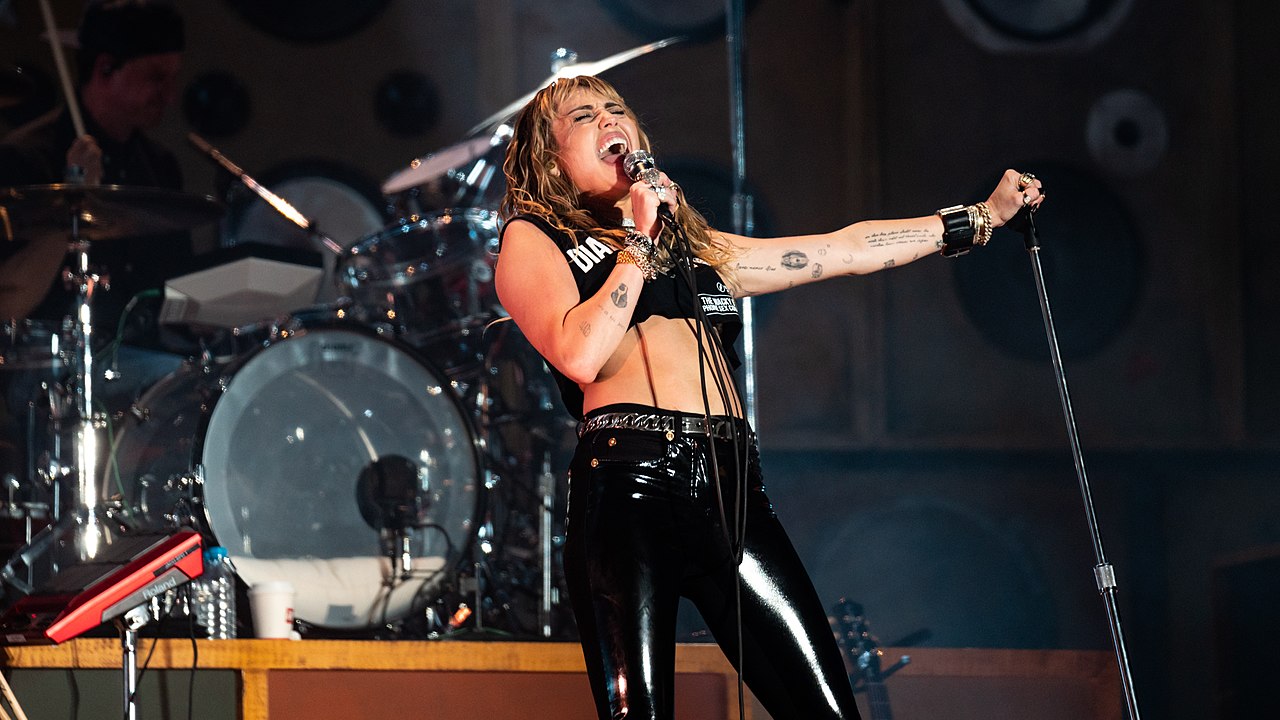 Music Critic Lizzie Faircliff charts the genre defying and entertaining career of Miley Cyrus, whose latest phase is perhaps her most promising yet
At the iHeart Music Festival in 2019, Miley Cyrus bravely tackled Pink Floyd's 'Comfortably Numb,' singing in a pitch even deeper than David Gilmour. Before she begins the song, she states 'I sing songs like 'Can't Stop' for you, but then I sing a couple songs for me' and launches into the 1980's rock classic. Over the years Miley has always wowed her audience with her rock and country covers, and her recent transition into a more classic rock vibe is clearly where she wants to be.
Miley Cyrus has been a figure on our screens and a voice in our heads since the early 2000s. Beginning as a Disney star, swinging naked on a wrecking ball and now growing into her more rocky vocals with the 2020 iHeart festival cover of Debbie Harry's 'Heart of Glass.' This evolution to an '80s rockstar with her new blonde mullet, deep sexy voice and classic rock covers is very different from the Hannah Montana we used to know, but an enjoyable progression to watch.
Miley has always had her roots embedded in country and rock, inevitably with Billy Ray Cyrus as her father and Dolly Parton as her godmother. Although Miley's mainstream music has largely remained pop, she has stated her influences lie with the likes of Dolly Parton, Joan Jett, and Elvis Presly. All musicians with powerful voices like her own.
Miley has never shied away from surprising her fans and audiences and taking new directions with her music. Her albums Bangerz and Miley Cyrus & Her Dead Petz showed a sharp turn from her Disney days, cementing this transition with her twerking at the VMAs and her much talked about music video to 'Wrecking Ball.'
In 2017, Miley Cyrus released the single 'Malibu' and her sixth studio album Younger Now, which featured Dolly Parton. The album showcased a more mature style and leaned more towards country. In 2018, she collaborated with Mark Ronson to release 'Nothing Breaks Like a Heart', described by GQ as a 'country-pop-disco-jazz fusion banger.' Later, in 2019, Miley released She Is Coming, as the first of three EPs that would comprise her seventh studio album. The later EPs were cancelled and the album delayed to be reworked. Over the years, Miley has flitted from sound to sound in an effort to find her style. She has released some of her best music across all different styles, yet it seems that this next step in her career might see something more exciting.
It is only in live performances that we see the country and classic rock side of Miley come through. From covering 'Jolene' in The Backyard Sessions, to her recent cover of Blondie's 'Heart of Glass,' Miley has kept performing the rock songs that her voice so clearly lends itself to. Over the years we have been treated to recordings of her live covers of Fleetwood Mac's 'Landslide,' Bob Dylan's 'Baby I'm in the Mood for You,' and Metallica's 'Nothing Else Matters,' among an incredible number of others. Even her 2019 Glastonbury version of 'Wrecking Ball' had more of a classic rock vibe to it than the original 2013 single, with her '80s look, electric guitar solo and raspy vocals.
In recent months, she has stepped up her development into a more classic rock era of music. With her cover of Pink Floyd's 'Wish You Were Here' in April, performing the Beatles' 'Help' at the Global Goal concert in June, and Hall and Oats' 'Maneater' in September. Her deep, rasping voice rings of '80s icons Bonnie Tyler, Debbie Harry and Stevie Nicks and is suited to this new development she is taking. It seems, however, that only recently with 'Heart of Glass' have her classic rock covers claimed the public eye, and popular demand for this song has made it available on Spotify for streaming, showing her mainstream transition into this genre.
Miley smashes her cover of Blondie's hit song, taking a throatier and harsher, punk rock approach on the vocals than Debbie Harry's lighter, flirtier tone in the original. Wearing a sheer bodysuit, Miley belted away with pure emotion and energy. Debbie Harry herself even praised the cover, describing it as 'divine' on Twitter.
Her new single 'Midnight Sky,' released on August 14, has been appraised for its Stevie Nicks vibes by Rolling Stone as Miley matures into this classic rock era of her music. Her upcoming album, featuring 'Midnight Sky,' promises more of this '80s style.
Midnight Sky is available now via RCA Records
---
You Might Also Like:
Black History Month: Celebrating Black Artists
Classic Single Review: Van Halen- Eruption