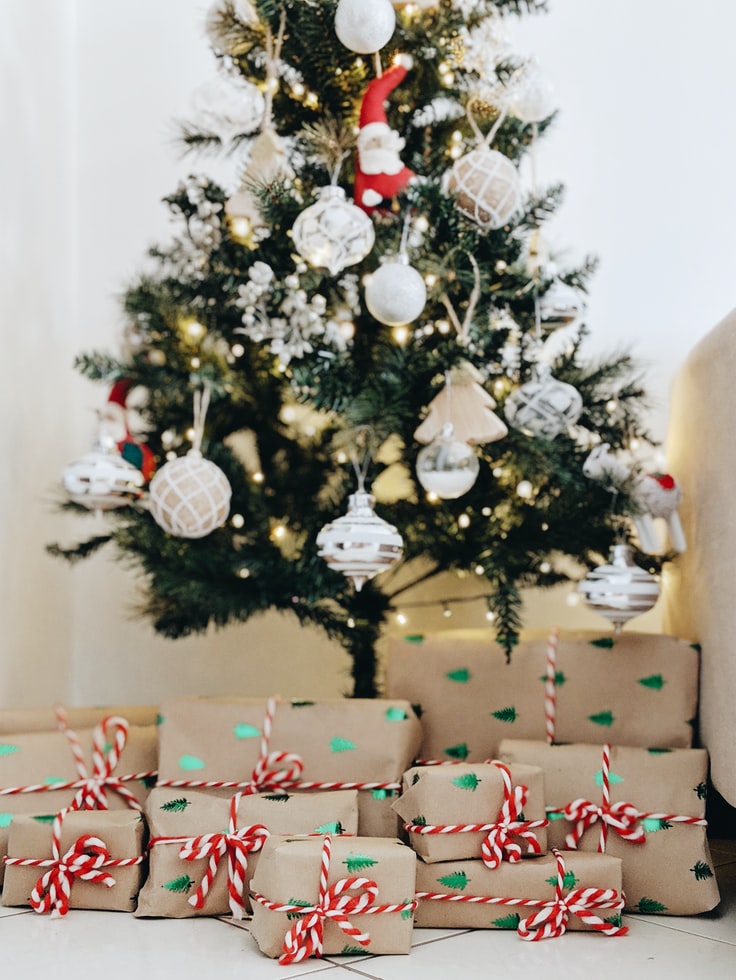 Food&Drink Editor Chloe Hyde lists her favourite food and drink inspired gifts for the Christmas season
The festive period is notorious for food-related celebrations. For some people, a love for food is a year-round affair, which is not just limited to Christmas. As a self-proclaimed foodie, I know there are lots of food and drink gift ideas out there already, since I have received some of these gifts myself (and even use every single day). From coffee to avocado baubles, there will be at least one item in this list that will suit your fellow foodie friend.
Beeswax Wraps 
With single use plastic being a huge environmental issue, beeswax wraps are a reusable, funky and planet-friendly alternative. Lots of beeswax wraps have an array of different patterns on them, allowing for a lot of choice depending on which style you fancy for the most. The Beeswax Wrap Co. sell normal beeswax wraps, beeswax storage bags, and vegan wax wraps too – some in collaboration with Cath Kidston and Emma Bridgewater. This is such a great way to cut down on plastic in style. 
£9.50 – £70
Quite Nice Clothing
Having owned the TikTok-famous Aperol Spritz tote from Quite Nice Clothing, it would be cruel of me not to feature this independent clothing company on my list. Ranging from T-shirts, hoodies tote bags, prints, coasters and even tea towels, this small business is known for its deconstructed recipe illustrations. Whether it be cocktails, carbonara, brownies or more, Quite Nice Clothing has a plethora of recipes to choose from, making it the perfect tailored present. 
£3.50 – £50
Pact Coffee Subscription 
Unfortunately, bags of coffee do not last forever. That is where the Pact Coffee Subscription comes in handy. Pact Coffee source coffee beans from all over the world, which are lovingly grown by a community of over 150 farmers who are on a mission to fix existing issues in the industry supply chain, meaning farmers are losing out. Through their subscription service, you can choose how you would like your coffee delivered, whether it be ready for an espresso machine, cafetiere, stove top etc. You can choose whether you would like whole bean, or pre-ground, and then you get to choose your coffee range. Pact offer their 'House' (their signature blend, and the same blend each delivery), 'Select' (single origin coffees, different coffees from a changing seasonal menu), or 'Micro-lot' (different and unusually flavoured coffees which change also). Each bag is 250g, and you are able to alter your subscription if you decide you want to switch it up a bit. 
£6.95 – £9.95 per bag 
Bird & Blend Tea Co. Subscription
If tea is more your cup of tea, then look no further. Bird & Blend Tea Co. offer three, six or twelve-month tea subscriptions, meaning you can pay all in one and do not have to think about it again. Each box will feature a range of tea types from the 'Tea Tasting Club' which have been hand-blended in the UK with high quality ingredients. There are caffeine-free and allergen options, making this subscription accessible to everyone. 
£35.85 for three months 
Carb Club Pasta Bowls 
Carb Club's hand-painted ceramic pasta bowls were an instant hit when they were first released onto Etsy following the demand fostered by TikTok. The dinnerware is bright, unique and can even be customisable at a little extra cost. Being able to support a small business during Christmastime is something which will make a huge difference to the creator, and being able to slurp spaghetti out of a cute pasta bowl hardly seems like a bad deal either. 
£3 – £50 
Chilly's Water Bottle 
Aside from helping you fit the classic university-student-who-studies-English-literature stereotype, the classic Chilly's bottle is a staple, and wonderful present. A water bottle is essential to a busy lifestyle, or even just a reminder to keep yourself hydrated during the day. There are many different sizes, shapes, and most importantly – designs. I have never seen such a fun selection of patterns for water bottles before; in their 'Artist Series', Chilly's state that they have "hooked up with creatives across the world to turn our Chilly's bottles into little works of art." In addition to this, you can customise the accessories that come with the bottle, including changing the colour of the lid. Their mission is to accelerate the use of reusable products, and this Christmas is a perfect way to contribute to that. 
£15 – £40
Personalised Nando's Peri-Peri Sauce 
Although this one is a tad gimmicky, I am pretty sure some people would be very pleased to receive a personalised Nando's Peri Peri Sauce. In some of the classic Nando's saucy flavours, including Lemon and Herb, Medium, Garlic and Hot, these personalised bottles add a bit of extra fun and spice. There is thirty characters worth of space to write a message, or even just write the recipient's name onto the bottle. Just like the bottles you see in the supermarket, these bottles are 500g. Since you have to order online, you have the additional option to add a pouring spout for £2 extra, and the sauce comes in a gift box too. 
£10 
 Leopard Wine Stopper
If you want to avoid buying single-use presents like actual bottles of wine, then this quirky gold leopard wine stopper from Oliver Bonas is a fun but practical gift. This little leopard figurine sits proudly atop the stopper, making the bottle look as if it has its own personal guard. This is more of an out-of-the-box present for a wine lover, and something that will definitely keep for a long time. 
£12.50
Cadbury World Gift Voucher
Even though this is my fourth year living extremely close to the home of chocolatiers, Cadbury World in Bournville, I am sadly yet to visit. A gift voucher for Cadbury World is valid for a whole year after purchase, ensuring that there is plenty of time to organise your indulgent trip around your schedule. It would be rude not to. Not only is it an opportunity to learn the history of the famous brand, but also to try their delicious creations along the way. 
£14 – £68.50 
The Female Chef: 30 Women Redefining the Food Scene
According to the synopsis on the Foyles website, "this book celebrates those at the forefront of modern food, and the experiences that got them there, bringing together insightful interviews, original portraits and each chef most memorable recipe." The food industry, as we know through our interview with Chef Poppy O'Toole, is still suffering a gendered imbalance massively. The Female Chef:30 Women Redefining the Food Scene is a one-of-a-kind book, which offers a range of introspective thought on the female experience in the kitchen. 
£28
Avocado Baubles
As an avid avocado fan, I had to give an avo-themed gift a position on this list. Sass & Belle's Avocado Mini Bauble set of three is the best addition to a Christmas tree. These glass-painted avocados are lined with a green glitter to make them even more festive, and the useful thing is that they already match the traditional Christmas colour scheme. Sass & Belle also sell other festive baubles, so even if avocados are not your favourite, there are still plenty to select from their range. 
£10.50 
Cow Print Handheld Milk Frother
Making iced coffee in winter is a very contentious debate, but should you choose to make one everyday like I do, a milk frother is basically classed as an essential item. This Aerolatte Mooo Frother is a quick and simple instrument to make a perfectly frothy coffee at home. The cow print makes it just a little different to all the others currently on the market. 
£11.95
---
Starving for more? Take a look at these other foodie guides: