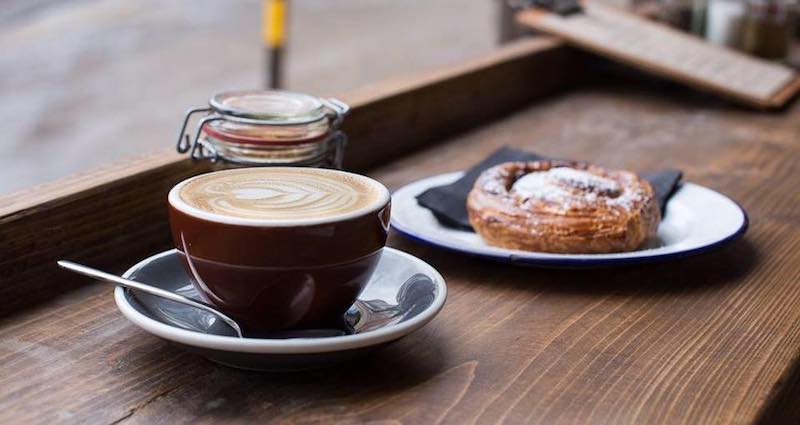 Deputy Editor Jasmine Sandhar is here to guide you through the ultimate café crawl, taking you to Birmingham City Centre and beyond
Birmingham's Best Cafes 
Cafes have become the new staple of student life. After the shutdown of bars and clubs during lockdown, there were not many other places for undergraduates to turn to and although everything has reopened, coffee shops are remaining a popular hangout spot. Whether you are looking to cure a nasty hangover after a wild night out, grab a quick-fix to help stay awake throughout a late-night study or engage in a relaxed, sober social catch-up with friends, there is a café in Birmingham for you. Take a read below of my favourites and perhaps complete a coffee crawl through them all.
Central Birmingham
Medicine Bakery (££ – £££)
Aside from its prime location right opposite New Street Station, the Medicine Bakery has developed a reputation for being one of the most Instagrammable cafes in Birmingham with its high arches and well-watered plants. The breakfast, brunch and lunch options are also irresistibly good, in terms of both presentation and taste. My go-to order is the Bacon Maple French Toast with an iced matcha latte (in order to balance the sweet and salty flavours). There is also a wide range of sandwiches and salads available to suit the needs of vegetarians and vegans alike.
Perhaps their most impressive selection is to be seen in the cakes and bakes, which offer both traditional and experimental goods. A favourite has to be the Cronut – a mix between a croissant and a doughnut. Given that the café is usually quite busy, I would recommend booking in advance and going with a group of friends rather than for a study session. Alternatively, their branch in the Mailbox is a little quieter. 
Open Monday – Sunday (8:30am – 5:30pm) / https://www.medicinebakery.co.uk / @medicinebirmingham
Kitty Café (££ – £££)
As an aspiring old cat lady, the Kitty Café holds a special place in my heart. It is a bit of a challenge to actually stroke the furry felines, unless they come over trying to steal some grub or are having a lie-down in one of the beds. Nonetheless, there is nothing quite like the experience of watching some of the cutest cats in Birmingham prance about on balancing beams and play with noisy, feather-covered toys whilst you sip your cup of coffee. The café actually acts as a 're-homing and care facility', taking in and looking after rescues, strays and the medically-impaired 'until they find their forever home'. All of the cats in the Grand Central branch are adorable, but my personal favourites have to be the two black kitties named after the Harry Potter franchise: Bellatrix and Sirius.
The food menu is extensive, offering pizzas, paninis, jacket potatoes, quesadillas and omelettes on the savoury side, and a variety of cakes (which are all vegetarian-friendly) for dessert. The Kitty Meal Deal is a great way to get a full taste of everything with the choice of any food item, a drink and a cake for £12.95. Although the drinks menu is quite substantial with the options of mocktails and milkshakes, I was disappointed that iced coffees were not available and the hot chocolate I had instead was mediocre at best. The unexpected £6 entrance fee on the door – which goes towards the welfare of the cats – makes this a little more expensive than my other recommendations. Nevertheless, if you are a cat-lover, the Kitty Café is sure to be your safe haven. 
Open Monday – Sunday (10am – 6pm) / https://www.kittycafe.co.uk/locations/birmingham / @kittycafeuk
The Exchange (£ – ££)
After a year of anticipation, the University of Birmingham has finally opened up The Exchange in Centenary Square. Given that the building used to be the former Municipal Bank, the space this café occupies is nothing short of grandeur with an entrance of stone pillars and an interior of high, skylight ceilings. Unfortunately the interior design does not reflect this pomp, with a tired-looking grey coffee counter and some rather sparse furniture. Yet this is no reflection of the food and drink available, which caters very well to any dietary requirements with almost every flavour of alternative milk and a wide selection of vegan baked goods. Whilst I stuck to my sweet tooth with a rich, chocolatey brownie, my friend tucked into a healthily-sized salmon on a bed of green salad that oozed with good quality and fresh ingredients.
The accompanying iced mochas were the perfect caffeine strength (despite being slightly smaller than expected) and the baristas who made them were happy to have a friendly chat, which made the wait seem a little less long. An added bonus was strolling through the sustainability exhibition on show and reading through the university's detailed research on the city's emissions. I think that The Exchange will definitely become a new student hub outside of campus, whether just for a quick coffee catch-up or a longer study period. 
Open Monday – Saturday (8am – 5pm) / https://www.birmingham.ac.uk/the-exchange/index.aspx @unibirmingham 
Outer Birmingham
Cafephilia (£ – ££)
Moseley is probably my favourite suburb in Birmingham, as the High Street is packed with unique restaurants and boutiques that cannot be found anywhere else. One such place is Cafephilia, an independently-owned café tucked away at the top of the road that is constantly packed with locals and loyal customers. The coffee shop is well-known for its amazing brews and whenever I order my mocha with coconut milk, not only is it obvious that the coffee beans are freshly roasted and high-quality, but the baristas always manage to get the Golden Ratio just right, ensuring an immaculate balance between strength and flavour.
Whilst I personally have never eaten at the café (apart from the odd muffin here or there), the menu offers both breakfast and lunch – serving everything from croissants to waffles to gourmet ciabatta sandwiches – and is vegan-friendly. Something I particularly love about this café is its laidback atmosphere, which in part exudes from the rustic decor that is infused with a European, laissez-faire attitude, but primarily comes from the hubbub of people chatting away about all manner of things. Oftentimes, this is accompanied by disco and funk tunes that are played just outside the front by a DJ in his small pick-up truck. It is also always a pleasure to see the owner walking around looking out for everyone's needs – he is always the first to come over and sanitise our tables in compliance with COVID-19 protocols, as well as ensuring to salute us upon entrance and exit. If I had to recommend just one of these cafes, it would have to be Cafephilia. 
Open Monday – Sunday (8am – 10pm) / https://www.independent-birmingham.co.uk/profile/cafephilia / @cafephiliamoseley
Constance Wallace Tea Shop (££ – £££)
Although this recommendation in Barnt Green is perhaps a bit further out for students living in Selly, I can assure you that the trek is well worth it. If you are a fan of anything vintage, you will adore the ceilings adorned with bunting and fairy lights, shelves stacked with purchasable porcelain and china, and the vinyl crackles of old jazz standards echoing throughout the room. The Afternoon Tea set menu is a popular choice amongst customers with a vast array of British classics, including dainty finger sandwiches, hearty pork pies and flaky scones topped with jam and clotted cream. When I visited for a light lunch, I had a perfectly toasted tuna melt sandwich with a side of crunchy crisps and a homemade chocolate tiffin – all of this delicious food was washed down very nicely with a fragrant, steaming pot of tea, of course. It was a delightful way to spend the afternoon and the staff were extremely attentive, too. The Constance Wallace Tea Shop is probably the best place for a wholesome family outing or to celebrate a particular occasion (as it is slightly pricier than the other cafes on this list.) 
Open Tuesday – Saturday (11am – 3pm) / https://www.facebook.com/Constance-Wallace-Tea-Shop-1423669221251091 / @constance_wallace_tea_shop
Creative Coffee Hub (£ – ££)
If you are a student looking for a more local coffee fix, the Creative Coffee Hub at the top-end of Selly Oak is the place for you. This independently-run café offers a menu of light lunch snacks – ranging from creamy soups to crisp toasties and crunchy salads – and moreish cakes, including my favourite slice of chocolate orange that essentially resembles a large Jaffa Cake. The coffee tastes pretty good and is also very affordable in comparison to the bigger chains like Costa or Starbucks. However, one slight criticism is that the drinks menu is not very broad and this also applies to the selection of alternative-based milks on offer, which are mainly limited to oat and almond.
As is evident from the name, the unique selling point of this café is that it doubles as a relaxing arts and crafts activity, too. At the back of the white-walled shop is a shelf teeming with pottery wares that you can paint – some of these have more practical uses, such as a piggy bank or teacup, and others are just nice ornamental pieces, like the frog or the butterfly. Whatever you choose to buy will come with a mini set of paint pots, a paintbrush and a varnish after coat. Sitting on my windowsill right now is a collection of Creative Coffee Hub memorabilia: a pastel blue and pink lighthouse tealight holder, a small smiling ladybug and a hanging ceramic martini glass. Unsurprisingly, all three are painted rather shoddily (I am no artist in the slightest), but looking at them transports me back to the day I was in the café, laughing away with friends as we sipped on our drinks and attempted to sketch out straight lines. The Hub is just a lovely place to spend a few hours away from the rest of the world, whether that be to finish off some seminar reading in peace or to chuckle at toddlers running around with paint all over their hands.
Monday – Saturday (9am – 4:30pm) / https://www.creativecoffeehub.co.uk / @creativecoffeet
All Over Birmingham (and the UK)
Damascena (££ – £££)
Named after the Damask Rose, the national flower of Iran, this Midlands-based chain serves food and drink inspired by the flavours of the Middle East. As someone who enjoys exotic flavours and spices, the drinks menu is right up my alley with strong, rich Turkish coffees and fragrant, herbal teas. The last beverage I ordered from the café was the Karak Milky Tea. It was almost the exact same as my mother's masala chai, which brought back fond memories of when she would brew a pot of it to help me overcome illnesses during childhood. Unsurprisingly, the food is delicious and quite authentic, too, with shawarma, falafel and flatbreads galore, and almost everything on the menu can be made vegan or gluten-free in some form or another.
When I visited a few weeks ago, I ordered the Fattuush Salad, which was composed of fresh leaves, juicy pomegranate molasses, crumbly feta cheese and some wafer-thin croutons – it was one of the best salads I have ever had (and I do not like salads.) In terms of dessert, the Damascene Baklava Selection is unmissable, given the buttery, flaky pastry and sugary richness that cannot be store-bought. I highly recommend specifically visiting the branch off Colmore Row, as whilst it is extremely busy a lot of the time, the interior design is luxurious – including gold-plated wares and intricately patterned furniture – and the views of Birmingham Cathedral are amazing.
https://damascena.co.uk / @damascena_uk
The Lounges (££ – £££)
Whenever I am in doubt of where to go for lunch or if I am in need of a quick bite to eat, I always seem to end up at one of The Lounges – mainly because the service is always punctual and the food is really good. I have always been a fan of the cafe's reasonably priced and sized burgers, particularly the Ultimate Chicken, which comes with streaky bacon and crispy hash browns, but the Tapas has become a recent favourite, too. The £11.50 Tapas Board deal includes three dishes served with ciabatta and the options range from Halloumi and Sweetcorn Fritters to Crispy Fried Cod Taco. I can never seem to resist the Salt & Pepper Squid that comes with roasted garlic mayonnaise. Dietary preferences are extremely well-thought-out, too, and The Lounges have the most comprehensive gluten-free menu I have ever seen. Whilst I typically opt for a cocktail with my meals here, the coffee is superb and it is obvious that the baristas know what they are doing when it comes to making the perfect cappuccino. One of my favourite things about The Lounges is their unique decor, which consists of funky 70s wallpapers, ornately framed mirrors, portraits of random people, fancy light fixtures and shelves filled with old books and board games. All of the cafes have a very relaxed atmosphere that is suitable for family or friends, and I would personally recommend visiting Sorrento Lounge on the Moseley High Street, which captures the essence of what The Lounges are all about: 'pleasure, indulgence, and fun!'
https://thelounges.co.uk / @thelounges / @sorrento_lounge
Boston Tea Party (££ – £££)
With locations all over the country and an emphasis on sourcing local produce ethically, each branch of Boston Tea Party has stitched itself into the fabric of the local community, providing a family-friendly atmosphere that can be enjoyed by all. The menu has almost everything you could possibly ask for and more, catering extremely well to vegan, vegetarian and gluten-free customers. Whilst the slightly heartier burgers and toasties are confined to lunchtime, breakfast and brunch are served all day. My usual go-to dish is the Sweetcorn Hash, which comes with halloumi, poached eggs and an array of Mexican sauces to tantalise the taste buds.
Something particularly exceptional to Boston Tea Party is the offering of cuisines from around the world – for example, the Japanese-inspired Miso Greens & Eggs or the American Pancakes with bacon and maple syrup. Drinks-wise the coffees and teas are fairly standard and nothing special, but the smoothies, milkshakes and alcoholic cocktails available complement any dish (especially a cheeky Bucks Fizz.) In my opinion, the best Boston Tea Party in Birmingham is the one on Corporation Street, as it occupies a gorgeous, grand old building and has stylish industrial hanging light fixtures that provide a warm, Gothic feel; the cafes in Harborne and Edgbaston are just as good and are a little closer to campus, too. 
https://bostonteaparty.co.uk / (@btpcafes / @btpbirmingham
---
Chomping at the bit for more guides like this? Look no further:
A Guide for Freshers: Being Gluten-Free at UoB
Five Recipes to Survive Your First Week as a Fresher