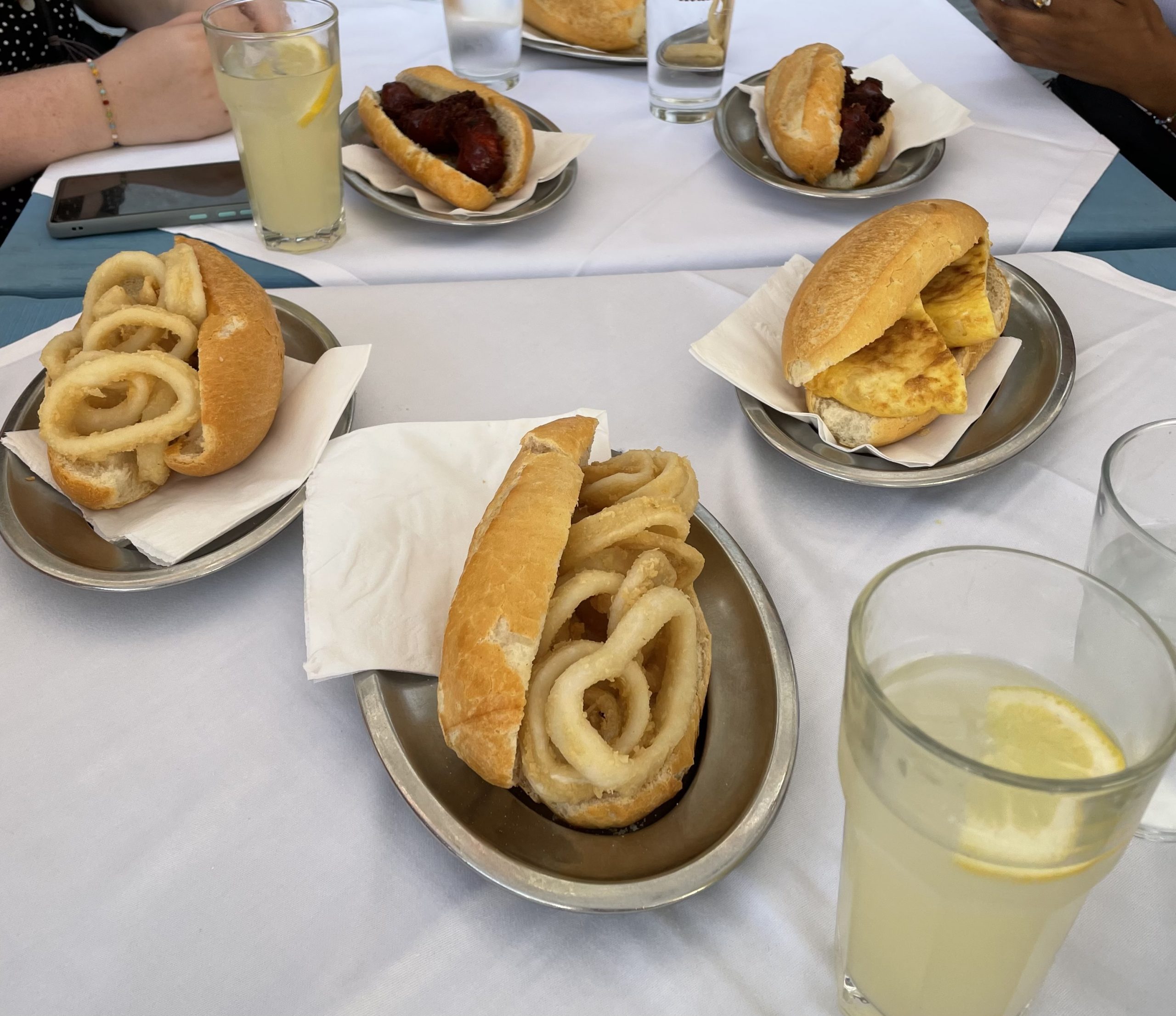 Food&Drink Writer Caitlin Gaul presents her guide to food and drink tourism in Madrid, inspired by her experiences working abroad in Alcalá de Henares last summer.
A bustling Mediterranean metropolis, Madrid is renowned for its footballing successes, high quality museums and galleries, its impressive open squares and elegant architecture, and of course, its gastronomy. Having spent last summer at a language school in Alcalá de Henares (a small city in the autonomous community of Madrid), I ventured into the Spanish capital on numerous occasions, providing the perfect opportunity to delve into the region's cuisine. Below are some of my top recommendations and tips for experiencing some of the culinary delights that this city has to offer.
Tapas
In many regions of Spain, you can expect to receive complementary tapas dishes with drinks orders, and tapas establishments themselves inhabit almost every street corner in the city. Areas that I'd particularly recommend are La Latina and Barrio de las Letras. 
In line with the country's soaring summer temperatures, tapas dishes are small and are usually not too hot or spicy, providing for a perfect nibbles option rather than a filling meal. Mealtimes have evolved to be based around the country's climate and are therefore very different to our own, with dinner being served between 9-11pm and restaurants opening until much later.
Don't be concerned if you see customers throwing their small waxy napkins onto the floor in authentic tapas bars – this is typically done by locals and is the sign of a good eatery! Amongst some of my favourite tapas dishes were: 
Tortilla de patatas: Otherwise known as the 'Spanish Omelette', the tortilla de patatas is a simple fare of potatoes, onion, eggs, salt, and olive oil. A staple for many Spanish families, the dish is deliciously simple, gooey in the middle and can be served either on its own or on bread. 
Patatas bravas: This well-known Spanish tapas dish is a favourite amongst tourists and locals alike. A small dish of crispy, golden potato squares drizzled in bravas sauce (a tomato salsa made of olive oil, smoked paprika, and tomato paste). If you aren't a fan of the smokey taste of the bravas sauce, perhaps patatas alioli are more up your street, in which the potato squares are topped with fresh garlic mayonnaise. 
Croquetas de Jamón: The perfect addition to an order of patatas bravas, croquetas de jamón (ham croquettes) are often in demand in Spanish tapas establishments. Fried and crispy on the outside with a soft, creamy filling made up of serrano ham and bechamel sauce, these light, tasty little rolls are loved by people of all ages. Many restaurants also offer a variety of fillings suitable for vegetarians, such as cheese or mushrooms.
El Bocadillo de Calamares: 'The Calamari sandwich'
One of Madrid's culinary symbols is the humble bocadillo de calamares, a lunchtime option of crunchy fried calamari rings in a fresh crusty bread roll. 
Despite its lack of ports, the city is home to this seafood staple following stricter importation rules on meat after the 16th century Spanish catholic reform. Squid was easy to preserve transport to the capital, giving way to this simple dish finding its place in the middle of the country. 
A scenic spot to enjoy this madrileño classic is one of the many bars in and around the city's main square, Plaza Mayor; a historic esplanade of Beaux-Art architecture.                                                                                                                                         
Drinks: The Tinto de Verano and Caña de cerveza
When people think of a famous Spanish beverage, the first answer is usually Sangria. But during my stay in the height of summer, I found the perfect drink to be the refreshing Tinto de verano. Literally translated as 'Red of summer', this cold summertime drink is made up of red wine, lemonade, ice and fresh fruit, providing for the perfect thirst-quenching option to cool down in the intensity of Madrid's heat.
One of the highlights of my month in Madrid was dancing in the streets with my friends and a glass of tintos de verano in hand during La Paloma Festival. Taking place each year in mid-August, the festival sees the area of La Latina buzz with blasting music, food and drink stalls, becoming adorned with colourful overhead flags and processions. 
Another popular option amongst locals is a caña of beer. 200ml in volume, this is much smaller than the British pint, meaning the drink is able to remain cool and is prevented from going flat amidst the city's high temperatures. So, the next time you hit Spain, maybe reconsider ordering 'una cerveza por favor' and opt for a refreshing caña of beer instead! 
Churros 
A renowned culinary treasure for sweet treats in the heart of Madrid is La Chocolatería San Ginés, the city's oldest churrería (churro café). Established in 1894, this quaint, authentic spot nestled in a side street just a stone's throw from Plaza Mayor offers overflowing plates of churros and pots of thick warm chocolate to dip them in for reasonable prices. 
While hot chocolate may not sound appetising in Madrid's forty-degree summers, this churrería's air-conditioned and green and white marble interior means for a cool dining experience and is a great mid-afternoon treat to re-energise. 
San Miguel Market
For a more gourmet gastronomical experience, the Mercado de San Miguel is a unique, permanent market hall boasting a diverse array of fresh produce, traditional tapas bars, bakeries, coffee stalls, and specialities from all corners of the country such as the freshest Galician seafood to fine Manchego cheese. Located in the heart of the city, this 100-year-old cast-iron market hosts stalls of world-famous chefs and also boasts an array of high-quality Latin-American cuisine. 
After spending a month in this charming city, it became clear to me how much food forms a part of its rich culture and history. Wandering through the streets of Madrid and Alcalá de Henares each evening, where families with children would dine together outside, enjoying each other's company until midnight (even on weekdays!) was different and refreshing.
Dishes here not only have detailed back-stories, but they bring people together and can be a huge source of pride for many Spaniards. Hopefully this food and drink guide has provided you with some recommendations for the next time you hit Madrid; an undoubtedly must-see for any foodie.
---
Hungry for more? Check out these other articles: 
What it's like eating food on a year abroad in the US 
4 Things I Learned Doing a Year Abroad as a Creative Writing Student