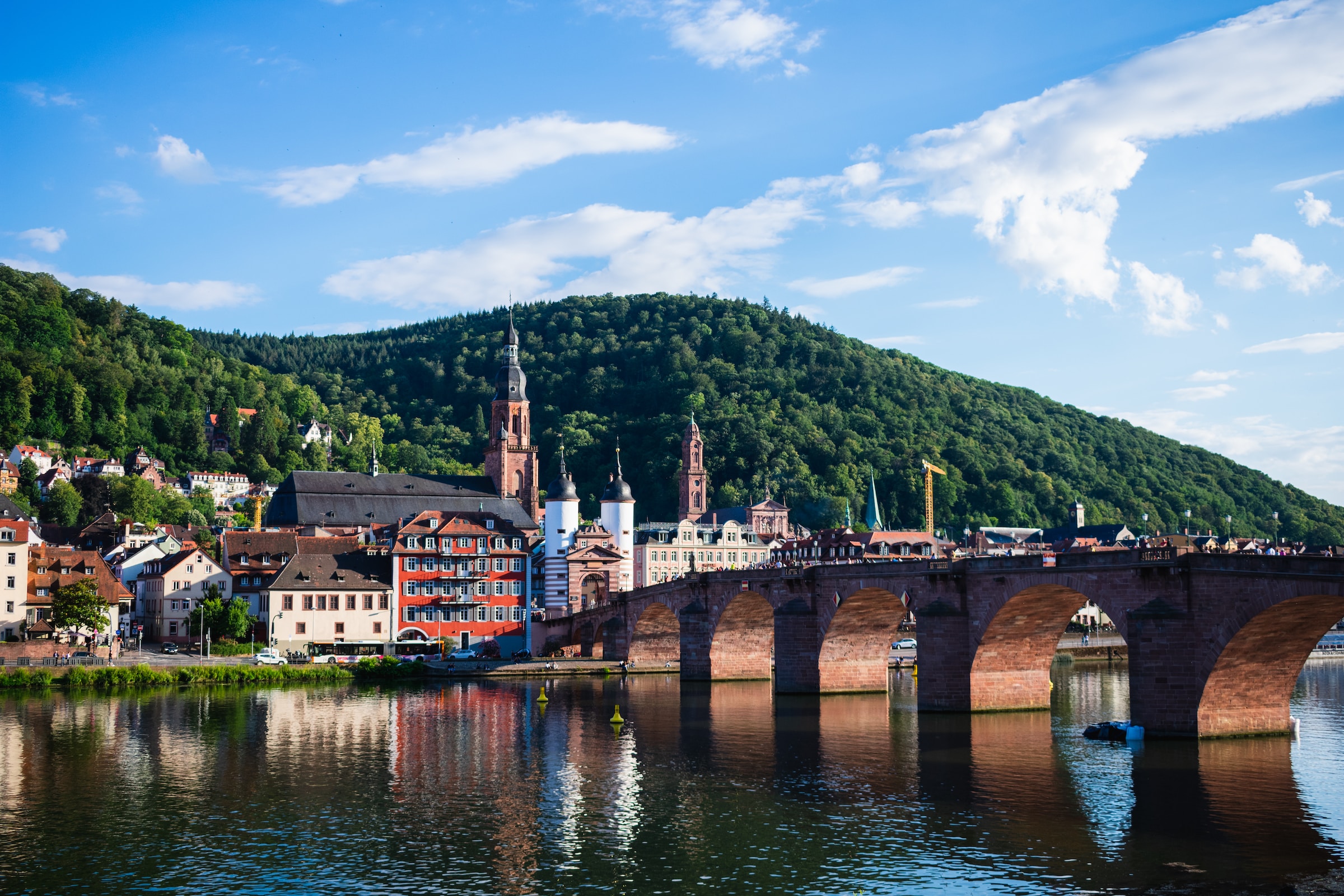 Travel Writer Caitlin Gaul reflects on how to spend a mini-break in the small German city of Heidelberg
Deemed Germany's prettiest city in tourist guides year after year, Heidelberg is a picturesque University town south of Frankfurt bursting with history and culture. Nestled in between mountains and spread across the Neckar River, it is often described as fairy-tale-like. With a population of only 160,000 (of which 30,000 are students), this little gem in South-West Germany is perfect for a short summer break. After studying here for the summer semester last year, I have compiled a list of insider knowledge about this traditional German treasure.  
Heidelberger Schloss/The Heidelberg Castle
Undoubtedly Heidelberg's most renowned and prominent landmark, these striking castle ruins rest 300-feet above the city, so are visible from almost every angle. With a complicated history of wars, fires, and different royal families, this landmark is composed of an ensemble of Renaissance and Romantic buildings and is surrounded by stunning and peaceful gardens. Inside the castle ruins you can find a museum and marvel at the world's biggest wine barrel (it can hold 220,000 litres!). Three times each summer, the city of Heidelberg commemorates the eventful history of the Schloss with a spectacular firework display, beginning with a light show in which the castle appears to be red and burning. In the warmer months, the town also hosts an array of outdoor theatre and orchestral concerts, where spectators can line the cobbled floors and enjoy some culture in this stunning setting. Boasting breath-taking views of the city, the allure and history of the Heidelberg Schloss is said to have been an inspiration for poets and philosophers for centuries. 
Neckarwiese
Heidelberg is sliced directly in half by the Neckar, a large river that flows through the state of Baden-Württemberg. If you traverse the Old Bridge, you will leave the Old Town and find the 'Neckarwiese', a sprawling green area on the banks of the river. Hundreds of students, locals, and tourists flock here in the summer months to enjoy barbecues, volleyball at the small beach area, picnics, and sunsets, while enjoying the staggering view of the surrounding city and mountains. Many tourists also enjoy a short boat journey to venture further along the river and take in more of the area's natural beauty. 
The Philosophenweg
Just a stone's throw away from the Neckarwiese is the start of the Philosophenweg trail. Literally translated as 'Philosopher's path', this scenic walk earned its name because it was frequented by philosophers, poets, and intellectuals in the Romantic period who were said to have been inspired by its spectacular, post-card-like view of the Old Town. From here you can venture further into the mountain on this side of the river for more peaceful walks. Follow a trail (or the smell of roasting bratwurst) to the idyllic 'Waldschenke' beer garden nestled in the woods. Serving tasty traditional dishes using fresh, local produce such as pork schnitzel, this hidden oasis is a peaceful rustic spot to reenergise and enjoy the surrounding nature. 
Wandering through the Altstadt
Heidelberg is beautiful all year round, but part of its charm in summertime is being able to stroll the quaint streets of its Altstadt (Old Town) at a leisurely pace and soak in its abundance of historic buildings, spectacular churches, independent shops, and authentic eateries. Dotted around the Old Town are many of the University's buildings. As the oldest, and one of the most prestigious universities in Germany, these buildings are tourist attractions in themselves with many having unique back-stories – particularly the old 'Student prison' where drunken and unruly students were shut away for the night! 
Food & Drink
Located in the heart of the Altstadt, a personal haunt of mine for good quality food and drink was 'Vetters Brewery', one of the city's oldest beer halls.  Serving a multitude of draft beers and local dishes, I would highly recommend Vetter's if you fancy having a try of some authentic German cuisine. At nighttime, students, locals, and tourists alike line the 'Untere Straße', a lively nightlife spot that always guarantees cheap, flowing drinks and the occasional table-top dance. Here, and in fact throughout Germany, you can try a Heidelberg speciality: the 'Heidelberger Melonenschnaps', a watermelon-flavoured spirit that is a particular favourite amongst students. 
Accommodation 
Heidelberg's traditional and untouched nature means chains are not common in the city in terms of shops, restaurants, and hotels. However, the Old Town hosts a variety of quaint hotels and hostels that offer warm hospitality. One personal recommendation for accommodation would be the 'Hotel & Gasthaus Backmulde', a tranquil, tavern-like spot tucked in a side street off of the 'Hauptstraße/Main street'. As a student in Heidelberg, living in the Altstadt proved to be the perfect base. With everything you could want and need at your fingertips, its constant exciting buzz, and, of course, its unrivalled beauty, this location is certainly the place to be for a short stay in the city. 
Conclusion 
Heidelberg's valley landscape means temperatures can reach the warmest of any city in Germany, and with blue skies overhead, 48-hours here will leave you with a spring in your step.  Despite the prestige of its educational establishments, Heidelberg never takes itself too seriously, and the people there are warm and welcoming. A place steeped in history, culture, gastronomy, and both architectural and natural beauty, this German gem is without a doubt one to add to your travel-list!
---
Enjoyed reading this article? Find more Travel articles here:
One for the Bucket List: Ecuador