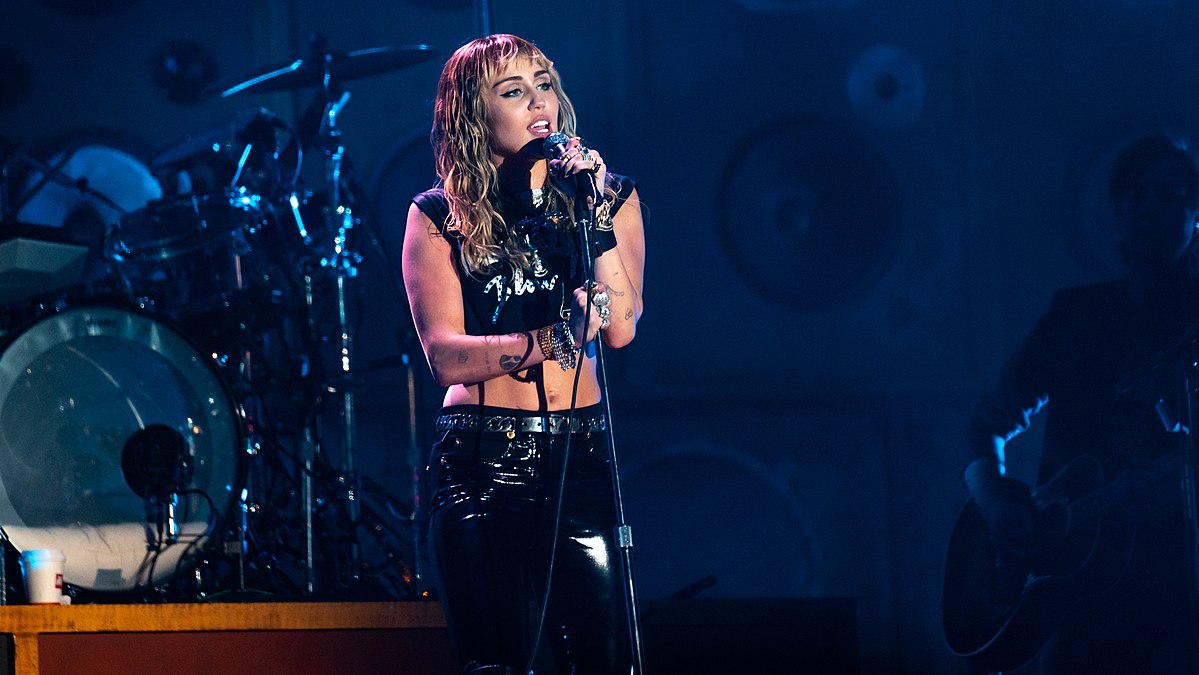 Miley Cyrus has turned a corner musically, finding a rock-pop niche that she seems happy and comfortable in after her plethora of musical exploration, Music Critic Minnie Life writes
Arguably no one else has had a wilder or more varied career than Miley Cyrus. From Disney pop princess to her scandalous Bangerz era, now she is stomping her way back into the musical fray, donning a mullet and a new signature rock sound. One can't help but notice the stark similarities between Cyrus's new persona and her Black Mirror character Ashley O, a character that found herself trapped in a pop machine whilst dreaming of embracing a punky sound that she'd been kept away from. The episode resolves itself with Ashley escaping the cycle she'd be forced into, now free to rock out to her heart's desires. Plastic Hearts is clearly the beginning of a brand-new Cyrus era, and in my view it's her most exciting era yet. 
Miley Cyrus proclaims in her opening track 'WTF Do I know' that she's here to tell us something we don't know, and that's exactly what this album does. Plastic Hearts is an album wrought with emotion, vulnerability and self-reflection, haunted by Cyrus's past career, relationships and media presence. Her divorce from ex-husband Liam Hemsworth earlier this year is starkly present in this album, and arguably without this devastating life event, she would not have taken the leap into the rip-roaring world of Plastic Hearts. 'I know that you're wrong for me/ Gonna wish we never met on the day I leave' she sings on powerful stadium-ready ballad 'Angels Like You'.
There's clearly guilt and regret running through Cyrus's psyche as she constructed this album, and this results in some brilliantly tender moments on this record, one of my favourites being 'Never Be Me'. This is an ethereal self-reflective ballad, tinged with soft synths and layered vocals. She tells a lover 'If you're looking for stable, that'll never be me/ If you're looking for faithful, that'll never be me'. This is one of the many tracks on Plastic Hearts that feels deeply confessional, as Cyrus pours out her deepest fears, guilts and faults into her song writing. 'Golden G-String' is another one of these moments. This track is an acoustic reflection of her life, her career and how people have treated her. 'There are layers to this body/ Primal sex and primal shame/ They told me I should cover it/ So I went the other way' is probably one of my favourite lyrical moments on this record. Throughout her career, Cyrus has been policed, slut-shamed and humiliated by the press and the public, reduced to someone who merely wears minimal clothing and dances provocatively (not that there's anything wrong with that, of course). This is her rebuttal, her moment to explain herself and take back that humiliation she endured for so many years.
As well as these deeply vulnerable moments, Cyrus doesn't forget to let loose and have fun on this album. For instance, the first single 'Midnight Sky' was always destined to be a hit. It's a rock-infused 80s disco hit, championing the importance of relying on yourself for fun, especially in the wake of a bad break up. 'I was born to run I don't belong to anyone' is the perfect refrain for anyone who has ever had their heart broken, looking to dance it all away. Cyrus's collaboration with 2020's titular songstress Dua Lipa is also excellent. This track, entitled 'Prisoner', is a lot of fun, toeing the line between casting off a lover and not being able to get them out your head. The track has a distinct glam rock feel to it all, and even features snippets of Olivia Newton-John's 1981 hit 'Physical'.
Something to particularly note about these songs is that Cyrus's queer sexuality presents itself quite clearly in both. In 'Midnight Sky' Cyrus sings 'See my lips on her mouth, everybody's talking now', alluding to the fact that her sexuality has been a topic of much speculation and gossip throughout her career. Additionally, in 'Prisoner's music video we see Cyrus and Lipa getting very intimate with each other. The cynic in me might question how much these displays of queerness are there to satisfy the male gaze, especially considering that Dua Lipa is (as far as we are aware) a heterosexual woman. However, this open attitude towards sexual exploration has been a long running concept that Cyrus seems to embrace, and depictions of queer affection and attraction is indeed something we need to normalise in the music industry. Therefore, I felt that Cyrus adding to this normalisation deserved a nod in this review. 
The major aspect of this Plastic Hearts that really adds to its rock feel are some of the features that Cyrus managed to wrangle. The best collaboration on this album for me is 'Bad Karma' with Joan Jett, a sensual yet punky track riddled with deep bass guitar and growling vocals, perfectly paired with Jett's musical style. This song feels like something straight off a The Runaways album, and it's an instant standout. The Stevie Nicks 'Edge of Seventeen'/ 'Midnight Sky' mash-up is also a nice moment, and it allows the more rock n roll aspects of 'Midnight Sky' to present themselves. At the end of the day, who doesn't love a bit of Stevie Nicks? Billy Idol also has a feature on pop-rock anthem 'Night Crawling', another standout moment bolstered by yet another rock legend. Cyrus's covers featured on this album are also incredibly strong. In particular, her cover of Blondie's rock classic 'Heart of Glass' is excellent. It perfectly suits the rougher and rockier elements of Cyrus's vocals, and she certainly gives it all she's got. Similarly, her cover of The Cranberries' 1993 hit 'Zombie', Plastic Hearts' closing track, is perfectly grungy and vocally very powerful. All of these much more classic rock moments help to ground this record, keeping it on the rock n roll path Cyrus so clearly wanted to tread. 
Overall, Plastic Hearts is a brilliant album, and has potentially crept its way into my top ten of the year. Its catchy, ferocious, heart-breaking and joyous. It feels as if Miley has turned a corner musically, finding a rock-pop niche that she seems happy and comfortable in after her plethora of musical exploration. I for one would be thrilled if this is a road she continues down. Its dynamic, elevated and exciting and I can't wait to see where this takes her. 
Rating 9/10
Plastic Hearts is available now via RCA Records
---
You Might Also Like:
EP Review: Phoebe Bridgers – Copycat Killer
EP Review: Lauren Aquilina – Ghost World
A Press Conference for YUNGBLUD in Anticipation of New Album weird!
Album Review: Molchat Doma – Monument