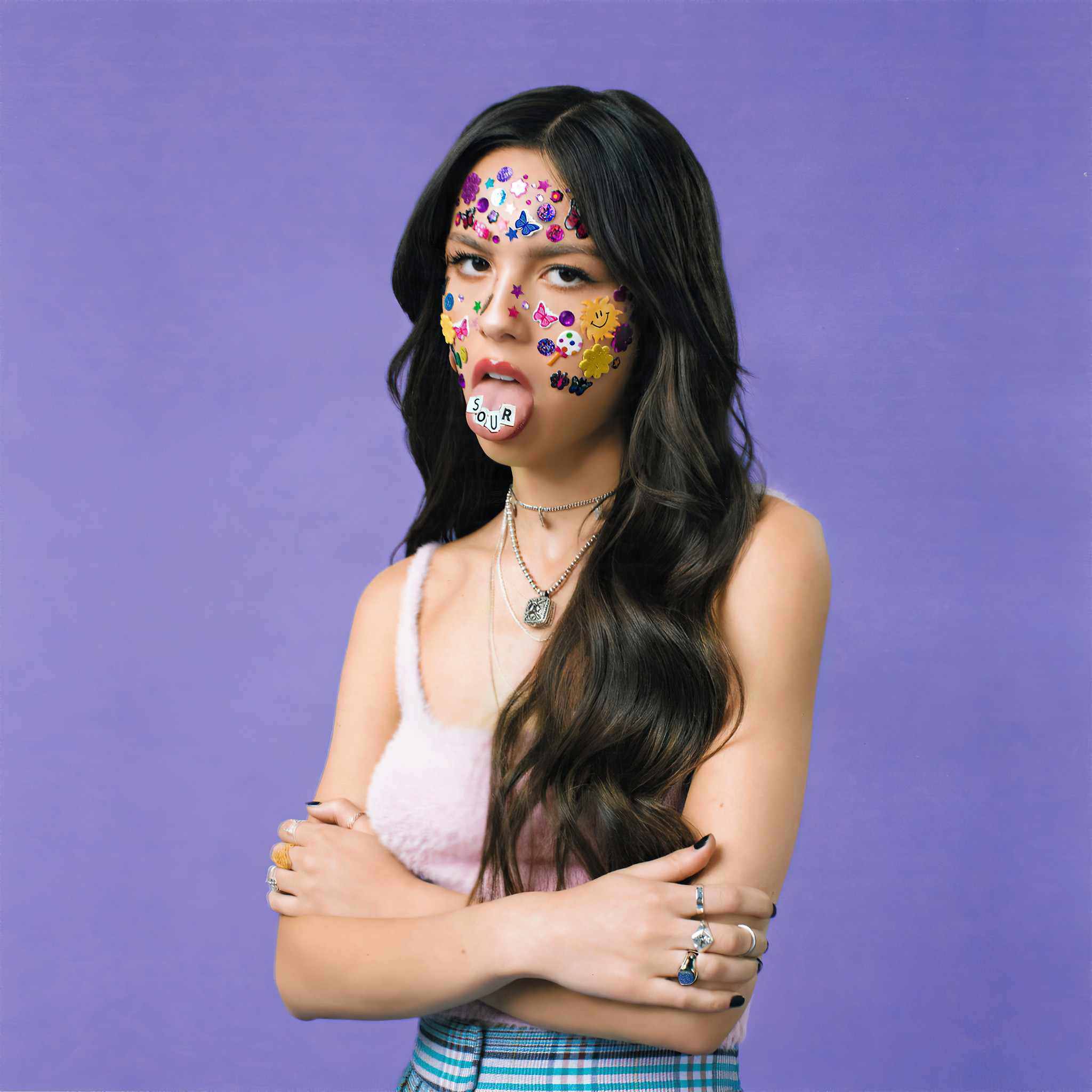 SOUR, the debut album from Olivia Rodrigo, is a promising project, and an almost perfect pop album, Music Critic Dylan Ferner-Rose reviews
Olivia Rodrigo is surprisingly polarising for a blockbuster pop star who has exploded onto the mainstream music scene from absolutely nowhere – or maybe it's not so surprising. Ask Miley Cyrus, Billie Eilish, Doja Cat (the list goes on), and I am sure you would come to the conclusion that being a young woman in the mainstream comes with its fair share of personal space invasion, over-scrutiny (both in and out of the studio), as well as downright misogyny. Olivia Rodrigo in SOUR has managed to craft the roots of pop superstardom with true confidence, and overall her showcase of clear talent has successfully muzzled potential critics. A fearlessness is inherent in her music which is set to leave snobby male critics reeling and good pop music lovers smiling. At just 18, Rodrigo has achieved an album in SOUR that is heartfelt, versatile, creative, and sweet – she is a voice in pop who cannot be ignored.
The first track on SOUR, 'brutal,' is a tantalising taste of what is to come. A vocal clip is spliced into an introduction of soaring strings in which Rodrigo enthusiastically chirps: 'I want it to be, like, messy,' a brilliantly provocative message which will surely have cynical curmudgeons world-wide crying 'cringe!' The song's melodramatic string section soon breaks into an electric guitar flavoured, rock style riff, with Rodrigo throwing down a plethora of thoughts into the mic. The song's opening lines: 'I'm so insecure I think that I'll die before I drink, and I'm so caught up in the news, of who likes me and who hates you,' displays well-judged introspection and the honesty of the words are disarming but intriguing, a mixture of autobiographical musing and confident word play. Rodrigo's delivery on the song is talkative, raw, and stripped back – a brave choice to begin an album on the back of the hugely successful lyrical ballad 'drivers license,' and a great way for the pop star to show she can do more than melodic, love ballads. 
The underlying theme throughout the runtime of SOUR is a heartbreak that has left Rodrigo feeling hopeless, frustrated, angry and humiliated. When 'drivers license' landed on the viral runway of TikTok, it seemed like another dull pop ballad doing the rounds on the internet's biggest trend setter. With the album landing, however, the track has been complemented with the emotional range of the project's other ten songs.
'drivers license'' iconic bridge: 'red lights, stop signs, I can see your face in the white cars, front yards, can't drive past the places we used to go, cause I still fucking love you babe' seemed a little generic at first, but once the album's preceding track 'traitor' has been played, the true heart and meaning of the lyrics are revealed. 'Loved you at your worst, but that didn't matter, it took you two weeks to go on and date her, guess you didn't cheat, but you're still a traitor,' are honest and angry feelings to articulate, and they show another side to 'drivers license,' a song in which Rodrigo seems to blame herself as much as her ex for the dark emotional state she has been plunged into. 
'deja vu,' another one of the pre-released singles on the album, is a dreamlike listening experience, filled with enchanting melodies, ethereal keys, and luxurious synths. Whilst plenty of the lyrics on the track risk being a little bit cringey and on the nose, such as: 'I bet that she knows Billy Joel cause you played her Uptown Girl,' the general mood of the song adds well to the overall narrative of the album. 'Another actress, I'd hate to think that I was just your type,' is a sweetly vindictive jab at Rodrigo's mystery ex, and the spite is a well-placed tonic to the forlorn atmosphere of the album's opening tracks. 
'good 4 u' follows on from 'deja vu,' and this track's over the top, campy aesthetic, will make it a true marmite song. 'good 4 u''s chorus: 'good for you, you look happy and healthy, not me, if your ever cared to ask,' may not be the most poetic and subtle lyricism in the world, but Rodrigo's high octane, explosive delivery is as entertaining and catchy as anything you will hear on the Top 40 – think Disney Channel on crack.
'enough for you,' is a low-key and subtle moment on SOUR. The gentle strings are rhythmic, and repetitive in the style of a calming lullaby. The lyrics are simple but effective: 'I wore make up when we dated, cause I thought you'd like me more, if I looked like the other prom queens, I knew that you loved before,' is a painting of a self obsessed and arrogant man that is mature in its clarity and personal detail. 
'happier' is a cousin track to 'enough for you,' and the song continues to throw scathing judgement onto the antagonist who drives the album's narrative. The same melancholic key melodies are at play, but a stronger percussive element gives the song a welcome kick that is lacking in its predecessor. 'I hope you're happy, just not like how you were with me, so find someone great, but don't find no one better' is an honestly selfish attitude towards Rodrigo's ex. Whilst at some points in the album Rodrigo seems to feel as though she will never be worthy of love, 'happier' is a swing in the other direction, a reclamation of the singer's own self-worth, and an admittance that one day she herself will move on from the pain of a messy break up.
'jealousy, jealousy' marks a point on SOUR where Rodrigo stops focusing on her specific ex-lover, and zooms out to demonstrate a wider perspective on her experiences – it is a timely change in theme at a point where the album risks becoming a little overly focused on one subject matter. 'I kinda want to throw my phone across the room, cause all I see are girls too good to be true, with paper white teeth, and perfect bodies,' articulates a universal feeling of the frustration of endless Instagram scrolling, and the ensuing loss of self-worth is something that many listeners will find relatable. The song's chorus is catchy and confident – a microcosm of the artist's strongest abilities.  
SOUR is a promising project, and an almost perfect pop album. There seems to be something brilliantly raw in Rodrigo's style, and her tendency to write simple, uncomplicated lyrics is an advantage in her method of self-expression. The way heartbreak is explored by the singer is in a rapidly changing state of emotions, and this is reflected perfectly by the varied and sometimes contradictory tones and feelings displayed throughout the track list.
At just 18, Rodrigo is at a point where she can be anything she wants to be. Considering her breakthrough was in the crassly named High School Musical: The Musical: The Series, Rodrigo has shown how far she can grow as an artist in just a couple of years. Whether Olivia Rodrigo is a name that will continue to be associated with viral TikTok sounds, or the singer finds a more mature writing style as she grows is beyond the point. With the talent she has, whatever road Rodrigo decides to take, the mainstream music scene will surely be better for it. 
Rating: 8/10  
SOUR is available now via Geffen Records
---
You Might Also Like
Single Review: Olivia Rodrigo – drivers license
Single review: Beabadoobee – Last Day On Earth