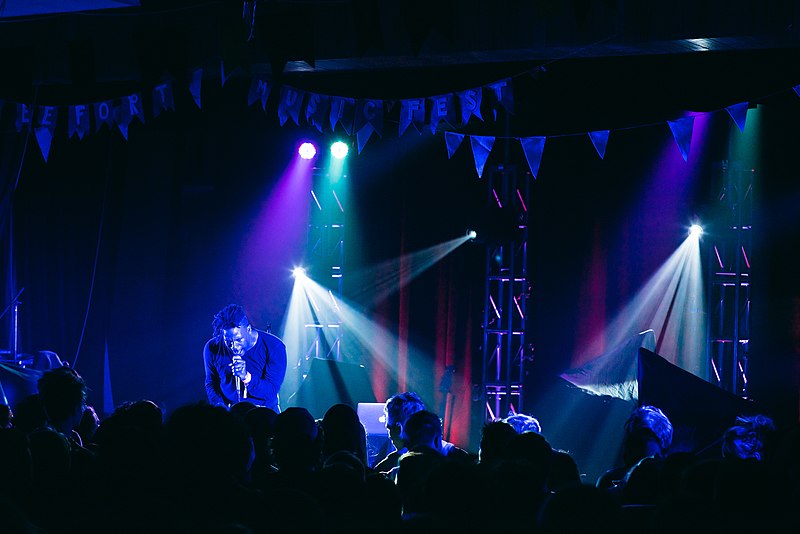 Music Critic, Benjamin Forsdick, reviews comedian and artist, Open Mike Eagle's latest project, a raw examination of a bleak year coupled with humorous tones
For over a decade, Open Mike Eagle's brand of conscious rap has engaged the attention of both fans and critics, many of whom consider him as one of hip hop's more thoughtful MCs. However, even with this in mind, it is hard to believe how vast Michael's discography now is, with more than a handful of captivating records now to his name. The music on these records is defined both by the poignancy of his lyrics and the delicacy of the instrumentals. It is through this understated aesthetic that Michael works best as an artist. An ideal exemplification of this was heard three years ago, when Open Mike Eagle dropped his last record, Bricks Body Kids Still Daydream. It was a surprisingly catchy record but only demonstrated everything that Michael has done brilliantly for so long. The flows were effortlessly executed, and Michael was more lyrically sharp than ever before. Given the success of this record, a new Open Mike Eagle album for 2020 was something to anticipate.
However, do not expect this album to be some variety of autumnal relaxation therapy, for Anime, Trauma and Divorce is comfortably Michael's bleakest and most depressing record to date. This is not to say that this release is lacking in any single shred of hope. Optimism is present, if only brief, but there is good reason to guide such thematic preferences. Michael is 39, divorced, a father and has a relatively sizeable portion of his career already behind him, so the scope for reassessment and reflection is significant. For the vast majority of this album, Open Mike Eagle is able to explore these topics with the tender emotional potency that he has carried throughout his career, while remaining completely at one with a continually sharp set of well-produced instrumentals.
Anime, Trauma and Divorce is an album described by its title. These are the three consistent themes of the album, especially with the case of Michael's interest in Anime, which runs throughout. It should thus be seen not to be a coincidence that the production appears to be heavily Wu-Tang inspired, given the mutual love of anime shared by Michael and the 90s hip hop collective. The instrumentals on this record are intricately woven and unobtrusively distributed in amongst Michael's vocal lines, with both complexity and emotion. The mutual collaboration between voice and beat is at play during tracks like 'Headass', where the pizzicato string backing is playfully indicative of Michael's tongue-in-cheek lyrics, proclaiming to be somewhat of an anthem for the 'Headasses' of this world. This conveys one of the more endearing elements of Anime, Divorce and Trauma. On this record, Michael has a unique ability to tastefully find both humour and horror within the traumas of his existence. 'Wtf is Self Care' is a good example of this, with a lyrical focus that is refreshingly jovial in mocking Michael's quite serious and frustrating search for what it means to care for oneself.
The production throughout this album is dense. 'Bucciarati' is held together with a smooth jazz instrumental that sounds like Open Mike Eagle is rapping over a well oiled cool jazz quartet from the 1950s. Additionally, Kari Faux supplies the chorus to this track with a sticky hook that ties Michael's verses together. The mix here is wide, with the vocals panning furiously from left to right in almost a swirling motion. If done incorrectly, this would have sounded inappropriate, yet each manoeuvre feels planned in great detail. It is true that at times, the production of this record does come across as a touch messy. 'Asa's Bop' is a good song at the core, but the instrumental is perhaps a little too densely packed together. The track does feature some interesting bars, with Michael detailing how his son's singing brings him joy in times of difficulty. In a rather sweet gesture, Michael even lets his son handle the track's hook. There is likewise a reference to how bizarre a decision this is during one of Michael's verses which goes some way to demonstrate that while there are some bleak moments on Anime, Trauma and Divorce, it is a highly self-aware record. Michael's son returns for a full feature on the album's closer, a live version of a song the two of them wrote together. It is a sweet and touching moment, that feels more like an after thought than a legitimate cut; but the kind-natured purity of this collaboration and rawness of the live recording is difficult not to smile along to.
In contrast, 'Everything Ends Last Year' is perhaps the saddest moment on the record. The track consists of a brief yet surprisingly detailed reflection on Open Mike Eagle's now defunct former label, as well as some of the more troublesome moments of his career. Each verse closes with the line 'It's October and I'm tired,' a sentiment that many of us will identify with in 2020. This track may be this record at its saddest, but it is also the most honest and heart-breaking moment too. It marks a significant movement away from some of the more self-satirical lyrics and a step towards a completely raw and unwanted emotional standpoint. 'The Black Mirror Episode' continues this aesthetic, although it does bring back a touch of the humour. The core of this track is a proclamation that the catalyst of Open Mike Eagle's divorce was a Black Mirror episode. As ridiculous as this sounds, it is actually one of the more disturbing songs. The takeaway is not that the situation is absurd, but rather that something as simple and seemingly innocuous as a Netflix show has the ability to tear people apart. The natural extrapolation is a comment on the insidious nature of popular culture, which too few people are aware of. It is a track that one instinctively wants to laugh at, yet inexplicably cannot bring themselves to do so when exposed to the dark nature of what is being said. Some of the instrumentals on this album have a similarly disturbing feel, 'The Edge of New Clothes' in particular featuring an angular beat that evokes feelings of instability and fear that is simultaneously captivating in its beauty.
Open Mike Eagle has created a dark album here, at times even disturbing, Yet, the moments of humour, hope and endearing family inclusions make for a balanced listen that is not all full of dread. The record is a little light on material in general, standing at only 34 minutes in length and it would have been interesting to hear Michael's emotions played out over a longer set of tracks. Nonetheless, Open Mike Eagle continues to release emotionally raw albums with honest lyrics and smooth production that very few artists are able to achieve with similarly impressive results.
Rating: 8/10
Anime, Trauma and Divorce is available now via Auto Reverse 
---
You Might Also Like:
Live (Stream) Review: James Bay
A Beginner's Guide To: Lausse the Cat