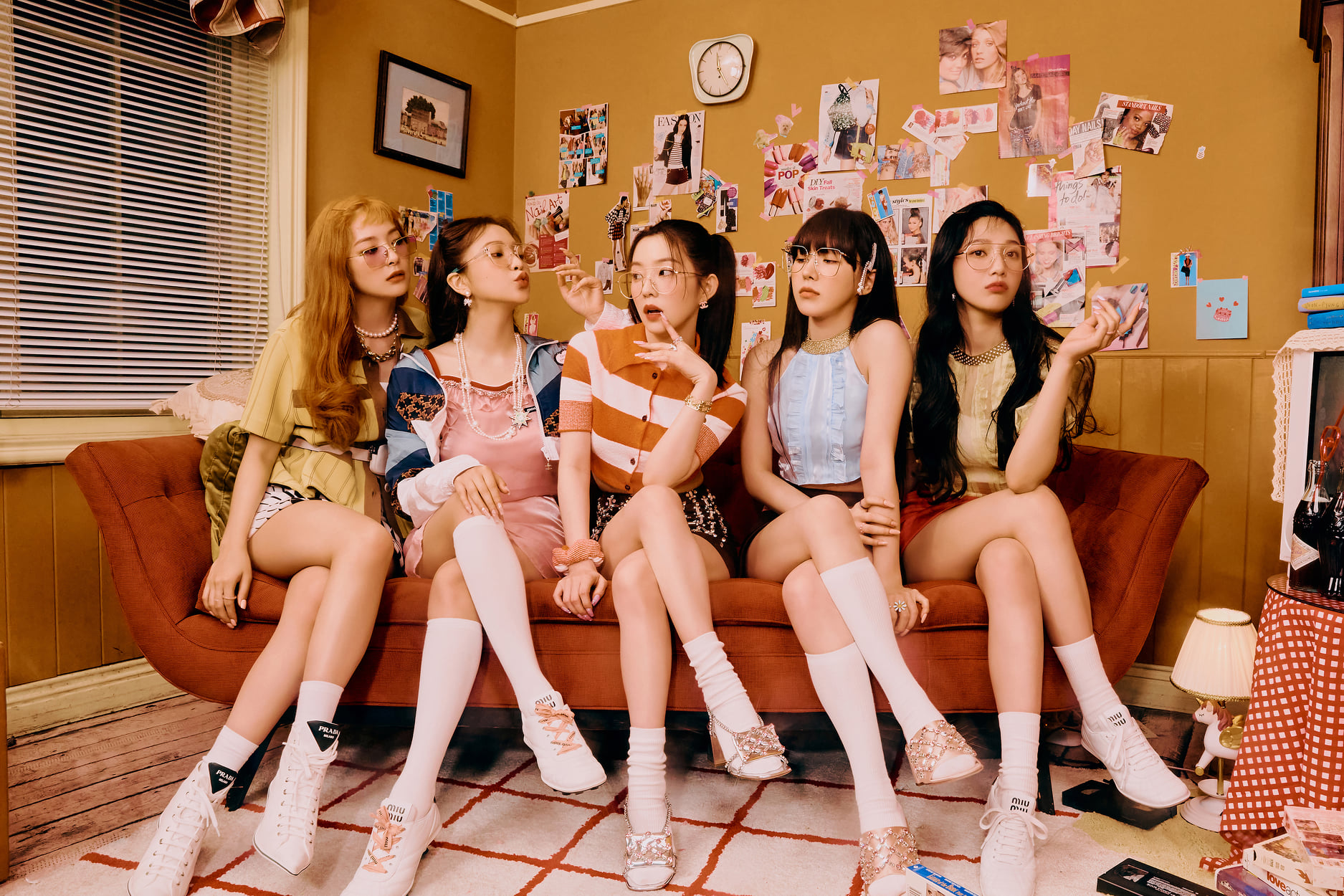 Music Critic Molly Matthews reviews Red Velvet's newest album commenting that they have a flawless discography without repeating the same sound
Red Velvet's Queendom is their sixth mini-album set on bewitching your ears and heart and is doing it successfully. After twenty months of hiatus they are bolstering their Summer Queens title with the perfect songs for the end of summer. It is no surprise that with this sparkling retro album they become the first girl group in history to receive four number ones on the US iTunes chart with consecutive albums upon release.
'Queendom' is the title track for their long awaited return, with the addictive post-chorus set to become the most viral feature of this song. The use of brass within the chorus emphasises the power these five vocalists have, especially when performing, and builds excitement that leaves my heart pounding after every replay, even if it is for the tenth time. Brass is not uncommon in Red Velvet songs and is even present in 'Knock On Wood', always giving a refreshing and energetic boost to a song which is especially amazing for concert performances.
This is a more mature version of their RED or brighter concept, a concept so popular 'Red Flavor' was titled the second greatest k-pop song of the 2010s, and it feels heartwarming to see how the five have grown musically while still keeping their colour so central to their songs. The lyrics aim to connect with fans and make them feel special, my favourites being the chorus 'Even if it rains/ Strong and beautiful/ Rainbow completed in all different colours' and Irene and Seulgi's 'I hold your hand/ We've been waiting for this moment/ Spread your wings and be yourself'. Not only is this song satisfying to listen to, it is also satisfying to feel, feeling like the hug you have wanted for so long.
The second track 'Pose' is a sound we do not hear from Red Velvet as a five member group often. At first, I thought it to be more suited to their rookie juniors; however, once you are reminded of Red Velvet's harmonic prowess it is clear to see how they are claiming this genre as their own. The use of phrases such as 'Strike a pose' in the ad-libs pays homage to Madonna's iconic 'Vogue' despite being a completely different genre and the beat at which these ad-libs are spoken just sparks the desire to get all dressed up just for a bedroom photoshoot with my cat. The composers of this song are the same as that of fan favourite 'Psycho', which is perhaps just why this song feels so undeniably powerful. I anticipate this to be the B-side that gains the most attention from this comeback as it will definitely catch the attention of traditionally boy group fans and lovers of girl crush concepts.
'Knock On Wood', 'Better Be' and 'Pushin' N Pullin'' are all woven with the impressive vocals of every member, allowing for Irene and Yeri's lower ranges to shine, something that as a long-time Reveluv I never get tired of hearing. It is near impossible to pick a favourite of the three; not only is the bass mesmerising (my favourite part of Red Velvet's entire discography) but the energy is so enthralling for every song. They have their own flavour and I cannot get enough of each one.
'Knock On Wood' has a playful air to it, repeatedly telling the love interest in the song to do exactly what the title says, knock on wood. The lyrics talk of a strange situation, meeting the love interest, and the synths throughout the song help add to this eerie magical feel. For example, in Yeri's rap she references Harry Potter, Willy Wonka and The Wizard of Oz. I love how this fits so well to Red Velvet's overall mystic vibe through the use of 'fairytale-like storytelling'. I think it is the perfect song to welcome themselves back and to remind everyone just who they are. No one else is doing it like Red Velvet.
'Better Be' has this beautiful baseline that I was most excited for when the teasers dropped. Similar to Irene and Seulgi's 'Diamond' the  strong baseline helps take you through the song, although here there are parts where it is absent so that you pay attention to them telling you 'Better be my baby'. This is them playing a game, using the idea of them being like a cat as if it is a game of cat and mouse, in order to make the person fall in love, the love interest having to 'Better Be' in love after all the effort they've put in. This just once again showcases their unique concepts and discography.
Continuing on, 'Pushin' N Pullin' asks the love interest to just open up and go to talk to them, which is refreshing to hear in a love song about a push and pull relationship. The twinkle of a glockenspiel paired with soft harmonies gives the song an elegant and glamorous feel to it. This is where Red Velvet's vocals really shine giving the song such a bright mood, especially using 'Kissin' and huggin' to give the love being sung about an innocence we see in many younger girl groups' songs. The lyricist KENZIE has worked on some of the most fun Red Velvet songs such as 'Lady's Room', 'Lucky Girl' and 'Sassy Me' which is perhaps why despite seemingly being on the serious topic of miscommunication the lyrics give it a light feel.
The final song 'Hello, Sunset' is a love song to Reveluvs which manages to bring me near to tears every time I play it. Not only are the lyrics meaningful but the fact that even without translations the song produces goosebumps with divine harmonies and smooth instrumental makes it my favourite track on the album. The dreamlike instrumental reminds me of seventies R&B, in particular the guitar being played underneath the synth during the intro and chorus has a vague resemblance to the intro to The Stylistics' 'You Make Me Feel Brand New' although the instrumental as a whole is not as soft and delicate thanks to the use of strong drumbeats. This song feels like watching the sunset or laughing with friends on a summer's day. It is the sound of your parents playing the radio as you doze off in the backseat after a long day at the beach. I genuinely think I will hold this song close to my heart for the rest of my life.
I am always amazed at how Red Velvet continue to further their flawless discography without repeating the same sound and this album has left me in awe of their endless talent. While it may not be their best album, that title being reserved for their second studio album The Perfect Velvet, it's definitely my favourite LP since RBB in 2018. I hope that non fans will take interest in their B-sides which is where all the gems of Red Velvet lay, especially as these sparkling retro songs sound so unique despite the rise of retro sounds within kpop. The more you listen, the more you love this mini-album, Red Velvet bewitching you with every listen. I cannot begin to imagine the places they will go with their next comeback but for now I will enjoy this album like the pure gold that it is.
Rating: 8/10
__________________________________________________________________________________________________________
You Might Also Like:
https://www.redbrick.me/single-review-violet-chachki-mistress-violet/
https://www.redbrick.me/album-review-billie-eilish-happier-than-ever/
https://www.redbrick.me/single-review-lorde-stoned-at-the-nail-salon/