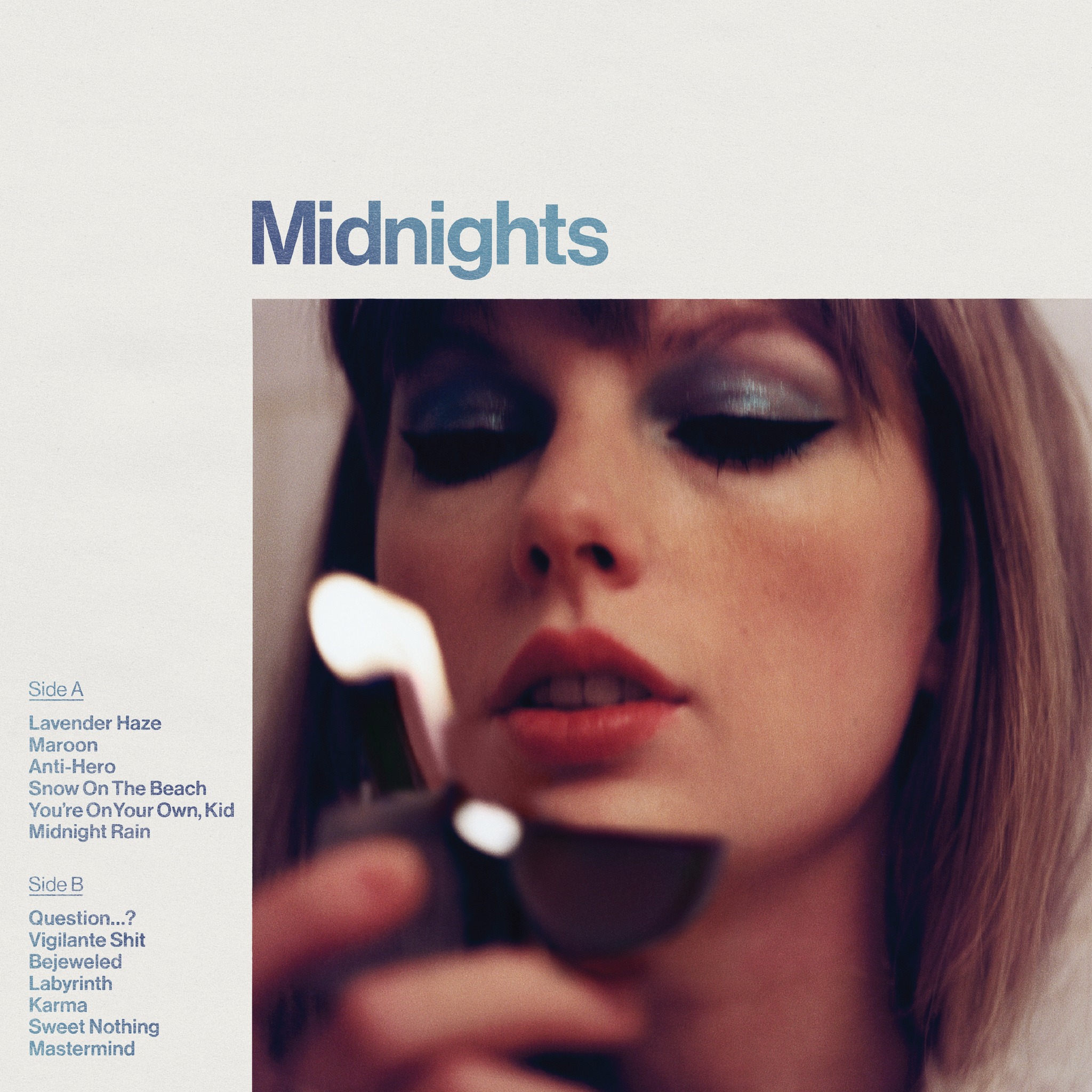 Redbrick Music review Taylor Swift's latest album, Midnights
Lavender Haze
Faith Parker
'Meet me at midnight' are the lyrics we are greeted with at the beginning of Taylor Swift's latest concept album; whether this is directed at her lover or the listener, Swift wants us to join her for her midnight musings and we would be foolish to refuse.
'Lavender Haze' explores the attention that Swift's relationship faces. Her past relationships have been in the public eye and Swift has faced much criticism about them; she is often subjected to sexist commentary. She addresses this with the lyrics, 'All they keep asking me/Is if I'm gonna be your bride/The only kinda girl they see/Is a one night or a wife'. Midnights as a whole deals with the conflict between owning your identity and independence and the joy that relationships can bring. Swift sings 'I've been under scrutiny/ You handle it beautifully' about her current relationship. This time it seems different- Swift and her partner work together to face the wrath of the media.
The term 'Lavender Haze' refers to an 'all-encompassing love glow'. Swift is so comfortable and assured in this relationship that she can cope with those trying to pry into her personal life. This is echoed in the music, which drips with a calm confidence. The low synths and electronic beats pulse throughout the song, creating a cool, steady track that suggests Swift is in control of her private life. It is also the first example of Swift and Antonoff's electronic-pop experimentation on this album.
Maroon
Caitlin McGraw 
'Maroon' is the dream-like, electro-pop second track on Midnights, written and produced by Taylor Swift and Jack Antonoff, which encapsulates the album's concept of haunting memories of lost love.
Showing Swift's pop versatility, the song opens with a synth-based drum beat which underlies the track's duration. Swift enters with husky vocals, as she weaves the intimate scene of lovers in a moment of drunk delirium through the line 'laughing with my feet in your lap / like you were my closest friend'.
The song grows more upbeat as the chorus is performed in short bursts to match the persistent synth rhythm, with backing vocals and additional drums layered to emphasise the intensity of the lyrics and provide a catchy pop chorus, which is the highlight of the track, spotlighting Swift's lyrical and vocal capabilities.
The chorus incorporates many shades of red, from 'burgundy' wine to the 'scarlet' blush on the singer's cheeks and her ex-lover's lips which 'she used to call home'. Swifties will know that red is a colour synonymous with Taylor's music, yet 'Maroon' is a darker shade of red, more complex and moodier than the bright shades capturing youthful love in Red.
However, an alternative meaning of maroon, as a verb, to leave someone trapped and alone, aligns with verse two in which the celebration of love turns to lamenting the relationship's collapse, following another inevitable break up. The contrast between verses reflects Swift's comments about 'red emotions' as being all consuming, whether warm affection or angry frustration. The latter is reflected as intensity builds in the bridge, which signals the emotional climax of the song, 'awake with your memory over me'.
The chorus is repeated in the sensual muttering, ending the song as it began in a haunting and dreamy style, with the echoing line 'it was maroon' fading into the next track. Whilst not the most memorable track on Midnights, 'Maroon' succeeds at showcasing Swift's storytelling lyricism, flecked with captivating imagery.
Anti-Hero
Zoe Marchant 
'Anti-Hero', a vulnerable yet relatable leading single, delves into the 11-time-grammy-award- winner's insecurities against the backdrop of unashamedly retro synth sounds. Track three of Midnights is co-written and co-produced by Jack Antonoff, as is much of the album, and is described by Swift as 'one of my favourite songs I've ever written'.
Preceding the song's release, Swift explained that 'Anti-Hero' represents 'the things we dislike and like about ourselves that we have to come to terms with', which becomes blatant upon listening to the song. However, as is Swift's lyrical genius, this is done with precise thought. Instead of a slow-paced ballad like folklore's 'this is me trying' or 1989's 'Clean', this song combines catchy with meaningful.
The initial drum pattern introduces a pop track sonically reminiscent of the 80's, followed by a hauntingly revealing opening verse. Swift quickly references the title and recurring theme of the album with the second line 'Midnights become my afternoons'. This conveys the dark and self-doubting atmosphere that resumes throughout the song, magnified in the enjambment and fast-paced rhyme of the pre-chorus.
'It's me/ Hi/ I'm the problem, it's me', acts as the hook, resolving the desperation of the pre-chorus with an ironic spin on authentic insecurity. The chorus solidifies the song, comparable with Swift's unforgettable best-sellers like 'Blank Space' and 'Look What You Made Me Do'. The first lines of the second verse, 'Sometimes I feel like everybody is a sexy baby/ And I'm a monster on the hill', have been widely disputed in regard to their meaning. Whether these lyrics are merely a nod to popular culture or a deeper hint to the darker side of the music business, they presumably convey Swift's fear of being dismissed upon reaching an 'undesirable' age, which she similarly alludes to in Red's 'Nothing New'.
Snow On The Beach (feat. Lana Del Rey) 
Lorcan Drury 
As Taylor Swift and Lana Del Rey are my two favourite artists, I was beyond excited when this collaboration was announced. When it was initially released, I was disappointed that Lana did not have her own verse. I let this annoyance mar my reception of the track. However, I now realise that I was expecting the unachievable. I can now appreciate how Lana's involvement improved the track, making it a standout from Midnights.
Overall, the track feels like you have entered a winter wonderland of marvel and mysticism. This is created by Swift's soothing yet staccato voice in the verses. By overly emphasising the first words of each line, she creates a childlike melody which casts a mystical veil over the lyrics. This ameliorates her revelation in the chorus that her love is 'like snow at the beach' – their love is paradoxical yet beautiful. With the addition of Lana Del Rey's breathy vocals, it creates a lullaby-like sensation, furthering the calming tone of the track. 
Del Rey's contribution can also be heard lyrically, particularly in the bridge. The reference to Janet Jackson, 'Now I'm all for you like Janet', illustrates how both songwriters are able to embellish seemingly straightforward songs. The magic that Taylor Swift and Lana Del Rey conjured makes me yearn for more Taylana content.
You're On Your Own, Kid
Sammy Andrews 
Taylor Swift's song writing charm has always been in her storytelling and 'You're On Your Own, Kid' is nothing short of a love letter to her career and to her past self. The song has quickly been claimed as a fan favourite, with an accompanying TikTok trend, where fans share photos of themselves growing into the people they are today, taking over the app. But more than anything, it is Swift's emotional and personal song writing that stands out in the song, and the universal experience of growing up and finding your feet that makes 'You're On Your Own, Kid' truly beautiful.
Beginning as a mellow melody, Swift's delicate vocals carry the song along up throughout the story of her past self growing up. In the final bridge, the production kicks in and swiftly builds to a euphoric testament to her own career – 'I gave my blood sweat and tears for this.' But, she also offers vulnerable advice in lines 'there were pages turned with the bridges burned / everything you lose is a step you take.' The trails and tribulations of growing into yourself shape the exact place you are in, and there is beauty in the messiness of that journey. Ultimately, the song beautifully ends on the note 'you're on your own kid /yeah you can face this.'
Midnight Rain
Emma Gardner 
'Midnight Rain' is an exciting testament to Swift's songwriting prowess, but also demonstrates the maturity and development of her ability to weave a musical masterpiece. The song begins with edited vocals, with a level of unnerving distortion that is so original to this album. One could easily say that the lyrics are corny, but I would beg to differ. The song is a nostalgic love letter to Swift's hometown and youth. The album itself is peppered with heartbreak anthems in true Taylor style, but this time they boast a more mature style of self-reflection. Swift's poetic ability is clearly demonstrated, with her evolved attitude towards her younger self : 'My town was a wasteland, Full of cages, full of fences Pageant queens and big pretenders, but for some, it was paradise'.
'Midnight Rain' is an exciting testament to Swift's songwriting prowess'
 The album is aptly named to showcase various themes that keep you up late at night. This particular track is clear in its meaning, providing a comforting remedy to those feelings of young love and the memories we keep later in life: 'I guess sometimes we all get, Some kind of haunted, some kind of haunted, And I never think of him, Except on midnights like this.'
 We can't deny the song's originality, which accentuates Swift's adaptability with a new synth pop infused endeavour. The song certainly highlights a perfect fusion and Swift's reluctance to churn out the usual manufactured pop songs.
Question…?
Zenna Hussain 
Taylor Swift's long-awaited new album Midnights sees her return to her pre-Folklore and Evermore days, as evidenced by the seventh track, 'Question',  which features numerous call-backs and sampling from 'Out of the Woods'. The song reflects on a failed relationship, with the singer explicitly hoping that her former lover finds only 'second best after that meteor strike'.
The cadence and melody of 'Out of the Woods' and 'Question' are similar, as is the interpolation of 'I remember', from 'Out of the Woods'. The album, on the other hand, has a more mature feel, with 'Question's' repeated curse words, 'f***in' situations, circumstances, and 'f*** politics and gender roles.' The first verse begins with Swift's trademark lyricism, something this album has been accused of lacking, describing herself as the 'good girl' to the 'sad boy' in a 'bit city' making 'wrong choices.' The chorus' use of repeated questions 'Can I ask you a question?', 'Then what did you do?' Do you wish you could still touch her? create a cyclical feeling and a sense of entrapment.
Fans who miss Swift's old sound while enjoying her new mature side will love this song as the perfect blend of lyricism and nostalgia.
Vigilante Sh*t
Nicole Haynes 
The eighth track on Midnights, 'Vigilante Sh*t' is the only track on the album written exclusively by Taylor Swift. After her subtle digs in folklore and evermore, the track reverts back to the cutting lyricism featured in Reputation, discussing Swift's desire for revenge.
The opening line 'Draw the cat eye sharp enough to kill a man / You did some bad things, but I'm the worst of them' immediately sets the vengeful agenda. The song is a classic revenge track, but maintains a level of maturity over similar songs like 'Look What You Made Me Do' and 'Better Than Revenge'.
Despite seeking vengeance, Swift still manages to focus on feminine kinship, a theme that recurs in her more recent works: 'Picture me thick as thieves with your ex-wife'. Swift embraces her femininity as a tool for revenge here, discussing 'dressing for revenge' and combatting her enemy with a new-found confidence. Her increased artistic freedom and experience is exemplified in the word-play, 'Well he was doing lines, and crossing all of mine', creating an even darker tone with the following line 'Someone told his white collar crimes to the FBI'. Clearly Miss Swift was out for retribution with this one.
Bejeweled
Hannah Joint 
'Bejeweled', the ninth track off of Taylor's latest release, Midnights, is an ode to self- confidence. Arguably one of the most playful songs on the album, the upbeat melody and Swift's passionate lyricism combine to tell the story of a first-person narrator who is reminding herself of her worth and power after seemingly being held back by a romantic partner.
The up-tempo chorus of the song is catchy and filled with light hearted lyrics about a person's own self-worth, as she sings 'When I walk in the room / I can still make the whole place shimmer'. These are complimented by demonstrations of Taylor Swift's well recognised thoughtful and witty lyrics as she twists the proverb 'distance makes the heart grow fonder' to sing 'familiarity breeds contempt' in order to express the relationship dynamic that is seemingly causing her to dull her sparkle.
A particularly notable lyric which sums the moral behind the track up nicely is 'What's a girl gonna do?/ A diamond's gotta shine'. As of October 25th, the track is accompanied by a high production, colourful music video, written and directed by Swift herself, which has already racked up 11 million views on Youtube. Featuring familiar faces often associated with the singer, such as the music triad Haim and Jack Antonoff, whom she frequently works with, the video follows a narrative which is a twist on the classic Cinderella story, infused with humour and laden with 'Easter Eggs' that Swift is well known for.
Labyrinth
Catrin Jones 
'Labyrinth' is a song about the anxieties of navigating new love, whilst simultaneously dealing with trauma inherited from a previous one. The tenth song on Taylor Swift's new album Midnights, 'Labyrinth' marks a departure from the celebration of self-assured singledom in the previous track 'Bejeweled.'
An undulating sound emerges, almost like a human voice and almost like a heartbeat, a sound that is reaching for something. Interrupted by intermittent splurts of synthesisers that are reminiscent of a Bon Iver song, the introduction is echoing and ghostly as Swift leads us into a disorientating maze. Smothered voices haunt the beginning of the track but are kept at a distance-like the supressed ghosts of former lovers, or new ones trying to burst through the walls before Swifts's voice introduces audible lyrics.
From the get-go, time feels warped. Taylor Swift fantasises about the day when her pain will finally subside, in an attempt to find comfort in the fact that heartbreak is temporary, that it 'only hurts right now.' But as listeners, we are quickly disorientated with a shift in tense, as she 'was thinking'. We are left unsure of exactly when this heartbreak happened, or whether she has healed from it or, most likely, whether this is an ongoing process. Such a disjointed presentation of time creates an almost outer body experience hinting of trauma, situating us worlds away from the psychological space of 'Bejeweled' and plunging us instead, deep into the 'Labyrinth.'
In this space, Swift deals cautiously and patiently with the process of healing from heartbreak; 'I'll be getting over you,' she sings, at some point sometime in the future. Replacing urgency with patience, Taylor takes her time, even the direct expression of panic, 'oh no' is dampened by her almost resigned voice that feels similar to the sometimes-despondent sound of Lana Del Rey.
'You know,' Swift addresses the listener intimately, 'how scared I am of elevators,' confiding in us a fear of heights that signal her distrust of emotional highs that 'can't last.' This fear of extreme emotion is extended through the aeroplane metaphor. Tight claustrophobic spaces paired with a fear of heights develop a sense of the psychological maze of heartbreak. Yet labyrinths, elevators and aeroplanes alike can be useful for transporting ourselves away from our current situation; they are passageways that lead to somewhere else.
Around three-quarters of the way through the track another voice breaks through accompanied by a stronger beat suggestive of a second heartbeat. The new voice, highly autotuned, continues the sense of distortion and disorientation already established, but as the beat grows steadily louder the track takes a hopeful turn; the singer is seemingly less alone both in terms of her past trauma and fear of an impending 'fall.' And so, we see the plane is turning 'back around' and a way out of the maze is starting to emerge. In the end, the two voices fade away, moving off towards something else, something new, out of the labyrinth.
Karma
Cara-Louise Scott
'You're talking sh*t / For the hell of it' – Taylor Swift means business in her new album Midnights, but 'Karma' has to be one of her sassiest songs to date. 'Karma' is about the speaker being unbothered by haters, because they know that Karma will bring them down and give them a peaceful state of mind. Many fans have speculated that this song could be about Kanye West or Scooter Braun; because of the clever lyrics that Taylor always creates, this song could be aimed at anyone. But one thing's for certain- Taylor wants revenge.
'Karma' is one of the catchiest songs off the album, both beat-wise and lyrically. This sassy song holds a powerful chorus detailing all the things that karma is. This catchy chorus moves with a fast pace, with lyrics such as 'Sweet like honey / karma is a cat / purring in lap 'cause it loves me' prominently standing out as masterminding lyrics blended perfectly with the pace.
The lyrics 'me and karma vibe like that' stand as a message to show Taylor's belief in people getting what they deserve and this is another of Taylor's lyrics that I can certainly imagine being screamed out in a stadium in the near future.
Sweet Nothing
Lula Izzard
On my first listen of Midnights, 'Sweet Nothing' became an instant favourite track. It is a song about appreciating and romanticizing small, mundane moments in life, portraying how aspects of your everyday routine become magical when shared with someone you love. The lyrics describe details such as noticing a pebble, which brings back the memory of finding it together and writing poems and then sharing them, evoking blissful images of simplicity.
It is a song about appreciating and romanticizing small, mundane moments in life, portraying how aspects of your everyday routine become magical when shared with someone you love
The song depicts a secure, peaceful place in a relationship, which is a source of stability and safety from the chaos and pressures of the outside world, displaying this through the contrast in the lyrics 'Outside, they're push and shoving/You're in the kitchen humming'. It also conveys the feeling of being loved and appreciated for who you truly are and not having more expected from you, and being able to be vulnerable and truthful with someone.
I find 'Sweet Nothing' warm and comforting to listen to. The gentle piano melody perfectly encapsulates its' theme, and Taylor's voice conveys the feelings of serenity and contentedness her lyrics describe. The song also reminds me of 'New Year's Day' both in its sound and lyrical content, which was one of my favourite songs from Reputation.
Mastermind 
Eleanor Bergin
Arriving at the last track of the album, 'Mastermind' presents us with a confessional insight into not only the presumed origins of her relationship with boyfriend Joe Alwyn, but also a close examination of her role as a public figure.
Having supposedly met Alwyn at the 2016 Met Gala, Taylor describes the relationship as being born out of fate, whilst sharing her persistence in making things work, singing 'What if I told you none of it was accidental?'. As Taylor writes, 'We [Women] were born to be the pawn in every lover's game', she revisits themes of 2014's 'Blank Space' in which she asks 'love's a game, wanna play?', interestingly exploring stereotypes surrounding overly calculative women within her song writing once again.
Yet, it is the exploration into her career over the years and confrontation with fame that I find particularly striking. Weighing in on early beginnings vs. 'scheming like a criminal ever since', she reminds us of the moves that ultimately allowed her to become one of the biggest pop icons of the past decade. She admits, 'This is the first time I've felt the need to confess', offering an honest admission of her anxieties as a result of her stardom.
As the album closer, 'Mastermind' is the perfect culminating track. Sonically, it represents Midnights as a whole and drawing the album to a close with the lyric 'I'm a mastermind' feels truly like a triumphant celebration of her career and the artist that she has become.
---
Read more from Music here:
Redbrick Music's Spooky Songs 2022