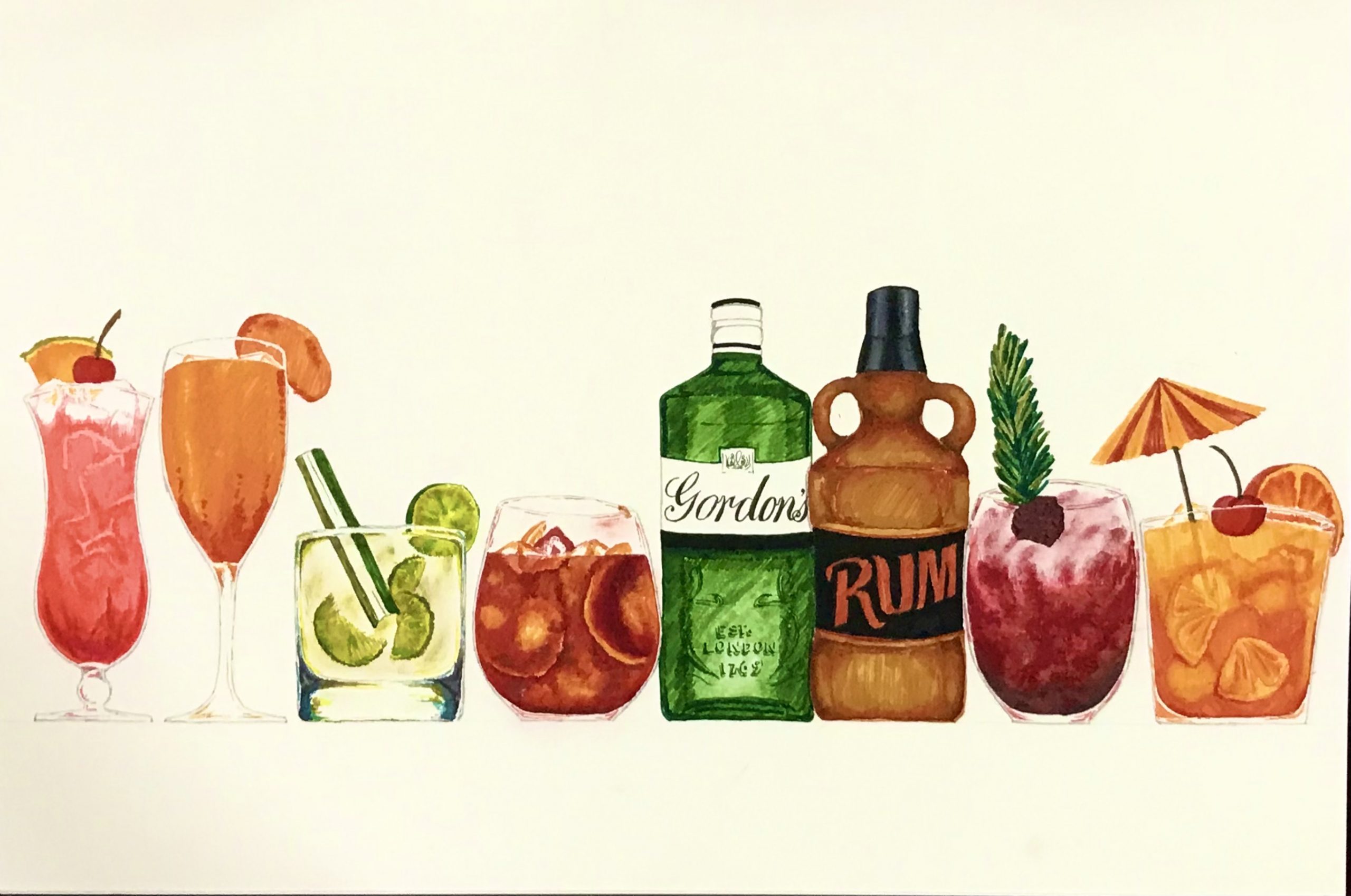 Food&Drink and Travel Writers team up to take you on a Cocktail World Tour for National Cocktail Day on 24th March
Here are eight cocktails from around the world to try this National Cocktail Day on 24th March.
Singapore Sling: Singapore – Rebecca Whalley
Invented in 1915, the 'Singapore Sling' is among the world's older cocktails and has a rich social history. This drink may look like fruit juice, but it sure packs a punch; it was designed to disguise the bouts of gin in the recipe as a way for respectable colonial ladies to drink on the sly.
Ingredients
30ml Gin

15ml Cherry Liqueur
15ml Cointreau
15ml Lime Juice
10ml Benedictine (Herbal Liqueur)
10ml Grenadine
60ml Pineapple Juice
2 dashes Angostura Bitters
Ice, for serving
Soda Water
Garnish: Cocktail Cherry or Orange Wedge
Method
1. Combine all the ingredients together in a cocktail shaker and shake with ice.
2. Strain into an ice-filled Collins glass.
3. Garnish with a cocktail cherry or an orange wedge.
Rum Punch: Jamaica – Zenna Hussain
'Rum Punch' is a traditional Caribbean drink. It is perfect for parties, holidays and gatherings as it can be made in big batches and drunk throughout the night. It is best served chilled with ice, and a fruit garnish. With a fruity base, the tropical drink is best drunk on a hot beach in Jamaica, but if you cannot go to the Caribbean, this rum punch will provide a taste of Jamaica. The old rhyme goes 'One of sour, two of sweet, three of strong, four of weak.'
Ingredients
15ml to 30ml Lime Juice

15ml to 30ml Grenadine

45ml White Rum 

45ml Dark Rum 

120ml Orange juice or Pineapple Juice 

Ice – Optional 

Pinch of Nutmeg  – Optional

Orange Slices to garnish – Optional 
Method
1. Combine all juices in a pitcher.
2. Add nutmeg for an authentic touch.
3. Serve chilled with ice, and you can add orange slices as a garnish.
Bramble: England – Charis Hawkley
One of my favourite cocktails is the 'Bramble' cocktail from England. The Bramble was created in London in 1984 by Dick Bradsell, a bartender at Fred's Club in Soho. The memorable name is thought to have come from the winding nature of the blackberry liqueur when it finds its way from the top to the bottom of the glass through the crushed ice. If you like the taste of blackberries, then this is certainly the cocktail for you. 
The combination of the citrusy lemon, sweet sugar and blackberries is a match made in heaven. You will find that the cocktail is both sweet and sour and the two tastes balance together perfectly. The blackberry liqueur features a powerful and layered taste, where you can find fruity, rich, bold, sweet, bright, and jammy components. When the Crème de Mûre is met by the taste of dry gin you will find yourself a splendid cocktail.
Ingredients
50ml Gin

15ml Crème de Mûre (Blackberry Liqueur) 

25ml Lemon Juice

15ml Sugar Syrup
Method
1. Add the gin, lemon juice and sugar syrup to a cocktail shaker with ice.
2. Strain into short glass with crushed ice, and drizzle the Crème de Mûre over the top of the drink. 
Dawa: Kenya – Georgia Brooks
A delicious and unusual cocktail, the 'Dawa' is the de facto cocktail of Kenya, where its name means 'medicine' in Swahili. The perfect rejuvenation for hot days, its potency is said to cure whatever is ailing you. Although traditionally the cocktail does not always contain passion fruit, the extra flavour that they provide is well worth it if you can find them. 
Ingredients
1 Lime 

2 Passion Fruits

60ml Vodka 

Honey 

Soda Water 
Method
1. Cut the lime up into wedges and add to a large glass of crushed ice, the pulp of two passion fruits, the vodka and a squeeze of honey.
2. Traditionally, a Dawa stick is used to muddle everything together, but a spoon will do: give it a good mix to release the lime juices.
3. Then, top up the glass with soda water, add some extra honey to taste, give it a final stir and enjoy: all of your ailments will be cured! 
Bellini: Italy – Kitty Grant
Some cocktails require a seemingly endless list of ingredients; three mixers, four liquors, and don't forget the garnish, but sometimes, simple is better. That is where the 'Bellini' comes in. This easy cocktail, which originated in Venice at some point in the 1930s or '40s, calls for just two ingredients. There are, however, many variations on the Bellini, including substituting the peach juice for mandarin juice, strawberry purée, or pomegranate juice. If you cannot find any peach juice, you can even substitute it for peach schnapps. Here is a recipe for a traditional Bellini, but feel free to get as creative as you want.
Ingredients
120ml Prosecco

60ml Peach Juice
Method
1. Pour your peach juice into a champagne flute, then fill the glass with Prosecco. Told you it was easy!
Tinto de Verano: Spain – Emma Walker
Although Sangria is by far Spain's most internationally recognised drink, you are probably more likely to find tinto de verano on the menu in Spanish bars that are popular with the locals.  Translating literally as "summer red wine", needless to say, it makes a refreshing drink in the warmer months.  It is also far easier to make on a student budget – instead of all of the fresh fruit, you only need a lemon or orange (plus red wine, Sprite, and ice cubes).
Ingredients
Ice

120 ml red wine (preferably from Spain)

120 ml lemonade such as Sprite or 7-Up

Slices of lemon or orange  (optional)
Method
1. Put the ice into the glass.
2. Pour in the red wine and lemonade, and garnish with lemon or orange slices.
Piña Colada: Puerto Rico – Jasmine Sandhar
In my opinion, nothing quite beats a Piña Colada. This tropical cocktail originates from Puerto Rico and is actually the Caribbean Island's national drink. There are various competing rumours surrounding who actually created the refreshment, with three different bartenders claiming the invention as their own: Ramón "Monchito" Marrero, Ricardo García and Ramón Portas Mignot.
Either way – whether it was Marrero, García, Mignot – the cocktail was conceived during the 1950s/60s in the famous Caribe Hilton Hotel in the country's capital, San Juan. To commemorate this groundbreaking moment in Puerto Rican history, there is a plaque above the hotel restaurant's bar that reads: "The house where […] the Piña Colada was created." So, if you ever happen to end up in Puerto Rico, head on down to the Caribe, order your Piña Colada cocktail and get a snap with the plaque!
Ingredients
6 oz White Rum (my preference is Bacardi Carta Blanca)

6 oz Coconut Cream

6 oz Pineapple Juice

6-7 chunks of pineapple

4 cups of ice

Pineapple wedges or leaves for garnish (optional)
Mojito: Cuba – Chelsie Henshaw
The mojito is a cocktail with a rich history. Originating from Cuba, the cocktail can be traced to the 16th century drink, El Draque. However, it didn't get its name until it was published in the 1932 edition of 'Sloppy Joe's Bar Cocktail Menu'. The classic drink is rumoured to have been a favourite of the famous Ernest Hemingway. 
The drink is a class cocktail, sweet and refreshing. You can never go wrong with a mojito, it's always a safe bet.
Ingredients
3 mint leaves

1 tsp granulated sugar or half an ounce of simple syrup 

60 ml white rum

The juice of one lime, freshly squeezed

Soda water to taste 

Garnish – 1 mint leaf 
Method
1. Muddle the mint by gently mashing it and mixing it with the lime and sugar 
2. Pour the mixture into a glass and add a handful of ice 
3. Pour over the rum and add soda water to taste or until the glass is filled. Use a long spoon to mix and garnish with a mint leaf. Sit back and enjoy, maybe it will inspire you to be the next Hemingway!
---
Fancy More Inspiration for National Cocktail Day? Check These Out: