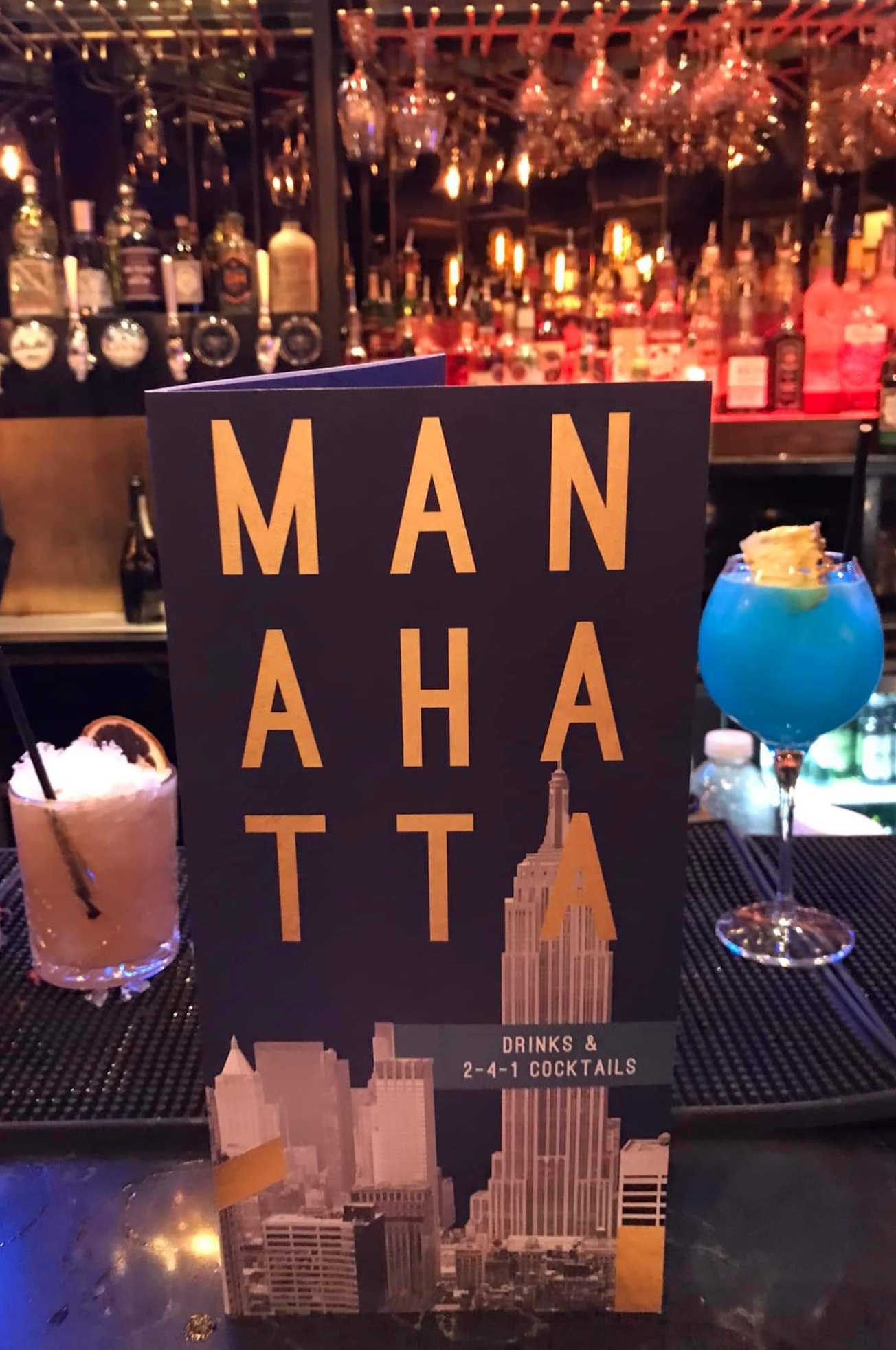 Food&Drink Writer Nicole Morris visits Birmingham's new bar, Manahatta, arguing that it has a lot to offer for drinks
Recently opened in October 2021, Manahatta is a new bar in Birmingham located on Temple Street in the heart of the city amongst other popular cocktail bars. However, what makes Birmingham's newest answer to a pit-stop on a cocktail crawl stand apart from the rest?
As the name of the establishment suggests, the bar is inspired by Manhattan in New York. Therefore, from the décor, you might forget you are in Birmingham, and in fact imagine you are actually in New York. There are plenty of Instagrammable spots beneath neon signs and artwork of New York City. The large open plan space offers high barstools and comfy sofas for drinkers, with booth-like seating for diners as the bar also boasts a food menu inspired by American cuisine. Expect to find burgers, hot dogs, and filled pretzels, as well as vegan-friendly alternatives to their flagship dishes. 
The bar's happy hour deals will undeniably make Manahatta a crowd pleaser and student favourite: from Sunday to Thursday the cocktails are 2-4-1 all day. There is a large choice of cocktails available including classics like a Pornstar Martini, and other exciting concoctions unique to Manahatta. If you're struggling to decide, the bar staff were very helpful in providing recommendations. Our bartender explained to us that when the staff were hired in October the company allowed them to try the food and cocktails on a training day in order for them to be able to offer fair recommendations to customers. 
We opted for a Rum & Plum (pictured on the left of the menu) and an Electric Avenue (pictured right of the menu). It was possible for us to customize our drinks to an extent, as we were able to switch the soda in the Electric Avenue to lemonade, as the cocktails are all hand-crafted. The drinks were nicely presented with their individual garnishes. If you like spiced rum, I would highly recommend the Rum & Plum as the warm spiciness of the rum pairs well with the fruity plum giving it an overall autumnal tasting flavour. Personally, I found the Electric Avenue too sweet and the bright blue Slush Puppie-like colour slightly off-putting, however my friend with a sweet tooth thoroughly enjoyed it. 
The only thing lacking at the bar was an atmosphere, though we did visit on a Sunday evening, so the bar had a more relaxed vibe which ensured that it was easy to get a drink. We were assured that Friday and Saturday nights were busier, and often remained so until the early hours of the following morning. 
This exciting new spot in the city has a lot to offer in the way of a place to stop for a drink, or for a casual sit-down meal also. I will certainly be returning to try more of the cocktails!
---
Want to check out more places to eat and drink in Birmingham? Enjoy these tasty reviews:
Review: Medicine Bakery's Cruffin – Creative or Crummy?