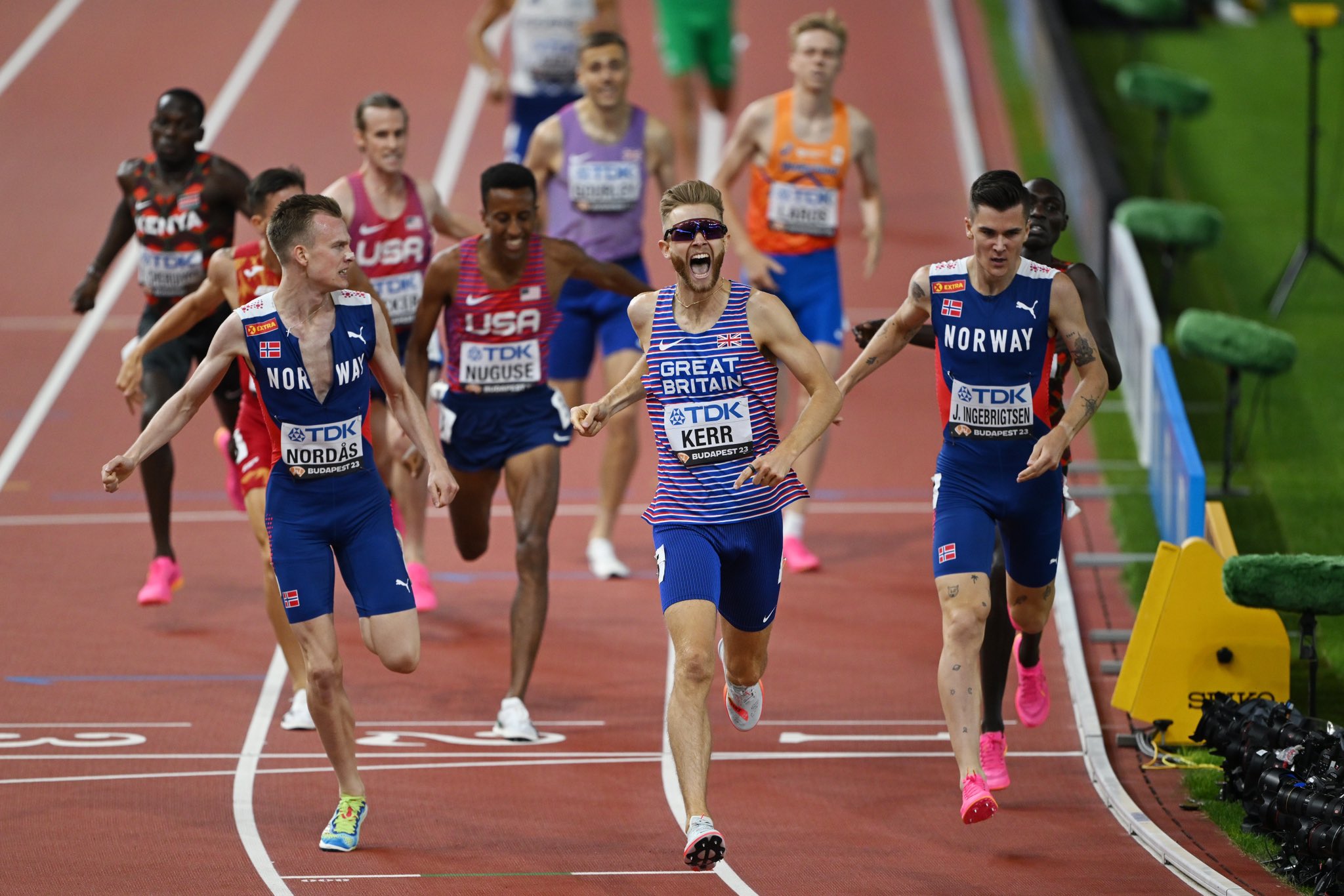 Sport Editor Lucy Parry reports from Budapest on the World Athletics Championships, which saw several surprise victories on the track.
In Britain, we love an underdog. And this edition of the World Athletics Championships, held in Budapest, was particularly exciting because the underdogs triumphed over the red-hot favourites so many times.
Heptathlon
When Katarina Johnson-Thompson finished the heptathlon in Budapest, tears rolled down my cheeks. But unlike Tokyo 2021 when I cried because my heart was breaking for her, these were tears of joy as she became World Champion for the second time.
Before the heptathlon started, many people had already hung the gold medal around the neck of the American Anna Hall. The bronze medalist from last year's World Championships moved up to 4th on the all-time list in May and defending champion Nafi Thiam withdrew two weeks before the Championships. But Hall still had to get through the seven events.
The 100m hurdles went far better for Hall than for KJT as they ran 12.97 and 13.50 seconds respectively. Both athletes were below their best in the high jump, but KJT cleared 1.86m on her third and final attempt while Hall hurt her knee on her third attempt. In the shot put, Hall pulled away with a PB of 14.45m but KJT kept in touch with her third best throw ever, 13.64. The 200m is the final event of day one for the heptathletes. KJT ran a brilliant bend and powered down the home straight to win in 23.49 seconds. She finished the day in second place behind Hall.
KJT started day two fantastically as she improved in every round of the long jump. Her best jump of 6.54m put her into the gold medal position as Hall could only manage 6.19m. KJT then went on to set a new javelin PB of 46.14m. Hall showed a great fighting spirit as after a poor second attempt, she threw the javelin 44.88. All of this set up an incredible battle in the 800m. Hall had to beat KJT by 3 seconds. Hall set off very quickly, but KJT had her eyes trained on her rival's back. The pain was evident on the home straight. KJT crossed the line 1.5 seconds after Hall in another PB of 2 mins 5.63 seconds. That's when the emotion poured out of KJT (and me). KJT finished 20 points ahead of Hall with 6740 points.
Men's 1500m
Last year, Scottish athlete Jake Wightman shocked the world when he beat the Norwegian Olympic champion Jakob Ingebrigtsen to gold over 1500m. Though Wightman could not defend his title this year because of a foot injury. Ingebrigtsen came in as the favourite again as he has been unbeaten in the Diamond League this year. But as Steve Cram said in commentary, "Lightning strikes twice." Ingebrigtsen was beaten by another Scot, this time it was Josh Kerr. 
Kerr won the bronze medal at the Tokyo 2021 Olympics, but he was hungry for the gold this time around. Kerr copied Wightman's tactics and started his attack with 200m to go. He and Ingebrigtsen battled around the bend. After they entered the home straight, Kerr moved past the Norwegian and maintained his lead until the finish line. Kerr said in an interview with BBC Sport: "I just threw my whole 16 years of this sport into that last 200m and didn't give up until the end."
International underdogs
The women's 100m hurdles is always an exhilarating event because the ten barriers provide so much jeopardy. The lineup for this year's final was particularly scintillating. Tobi Amusan, defending World Champion and World Record holder; Keni Harrison, former World Record holder; Nia Ali and Danielle Williams, former World Champions; and Jasmine Camacho-Quinn, Olympic Champion. All eyes were on Camacho-Quinn, who had been unbeaten this year, and Harrison, who set a world-leading time of 12.24 seconds in the heats. The Jamaican Danielle Williams, 2015 World Champion, stormed to the gold medal from lane 1 in a time of 12.43 seconds. Before the World Championships, her season's best was outside of the top 10 times in the world this year; she saved her best race for the World Championships final and that is the indicator of a true champion.
The home crowd were very excited for the men's hammer throw final because one of the medal favourites was Hungarian. Bence Halász delivered for the crowd and won a bronze medal with 80.82m. Canadian Ethan Katzberg overtook the defending World Champion Wojciech Nowicki with his fifth round effort of 81.25m. This throw was a massive personal best and Canadian record for Katzberg. At only 21, he became the youngest ever hammer throw World Champion and he will surely win many more medals in the future.
---
Check out these latest sports articles here:
Bears suffer Blast Quarter Final Exit
Warwickshire scorer Mel Smith celebrates 400th match