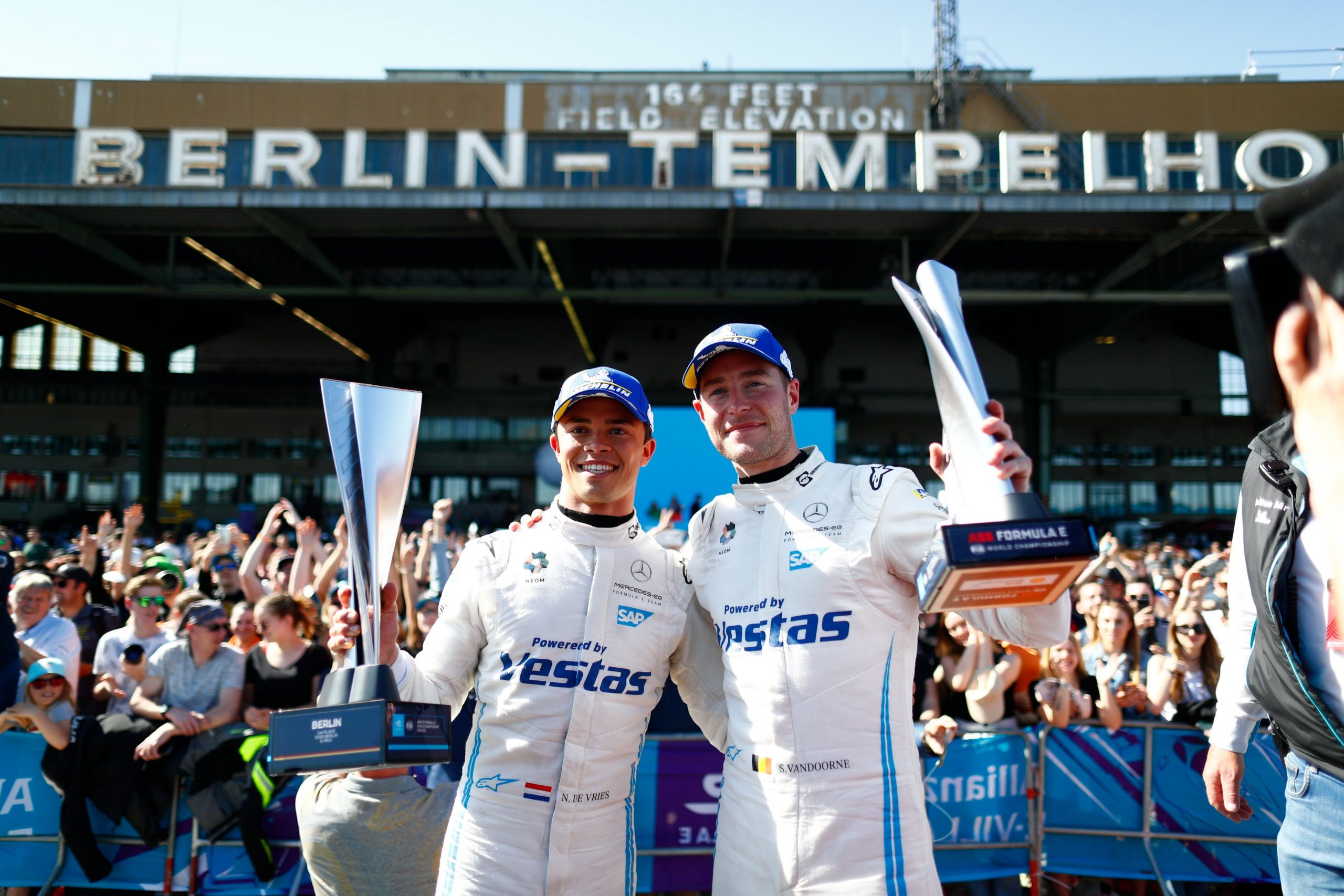 Sport Writer Holly George reviews Round 7 and 8 of the Formula E Championship held in Berlin from Saturday 14th to Sunday 15th May
The next stop on the ABB FiA Formula E World Championship calendar was a double-header in Berlin. The venue was the Tempelhof Airport which was last used in 2008. Round 7 took place on Saturday 14th May and Round 8 on Sunday 15th.

Round 7
Round 7 began with a bang in qualifying. Many big-hitters and Championship contenders were knocked out in the group stage. Reigning champion Nyck De Vries would start the E-Prix in P12. Mitch Evans, third in the Championship, and Robin Frijns, fourth, were also knocked out before the Duels and would start P9 and P20. Qualifying for Frijns was so abysmal that the team principal, Sylvain Filippi, described it as a 'complete disaster.'
For Mortara, after five years in Formula E, the Swiss-Italian driver got his first Pole Position. ROKIT Venturi Team Principal Jérôme d'Ambrosio praised his driver, stating, 'Edo did an amazing qualifying.'
The full line-up for Round 7 in Berlin was: Mortara, Sims, da Costa, Vergne, Lotterer, Wehrlein, Sette Câmara, Vandoorne, Evans, Buemi, Dennis, De Vries, Di Grassi, Turvey, Bird, Günther, Rowland, Giovinazzi, Cassidy, Frijns, Ticktum, and Askew.
The E-Prix got underway with a solid getaway from the Swiss-Italian driver. Having Sims as a buffer in P2 to defend from the DS Techeetahs meant that Mortara could focus on maintaining track position. Da Costa charged after Sims and tried to go around the outside of the 270 degrees left-hander at Turn 1, but the DS Techeetah driver couldn't quite pull off the move, going wheel-to-wheel but eventually dropping back.
Two teams were causing a storm in the top ten, the DS Techeetahs and the Porsches. Both teams had been looking strong all day. After the first lap, da Costa was in P3, Lotterer in the Porsche was P4, Vergne, da Costa's teammate was P5 and then Lotterer's teammate, Wehrlein was in P6.
Robin Frijns had started from P20 and was up to P17 after the first lap. Bird continued to progress, too, finishing the first lap in P11. Sims, on the next lap, took his first Attack Mode. As the British driver went off-line, Lotterer and Vergne went wheel-to-wheel, with Vergne eventually progressing to P3. The Porsches and the DS Techeetahs continued to jostle over position, continually swapping, depending on which of the four drivers had Attack Mode.
Da Costa overtook Alexander Sims, so it became a Porsche two-three and a DS Techeetah four-five, with the Mahindra driver falling back to P6. Team orders took place again at Porsche, as Lotterer had extra energy and Attack Mode. Wehrlein was passed by both DS Techeetahs, dropping back to P5. They overtook the Porsche back-to-back in one corner, causing contact with the German driver.
Sims and Vandoorne, using their extra power, were running in P6 and P7. Vandoorne had made solid progress from earlier, after being down in P12. Evans, now using his extra power, passed Bird for P12. Both Evans and Vandoorne also had the option to use their FanBoost, a five-second 250kW boost available in the second half of the race.
With 22 minutes, plus one lap remaining, the race leader took his first Attack Mode, falling back into P2. After a lap behind Lotterer, Mortara breezed past the German on the straight to reclaim his lead. Vandoorne also passed Wehrlein, joining the Porsche-DS Techeetah battle, using the last of his Attack Mode, and moving up into P6.
Sims, with 20 minutes plus one lap remaining, used up all of his Attack Modes and maintained P3. His teammate, Rowland, used his extra power to progress up into the points in P10. It was great progress from both Mahindras.
Team orders came into play at DS Techeetah, with Vergne and da Costa swapping positions. But Vandoorne was looming and charged at da Costa to steal P5. Meanwhile, Vergne passed Sims ahead for P3. Da Costa, after losing a place to Vandoorne, took his final Attack Mode, as did Evans, both losing a place as they went off-line.
Lotterer, with 13 minutes plus one lap left, took his final Attack Mode around turn six. The Porsche cut in-between the two DS Techeetahs on his way back to the racing line, passing them to chase after Vandoorne. Mortara took his final Attack Mode, falling back to P3. Lotterer ran out of extra power on the straight, and Vandoorne and Mortara were behind, with some still remaining. The Mercedes-EQ driver passed the German into turn six, and Mortara followed closely behind.
With a minute and a half, plus one lap remaining, Mortara defended from Vergne. The French driver passed him, but the ROKIT Venturi driver switched back and re-passed him. The DS Techeetah was then vulnerable to Vandoorne behind. Vergne recovered and defended against the Mercedes-EQ driver.
Mortara drove off into the distance, leaving the five drivers behind to fight it out. Evans up to P6 had an extra one percent on da Costa in front. Mortara crossed the line to start the final lap. On the lead up into turn six, Evans passed da Costa for P5. Vergne kept it together, defending hard, to finish ahead of the train behind. Mortara crossed the line to win Round 7, with Vergne second and Vandoorne third.
A strong day overall for Venturi and Mortara, after qualifying on Pole and going from lights to flag, which does not happen often in Formula E. Both DS Techeetahs were a force to be reckoned with and important points for Vergne in P2. It was also a great race from Vandoorne. After falling out of the points, to recover and get a podium was key to maintaining first position in the Championship. It was a tough race for Jaguar, but still picking up good points, especially for Evans in the Drivers' Standings.
Round 8
In Round 8, qualifying was different again from Round 7, with the track changing direction to clockwise, the opposite to Saturday. The Championship standings going into qualifying were: Vandoorne, Vergne, Evans, Mortara and Frijns. Mortara moved up to P4 after a great points haul, whereas Frijns lost out after not gaining any points in Saturday's race.
It was clear throughout the morning that Jaguar was struggling with the car and did not make it out of the groups. Evans would start from P9, like Round 7, with Bird starting from P14. Mercedes looked strong, with a new form found in Nyck De Vries and both cars making it to the Duels. But the clear frontrunner once again was Edoardo Mortara, repeating what was done on Saturday and getting Pole Position two races in a row.
Before the E-Prix, Envision changed the powertrain of Cassidy's car. So, the New Zealander was penalised and started the race from the pit lane after getting through to the Duels. Certain teams seemed to be struggling more due to the higher temperatures, which could affect everything from tyre wear to energy consumption, so the field was more spread out compared to Saturday.
The full line-up for Round 8 in Berlin was: Mortara, Frijns, De Vries, Lotterer, da Costa, Di Grassi, Vandoorne, Vergne, Evans, Rowland, Sims, Günther, Turvey, Bird, Dennis, Giovinazzi, Sette Câmara, Buemi, Wehrlein, Ticktum, Askew and Cassidy.
The E-Prix went green, and down the main straight, reigning champion Nyck de Vries launched his Mercedes-EQ down the inside of both Mortara and Frijns, before getting the car slowed into turn one to take the lead from P3. De Vries, on the next lap, activated Attack Mode, moving back behind Mortara and Frijns. Attack Mode for Round 8 was at Turn 5. Like Saturday, it was still a 13% boost in power but would last for eight minutes instead of four and was only allowed to be used once. Da Costa and Vandoorne also took Attack Mode, as there was a big enough gap back for Evans in P8 to go off line, activate, and maintain track position.
In the next lap, Frijns and Lotterer both went to take their Attack Mode. Frijns missed the Attack Mode sensors and dropped down to P4, and with no benefit, after giving up P2. Lotterer did get Attack Mode and squeezed between da Costa and Vandoorne, losing two positions also. Vandoorne, out of the extra power, passed Lotterer on pure pace, progressing up to P3. Di Grassi and Frijns using their Attack Mode also overtook the German. The Porsche driver dropped down to P7. Then, Mortara passed Vandoorne for P3, getting up into the podium positions.
With 16 minutes, plus one lap to go, da Costa used his FanBoost to try and make a move on Frijns. On the outside into Turn 6, the DS Techeetah driver got it done just before the corner, gaining P4. Down the main straight, Vandoorne also sent one to the inside, going straight past Frijns for P5. Just behind, Rowland also sent it to the inside, mirroring Vandoorne, to pass Lotterer for P7.
With 14 minutes, plus one lap to go, the top five were: De Vries, Mortara, Di Grassi, Da Costa and Vandoorne. Two Mercedes-EQs, two ROKIT Venturis and one DS Techeetah – the three top teams all weekend.
With seven minutes, plus one lap to go, Rowland went into turn six, around the outside, and passed da Costa for P5. Meanwhile, Vergne used his FanBoost to pass Evans in the final sector, progressing to P9.
With one minute plus one lap remaining, da Costa passed Rowland into turn two, moving up to P5. Frijns, in the green Envision, used the momentum from the fight to also make a move on the Mahindra into turn five, gaining P6.
The last lap began, and there was contact going towards turn six between Frijns and da Costa. Frijns tried to do a dummy while da Costa lifted off the accelerator, sending the Portuguese driver sliding into the wall before saving the car and trying to fight back. However, Frijns passed da Costa, finishing in P5 to get some important points after missing out on Saturday. De Vries crossed the line first, with Mortara in P2 and Vandoorne in P3.
It was a difficult day for Jaguar, only gaining one point with Evans finishing in P10, but a solid weekend for Venturi and Mortara, with the Swiss-Italian driver getting a win and a P2. However, Sunday was Mercedes-EQ's day. The win was a relief for De Vries, seemingly emotional in the post-race interviews. The Dutch driver explained, 'I just felt like it was time for us to come back and turn it around.' He continued, stating, 'I hate losing. It eats me.'
Now, halfway through the season, this was a good time for De Vries and Mortara to gain some good points pushing them towards Championship contention, with De Vries now in sixth and Mortara up into second, passing Vergne and Evans.
---
Check out the latest sports articles here: 
Match Report: Wolves vs Norwich City
Match Report: Wolves vs Manchester City