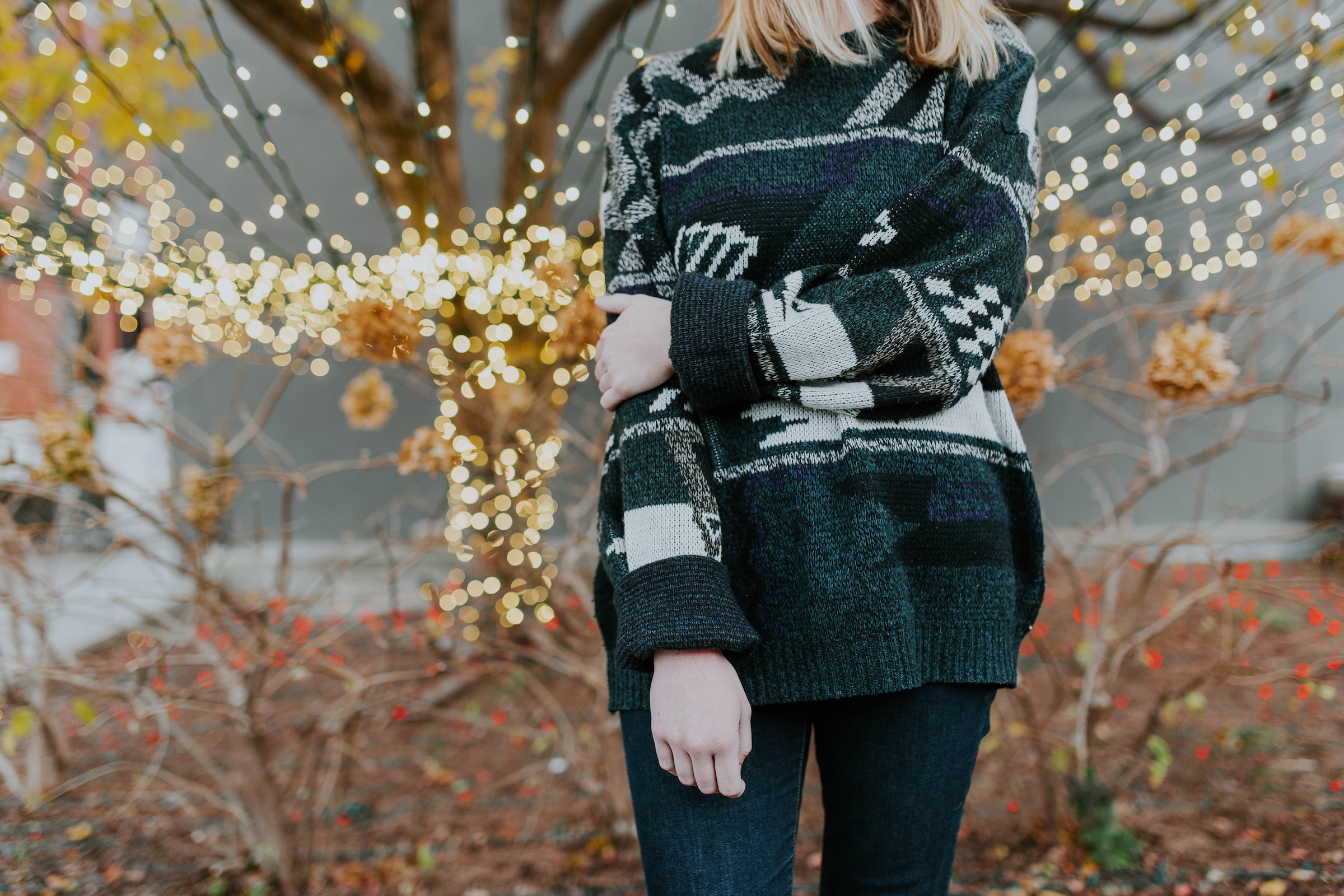 Life&Style's Charlotte Pryce discusses the Christmas jumper trend and how we can still enjoy this festive tradition without seriously damaging our environment
It's that time of year again. The days are getting shorter, darker and longer, Halloween and Bonfire Night have been and gone, and Christmas is just around the corner. This year especially we may be looking for Christmas to bring some much-needed familiarity and comfort after a year that has been nothing but unfamiliar and uncomfortable. While it is still uncertain what the festive season will look like this year, there is no doubt that people will quite rightly be clinging to some age-old Christmas traditions in an attempt to make it as normal as possible. One such tradition is the Christmas Jumper.
Christmas jumpers first became popular in the UK in the 1980s, and since then have become a national token of the festive season, being worn at family dinners, charity events, work Christmas parties- the list goes on. Some variety of festive figure can be found on a red jumper at almost every supermarket or high street shop. However, as much as we wish they could, the horrifying environmental effects of fast fashion do not take a holiday over the Christmas season.
The fashion industry's impact on the environment is one of the major issues facing our world today. Fast fashion is a key contributor to plastic pollution, with a 2014 study finding that the small and large microplastics shed by man-made fabrics when washed account for the vast majority of plastic debris found in our seas, killing a number of marine wildlife. Moreover, the United Nations Environment Programme recently estimated that a frightening 10% of the world's total carbon emissions are generated by this industry alone, and the equivalent of one truckload of textiles is burned or buried in landfill every single second. Barely-worn Christmas jumpers will certainly be found among the mix.
A 2017 study by environmental charity Hubbub found that up to 95% of Christmas jumpers sold on the high street and in online retailers are made using plastic; among these up to 75% contain acrylic and 44% are made entirely of acrylic. This has been found to be the most polluting fabric according to a 2016 study, releasing almost 730,000 microfibers in each wash – one and half times more than polyester and five times more than a blend of cotton and polyester. Hubbub also found that one in three under 35s admitted to buying a new festive jumper every year, with 24% of consumers claiming they didn't want to be seen in the same jumper as last year, and 29% citing cheapness as a reason to buy a new jumper each year.
According to Hubbub, two-fifths of Christmas jumpers are worn just once during the season. It is certainly apparent, that the tradition has an extremely damaging environmental footprint which we can no longer ignore. But with Christmas jumpers being such a well-loved festive tradition that no one wants to say goodbye to anytime soon, especially not in the climate of 2020, how can they continue to be part of the festive fun without having such a harmful impact on our increasingly fragile planet?
Before you think all hope is lost, here are 5 ways we can continue to take part in this tradition without killing the planet:
Swap with family and friends – Instead of buying a new Christmas jumper this year, why not switch last year's jumper with a family or friend? This is perhaps the most sustainable way to cop yourself a new jumper, and best of all, you can help save the planet without spending a penny!
Invest in a higher quality jumper to wear year after year – While there is certainly great appeal in the cheapness of the festive garments on offer on the high street and in supermarkets, spending a little more money on your jumper will mean it should last longer, therefore reducing waste. It will also probably be made of fabrics that don't kill our wildlife and cause plastic pollution. When looking for your new forever-jumper, keep an eye out for organic cotton on the label, as this is currently one of the most sustainable fabrics around. Some great places to buy a sustainable yet new Christmas jumper include Animaltopia Clothing and Boden.
Buy vintage/second-hand – If you, understandably, don't want to spend a lot of money on a somewhat ugly jumper, shopping vintage or second hand can often save you some pounds and give you more bang for your buck, as these items will almost certainly be better quality than their newer and cheaper counterparts. When lockdown is over perhaps check out your local vintage shop, or shop online at Beyond Retro. Charity shops and Depop are also great options for sourcing second-hand jumpers, and are often cheaper than vintage stores.
Upcycle – Upcycling can work two ways; firstly, you can upcycle an old, ordinary jumper into a Christmas jumper by getting creative with sequins, pompoms, glitter, spare fabric, thread, and anything else you can find that has a Christmassy feel. Alternatively, you could upcycle your old Christmas jumper into something non-festive that could be worn year-round. Pinterest is a great place to gather inspiration for these more creative options.
Finally, I ask you to:
Change the narrative around Christmas jumpers – These jumpers have become a yearly tradition, so why don't we pick a jumper to wear every year – one that that is special and signals the festive season to us, and make it our own Christmas tradition. You can also ask yourself, what makes a jumper a Christmas jumper? Does it have to a scratchy piece of fabric with Rudolph's nose on it, or can it be something else? In my opinion, anything that screams a little exciting and cosy constitutes a Christmas jumper, and these options can be found in almost every charity or vintage shop, and probably even in our own wardrobes. Jumpers like these have the added bonus of not being exclusively worn once a year, a worrying trend that we should all bid farewell to.
'Remember', says Hubbub's project coordinator, Sarah Divall, 'a jumper is for life, not just for Christmas.'
Liked this article? Check out more on sustainable fashion from Life&Style:
How Depop is Normalizing Sustainable Fashion
A-dress-ing the Environmental Issue: The Good On You App
Buying Clothes Ethically: The Lost Stock Initiative