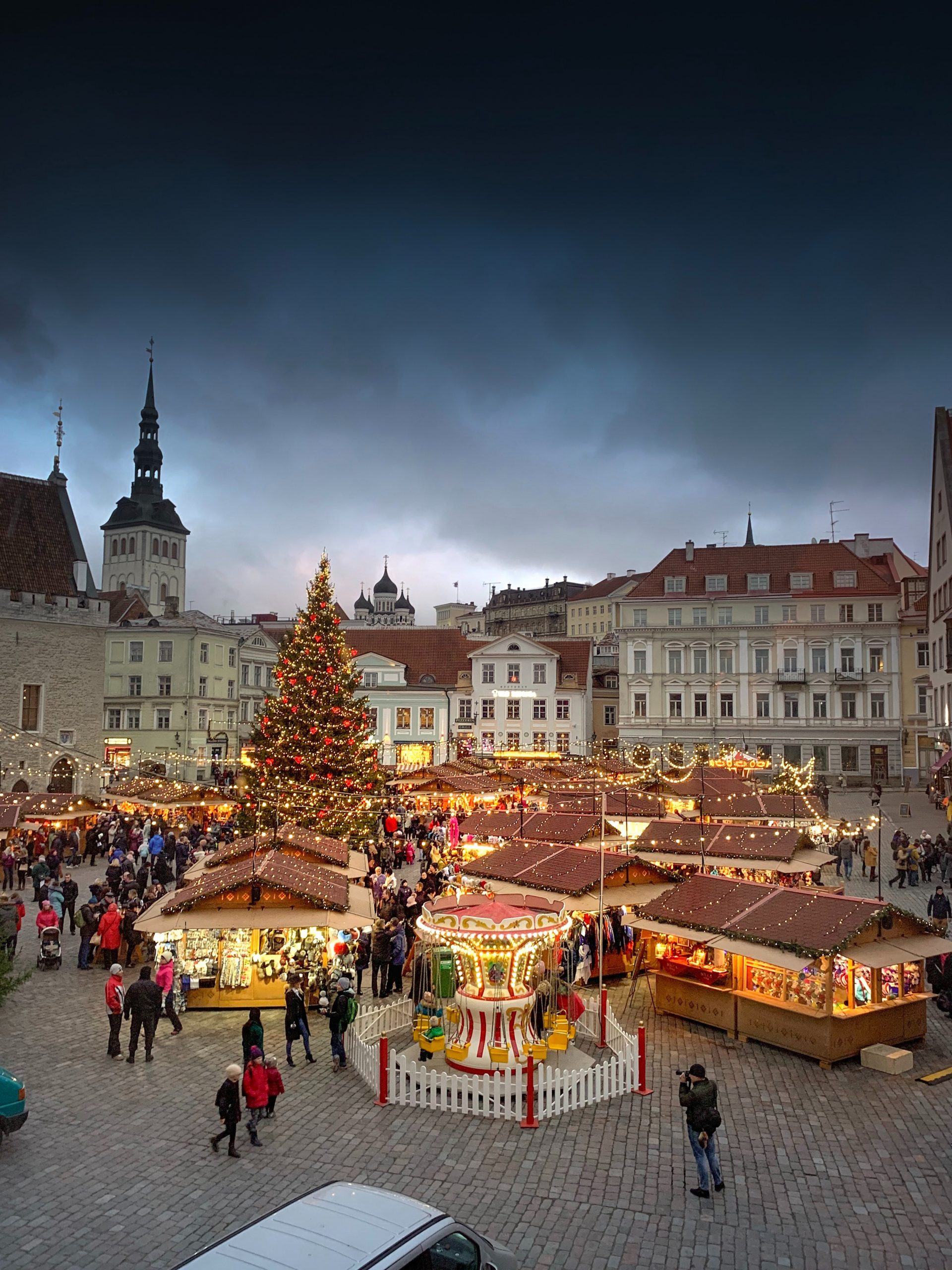 Redbrick Writers come together to share their first-hand experiences of Christmas Markets around the world and in the UK
Liverpool – Catalina Perez (Travel Writer)
In a very central and accessible part of town, just a few steps down from Liverpool Lime Street Station, is the city's Christmas Market. Located against the stunning backdrop of the Walker Art Gallery, the World Museum, and St. John's Garden, this picturesque market is the perfect aesthetic for any Instagram feed.
By daylight, the beautiful surrounding architecture and the shopping stands are the highlights. With a diverse range of products, you can purchase anything from jewellery and ornaments to woolly items stands. You might also stumble across some very impressively decorated teddy bear stalls.
When it comes to food and drink, all the Christmas staples are present – hot chocolate, mulled wine, hot roasted chestnuts and more. However, there is also a variety of more niche choices, including fun alternatives like greek food, halloumi, siu mai, bubble tea and vegan options.
In comparison to the Birmingham Frankfurt Christmas Market, the price points are very similar. For example, the mulled wine is £6 and comes in an environmentally friendly paper cup. Regarding the stands, they are more spaced out in the Liverpool Christmas market, which means fewer huddled crowds and less bumping into people. A refreshing change.
In the evening, the lights and decorations are the main events. The Ferris Wheel and Carousel illuminate the city and are the perfect accompaniment for some lovely holiday-themed photo opportunities. The best part has to be the stunning background provided by St. George's Plateau. This imposing neoclassical building also provides a useful cover for when it (inevitably) starts raining.
A diverse, peaceful and entertaining experience, the Liverpool Christmas Market is an enjoyable outing in a beautiful city. Made even better by its surroundings; it is worth taking a day trip to visit it.
Aachen & Monschau – Benjamin Oakden (Gaming Editor)
I visited the Aachen Christmas market in 2019 after a ludicrous 15-hour coach journey starting in my hometown of Nottingham, which involved going through the channel tunnel and navigating the packed European motorways. The fact that I still look back on that three-night break with such joy goes to show how magical the Christmas period in the Rhineland was. 
We stayed in a family-run hotel in the picturesque village of Einruhr, with stunning views of the misty lake and surrounding forests. Our first full day saw us take in the historic city of Aachen; the history nerd in me was captivated by the city's famous cathedral: a world heritage site that holds both the throne and the coffin of Emperor Charlemagne. The market builds out from the cathedral and winds through the city streets, with the smell of gingerbread emanating throughout. The main focus of the market was on the traditional wooden toys, but there was plenty of food and drink to sample too, from the various chocolate shops to the locally made Printen, a soft German biscuit infused with Christmas spices. While my parents enjoyed a mug of mulled wine, I, as a law-abiding 17-year-old, settled for Kinderpunsch, a non-alcoholic mulled cider. If only someone had told me that the German drinking age is actually 16…  
The next day, we visited the charming riverside town of Monschau. With its preserved timbered buildings and hilltop castle, it felt like I had wandered into a Christmas card. The paved and uneven town square was home to a beautiful Christmas tree, with lights hanging from every building and carols played by brass bands – it felt like the entire town had transformed itself for the season. As we relaxed in a café by the river, admiring the enchanting beauty of Monschau, I realised just how magical Christmas in Germany can be. 
Valletta – Faith Parker (Music Editor)
Last year, I was on a year abroad in Malta. The Christmas markets were held in Valletta, just outside the capital city's walls, surrounding the Triton fountain. It was the perfect setting; Valletta is beautiful and grand, with limestone walls and rows of tiny houses with coloured balconies. The markets lined the road leading to Valletta's gates.
There was a selection of food and gift stalls to interest the crowds with one stall selling some beautiful handmade earrings. Another sold colourful soap from which my friend bought me a heart-shaped soap with the letter 'F' inscribed for my Secret Santa present!
There were lots on offer to eat and drink, including mulled wine (which cannot be left out of any Christmas market). I had a delicious and affordable halloumi burger with chips, followed by a Nutella crepe. I struggled to finish the crepe, which was quite large but perfect for those with a sweet tooth!
Surrounding the fountain were trees lit with colourful fairy lights, illuminating the whole square. The highlight of the market was the Ferris wheel. Whilst a Ferris wheel is not a unique feature of a Christmas market, the views from the one in Valletta were spectacular. As Malta is such a small island, you could see a large proportion of the country from high up. It was amazing to look across to the Three Cities and see the sparkling lights coming from houses.
There was also an ice rink just outside the main market area. It was quite chaotic due to its popularity, but it was fun to put on skates and whizz around. Most Christmases, I usually ice skate at the rink outside the Brighton Pavilion, so it was great to be able to keep up this tradition whilst far away from home.
I would definitely recommend the Christmas markets in Valletta if you are in Malta at Christmas. Whilst they do not offer anything out of the ordinary, the views from the Ferris Wheel make it worth it alone, and you are bound to enjoy perusing the stalls with friends.
Toulouse – Caitlin Gaul (Travel Writer)
When you think of traditional Christmas markets, you may think of Strasbourg or Frankfurt, but Toulouse probably doesn't come to mind. A bustling metropolis in south-west France known for its pink and red-brick architecture, Toulouse is deemed 'the pink city'. Come winter, its main square, la Place du Capitole, is transformed into a winter wonderland with 50 little white huts and an ice rink, all lit up by the dazzling lights of its impressive Town Hall. Meandering through these markets was a highlight of my semester abroad in the city, and I visited them countless times during the festive season.
Here are my top three purchases:
1. Hot chocolate – An independent café in the city, Café Fleur, hosted a stall at the markets which was famous for its hot chocolate. With huge pots of thick, rich, melted chocolate that was poured into cups with a ladle and topped with fresh whipped cream, this sweet drink was the ideal winter warmer after an hour of ice skating with friends.
2. Toulouse sausage – This hearty delicacy from the region was the first thing you smelled when you walked through the gates of the market. Crispy yet juicy, topped with caramelised onions, and wrapped in French bread, this street food was the perfect dinner before treating yourself to a Nutella crêpe.
3. La tartiflette – A creamy, gooey baked-dish from the French Alps made up of potatoes, cheese, bacon, and onions, the tartiflette is the epitome of hearty winter comfort food, perfect to tuck into whilst wandering through the rows of stalls.
What stands out about the Christmas markets in Toulouse is their charm; they may not be as big as in Paris or Strasbourg (meaning that they never seem too fraught or chaotic), but there is a huge emphasis on independent vendors that aren't overshadowed by sky-high prices. With plenty of vin chaud (mulled wine) to go around, merry music, and twinkling lights, the festive buzz is infectious, and I look forward to another cup of that hot chocolate when I can visit the pink city again.
Stowmarket – Sophie Uttering (Print & Features Editor)
Stowmarket Christmas Market is certainly a hidden gem this year.
Located in mid-Suffolk, Stowmarket is a town that is currently undergoing a makeover. When I was growing up, Stowmarket was never known for its shopping. But recently, more and more small businesses have been moving into its once underdeveloped town centre and have created a local hub of which to be proud. That much was reflected when I visited the Christmas market recently to find a thriving community where there was once just empty space. 
I personally loved just how incredibly local this Christmas market was. Every stall showcased a unique small Suffolk business, selling everything from jewellery to cakes, handbags to locally produced honey. The food in particular was amazing. Made from locally sourced products, most of the food stores showcased Suffolk produce perfectly. The ham Yorkshire pudding wraps seemed to be a crowd favourite with the queue seemingly never getting shorter.
Aside from the food, the locals themselves came out in forced. Stowmarket residents came from all corners of the town to support the markets in any way they could. One of my favourite moments was the amateur men's choir who lit up the main square with their gentle Christmas songs and carols. It was so lovely to watch the group perform together and really embodied the community of Stowmarket.
My favourite part of the market was the Christmas Tree Festival. This has always been a firm favourite in my family and it has become somewhat of a Christmas tradition to visit each year. The true joy of the festival is witnessing all the hard work put in to decorate the dozens of trees held within the church. Many local businesses, shops, community groups, and even individuals sign up each year to decorate a tree. Some even hand-make their decorations, such as our local stray cat charity who made cat toys to decorate their tree. For me, that's the real heart and soul of Stowmarket's Christmas Market.
So, Stowmarket may not have the biggest market around, but they certainly have one of the best in my not so humble opinion. If you ever find yourself in the far reaches of Suffolk, then I highly suggest popping along! 
---
Read more Travel articles here:
Paris: Is it really the City of Love?
Best of Britain: A Guide to Staying in London
4 Things I Learned Doing a Year Abroad as a Creative Writing Student