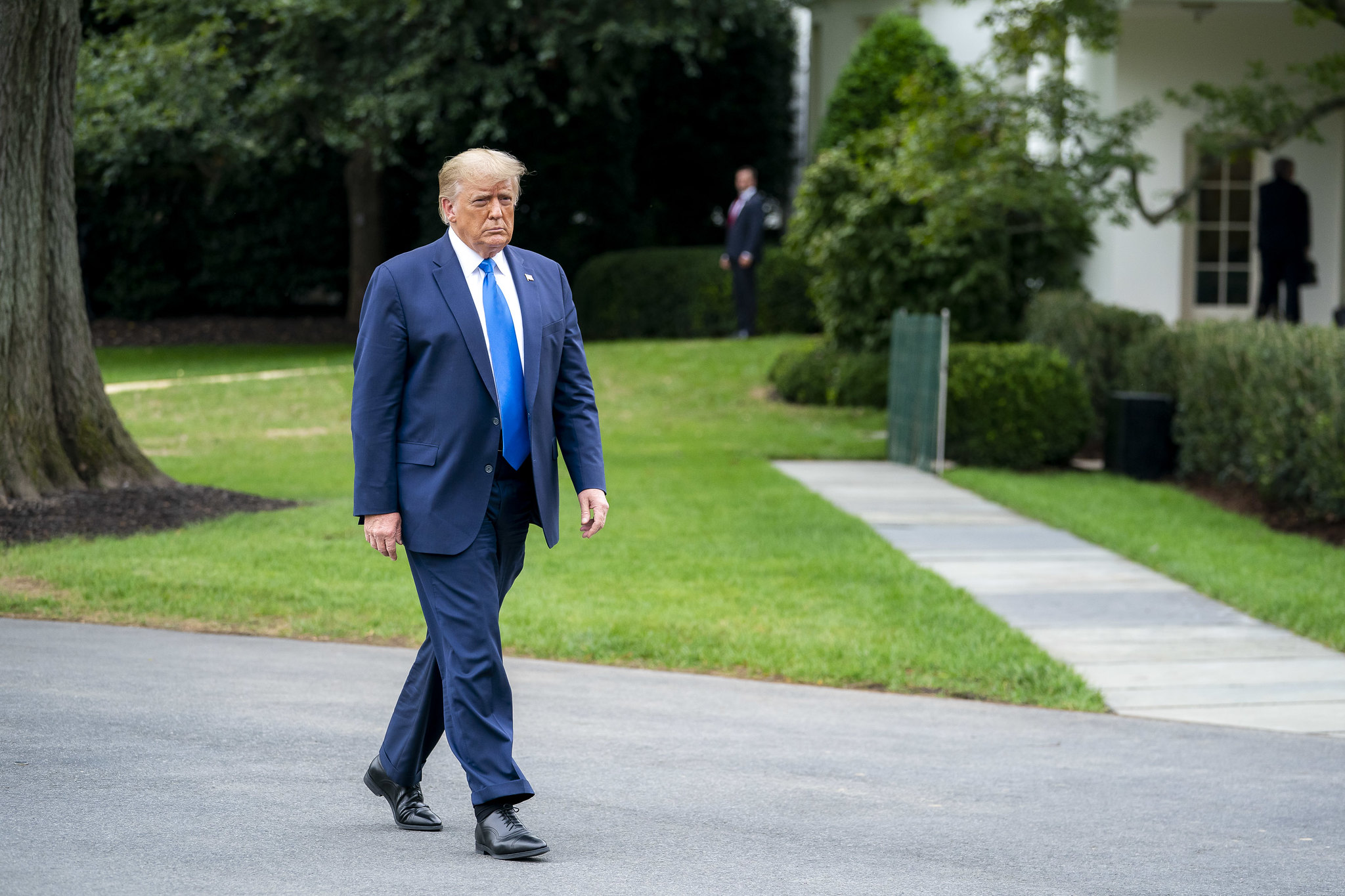 Comment Writer Erin Osgood discusses Donald Trump's recent positive test for COVID-19, questioning what it will mean for Trump's credibility and the future of coronavirus in America
No US presidential election is complete without an October surprise, the scandalous or shocking event that can turn the entire contest on its head. It could be said that 2020 has had more than enough surprises for one year, but the tradition has yet again played out; on 2 October, President Donald Trump tweeted that he and his wife Melania had tested positive for COVID-19. The president has survived tough odds before but never has his life actually been at stake. With just one month until polling day, what does this mean for the rest of the campaign?
Following the first presidential debate against rival candidate Joe Biden, one of Trump's key advisors, Hope Hicks, contracted coronavirus. In an earlier tweet, Trump announced that he and the First Lady would begin to quarantine following Hicks' test result, and praised her hard work on his re-election battle. But this is a campaign fraught with controversy, and this debate was no different – Trump, his team, and his family members appeared in the audience without masks. It is far from the first time that Trump has flouted the advice of experts (the US' Centers for Disease Control and Prevention recommends everyone wear a mask), but this could cost more than just a few days of ill health. He blatantly ignored guidelines designed to protect not just him, but those around him, and the effects are clear. He has even been accused of having concealed a positive test while attending a rally and fundraiser on 30 September. Can the American people trust him to protect them from the virus if he could not even protect himself, instead of endangering others?
Trump is not the first world leader to contract the disease, the most notable being someone closer to home. On 27 March, it was announced that Prime Minister Boris Johnson had tested positive for coronavirus, and then proceeded to spend almost two weeks in hospital, including in intensive care. This was in the earlier stages of COVID-19's surge in the western hemisphere, however, and so less debate surrounding the prime minister's precautionary measures (or lack thereof) took place. But this no doubt affected Johnson's stance on coronavirus prevention – he launched a new health initiative due to links between obesity and COVID-19 contraction rates, and arguably capitalised on the fighting spirit attributed to his recovery. But Trump's attitude to the pandemic has never been grounded in science, often promoting unfounded remedies as ridiculous as injecting disinfectant, and continuing to hold large rallies without social distancing. I struggle to foresee a Johnson-esque pivot to emphasising the ferocity of coronavirus when many of Trump's most loyal defenders believe that the pandemic is a hoax and do not trust medical experts. One supporter even stated, 'I don't trust the US government at all…I listen to Trump.'
But maybe this could be the turning point in a campaign seemingly immune to scandal – surely now, Trump supporters will believe that COVID-19 is a threat to public health? The leader who bragged of his invincibility, who mocked Joe Biden's mask-wearing in a show of bravado, is the same leader now hospitalised with the disease that very precaution was designed to fight. It could be the time that science begins to take precedence, but if that is the case, it is unclear what the repercussions will be for Trump; having fought the rising case numbers in plain sight for so long, his own diagnosis has now become the most significant addition to them. With such strong allegiance in his base, his own admission that he is not exempt from the disease could be what is needed to convince them that it is in fact real.
Critics are contemplating what such a revelation means for the credibility of the Trump administration. Risk assessment has never been viewed as a strong suit of the president and his team, but the trail of infection that has led so many close to him to contract COVID-19 is nothing short of gross incompetence. On 26 September, an event was held on the White House lawn to announce Trump's Supreme Court nominee, Amy Coney Barratt (herself a controversial pick to replace the late Justice Ruth Bader Ginsberg). Republican Senators and administration staff crowded, mostly maskless, in what is now being called a 'super-spreader' event. At least eight prominent figures there have since announced testing positive for coronavirus – Senator Mike Lee, one of the infected, was even filmed at the event hugging attendees. A scenario that looked bad then looks even worse now.
In the brief time since his diagnosis was announced, opponents of Trump have been keen to demonstrate civility, including Biden who said he would 'pray for the health and safety of the president and his family.' Others, however, have been more than scathing; it is safe to say that, should the president take a turn for the worse, many might respond in a similar fashion to the death of Margaret Thatcher in 2013. This could be called inappropriate, offensive, and totally lacking in respect – but are these not qualities that define the non-PC presidency of Donald Trump? Did he not refuse to take responsibility for the deaths of now over 200,000 Americans? Did he not state that 'when the looting starts, the shooting starts' following Black Lives Matter protests against police brutality? These are but a few of a myriad possible examples of his contempt for the people he was elected to serve.
I suppose a cynic might say that Trump's infection with coronavirus is its own form of poetic justice – not even ego can conquer biology. How this news will affect the presidency however remains to be seen, and I will not be writing off Trump's chances yet. But one of the most turbulent campaigns in history just got even more dramatic – with all eyes on the White House, perhaps the mask really will come off.
_____________________________________________________________________________________________________________________________________
Like this story? See below for more from Comment:
DNC and RNC 2020: Unconventional Conventions
Why Kamala Harris is Biden's Perfect Pick