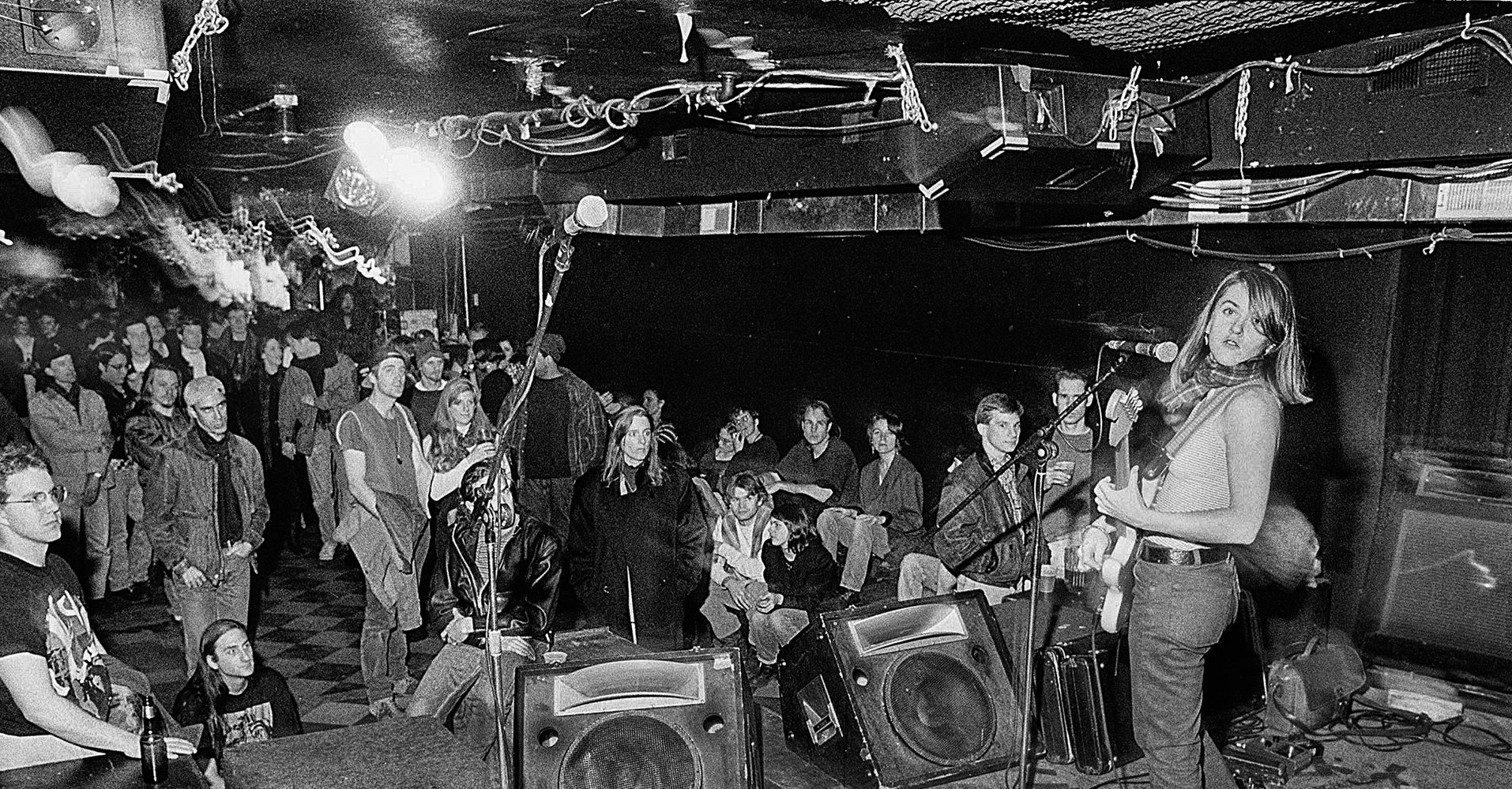 Music Critic Riley Wells examines Liz Phairs classic album 30 years on, finding it to be an influential time capsule of the late 90s Chicago indie scene.
Liz Phair was broke, lonely and sick of sitting on the sidelines of the grotty, nocturnal, fast food-fuelled boys' club that was the Chicago indie music scene in the 1990s. She was 25, living in her parents' house, and had one chance to impress Gerard Cosloy, co-president of Matador Records with her self-released Girly-Sound tapes. And impress she did. Within a year of sending Matador her tapes, she had recorded an eighteen-track double album brazenly titled Exile in Guyville, a play on the names of both the song 'Goodbye to Guyville' by Urge Overkill and the 1972 album Exile on Main St. by The Rolling Stones, which served as a template for Phair's lyrical themes and production. In June 2023, Guyville turned 30, and it as remained surprisingly relevant in the indie rock genre – even providing the blueprint for acts like Snail Mail, Phoebe Bridgers, Little Big League and more.
Although it is often described as a song-by-song reply to Exile on Main St., Guyville does not conform to a strict concept. While the opening track '6'1,' provides a feminine counterpart to the Stones' 'Rocks Off,' other tracks like 'Soap Star Joe,' 'Flower,' 'Stratford- on-Guy' and 'Divorce Song' were all previously written; they were merely redrafted and organised with some rather loose and abstract arguments for their positions on the track list. Still, Phair's brazen self-assertion into the centre of the alt-rock canon did not go unnoticed or unappreciated.
Neither did the music itself. An interesting characteristic of Exile in Guyville is that on a technical level, it is not that good. Phair's vocal range is limited and she occasionally strains to play her own guitar, but with the white-hot witticisms of tracks like 'Help Me Mary' and 'Divorce Song,' what is flat becomes deadpan humour, and with the minimalist production by Brad Wood, what is unrehearsed becomes charmingly DIY. Although some tracks with slightly weaker lyrics have been sidelined and forgotten over the thirty years since the album's release, plenty of the songs have held up against decades of scrutiny.
Out of the eighteen tracks on the album, the strongest are arguably '6'1,' 'Glory,' 'Girls! Girls! Girls!,' 'Flower,' and 'Stratford-on-Guy'. Together these tracks summarise what Guyville is all about – they are equal parts wickedly clever, funny and devastating. '6'1,' which is poppy and swaggering, practically bulldozes through the Guyville city walls. Inspired by the Rolling Stones track 'Rocks Off,' it tells the all-familiar story of running into an old flame and seeing who 'won' the breakup. In this case, it is Phair's character who takes the high ground: 'And I kept standing six feet one / Instead of five feet two / And I loved my life / And I hated you.' In a 2018 track-by-track breakdown of the album, Phair commented, 'I'm so small, there's always a sort of momentary joke…to me, it's the encapsulation of what the rest of the record is going to be delivering. It's got that bravado that I manifest.'
Two tracks later, 'Glory' is a far cry from the braggadocio of the opening track, with Phair's vocals backed only by a muted guitar and a faint organ. The low, moody vocal performance allows us to embody an adolescent Phair, cornered by an older man 'snaking around in the club.' We feel her fear, but we also feel the tragedy of a one-time legend now 'scratching his face like a bum.' It is also the shortest song on the album at only one and a half minutes, because that is all Phair really needs to get her point across.
'Girls! Girls! Girls!' is one of Phair's earliest-written Girly-Sound tracks, remastered for Exile in Guyville and cut down from a whopping seven minutes to just two and a half minutes. Phair describes it best herself as showing how 'the knife cuts both ways.' In a 2006 interview she states that although '[she's] known for being annoyingly gender-focused,' she's aware that she's 'done plenty of stuff that's not feminist…used [her] sexuality to get what [she] wanted.' As the needling guitar sets a tense and agitated pace, Phair's voice is girly and sweet one minute, sultry the next. It is a humble track, quiet and steady in its confidence, merely stating 'I get away, almost every day […] with what the girls call murder.' Rather than trying to prove it, Phair trusts us to heed her warning. It is interesting that for an artist so often referred to as a feminist trailblazer, Liz Phair is so comfortable in admitting that it has not always been true. Her honesty and lack of apology is refreshing, and is part of what made Exile in Guyville such an overnight success – and what makes it so relevant 30 years later.
My personal favourite track on the album is 'Flower,' which is two minutes of an ominous, crackling guitar, a playground-style sing-song verse circling in the background, and a breathless, rather detached Phair sing-speaking the raunchiest, filthiest lyrics on the entirealbum. The song is obsessive, hypersexual, and shocking, contrasting Phair's droll and uninterested tone, reminiscent of an obscene prayer. It forms a perfect counterpart to the Rolling Stones' 'Let It Loose' and a candid expression of female lust that was rarely heard of at the time of release, shocking audiences. Despite the entirely un-quotable lyrics, live performances of this track are strangely wholesome, as Phair will often bring an audience member onstage to sing it with her.
The penultimate track on the album, 'Stratford-on-Guy,' details Phair staring down at her home city of Chicago from a plane window and the sense of detachment one feels when they leave their home. The name 'Stratford-on-Guy' refers to the pretentiousness of the indie rock scene in the Chicago of the late '80s and early '90s, where everyone is convinced they are about to be the next big thing. 'They felt like they were the arbiters of cool,' Phair told Rolling Stone in 2018, '[it's] me waking up as I travel out of there and just getting out of that neighbourhood and it all falls off [me].' This track contains some of Phair's more poetic lyrics in comparison to other tracks ('The stewardess came back and checked on my drink / In the last strings of sunlight, a Brigitte Bardot') as well as relatively strong vocals. Phair's belt-out skill improves over the course of the album, perhaps made stronger by the backing of a full band.
Despite its broad critical success, Liz Phair has often expressed humility and confusion about the reach of the album: 'it was so normal, from my side of things. It was nothing remarkable… I just wanted people who thought I was not worth talking to, to listen to me.' As it has aged, some critics have walked back their original ravings about the work, with Liz Phair never quite becoming the star everyone seemed to think she would be. But three decades later, Exile in Guyville still feels like a distinct place, a city full of ex- boyfriends and squatters and den mothers and flight attendants who look like French actresses. As Bill Wyman of The New Yorker puts it, it is 'part coming-of-age story and part systematic inquiry into the fractured psyche of American nineties womanhood.' So when you have an hour to spare this week, take a trip to Guyville. You will not regret it.
---
Enjoyed this? You might also enjoy:
Album Review: Blur – The Ballad of Darren
Essential Album: The 1975 – Self Titled
Single Review: FIFTY FIFTY – Cupid Remix ft. Sabrina Carpenter