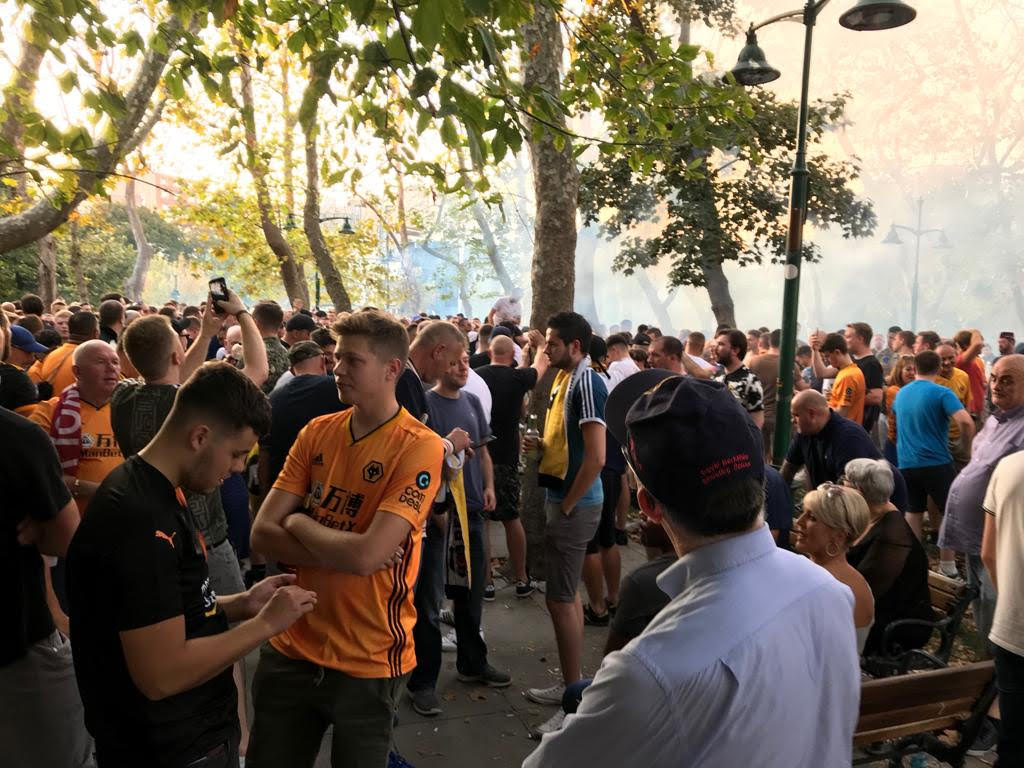 Die-hard Wolves fan Matt Grubb relives his trip to Istanbul and deconstructs the city's negative reputation for hosting foreign football fans
Content warning: This article contains references to violence 
Manchester United's UEFA Champions League clash with Istanbul Başakşehir on Tuesday night will trigger conflicting memories amongst football fans. Three weeks after Ole Gunnar Solskjaer's side suffered a shock 2-1 defeat in Turkey, the prevalence of a footballing outfit from Istanbul in the media will undoubtedly remind Liverpool and Wolverhampton Wanderers supporters of happier times. 
Wolves' European journey last season, that included a last-minute winner on the Bosporus, illustrates two important points. First of all, as I discovered going on six of Wolves' European away days, there are terrible misconceptions about following your football team abroad and none more so than about Istanbul. Secondly, the joyful celebrations of Wolves fans across Europe last year, in contrast to the haunting empty stadiums at present, serves as a reminder of what the game is truly about.
Istanbul has been heralded as a terrifyingly and perilous place for away fans ever since the infamous 2000 UEFA Cup semi-final violence. This saw two Leeds United fans tragically stabbed to death the day before their clash with Galatasaray. Ahead of Wolves' clash with Besiktas on 3 October 2019, I was deemed insane and stupid for travelling to Turkey for the game by almost everyone I told.
What the 900 Wolves fans experienced could not have resembled a sharper contrast. I was fortunate enough to go on away trips to Belfast, Turin, Istanbul, Braga, Barcelona and Athens last season, which were undoubtedly the best experiences of my life. I can say with great certainty that the safest I felt was in Istanbul. The fact that Wolves fans were based in and around the historic Taksim Square – where the bloodshed 19 years before took place – speaks volumes about the reality of Istanbul as a destination for away fans, and how unfair and untrue the misconceptions about its perils are. 
Any trepidation and nerves amongst the travelling faithful were quickly dispelled upon arrival. Despite being advised to avoid wearing club colours, many fans felt safe enough to ignore this. Hundreds of gold shirts were adorned across this magical city (which I would strongly recommend everyone visit as it really is spectacular in every way). Before the game kicked off, we had an unforgettable afternoon in the city's pubs and bars. They could not have been any more welcoming and friendly. Two separate groups of Fenerbahçe ultras walked up to us to shout "come on Wolves" out of spite for their cross-city rivals and Wolves' opponents. While there were hundreds of armed policeman and guards, this was predominantly an anti-terrorism measure which, in my experience, made us feel even safer rather than filling me with any apprehension. Fans enjoyed far more freedom, safety and protection than on any English away day. 
When centre-back Willy Boly scored an injury time winner with twenty seconds left on the clock, it triggered indescribable and unprecedented wild celebrations and delirium in the away end. The 1-0 win sealed the club's first three points of the group stage following a defeat in the opening game against Braga. Even as a fan who had followed the club home and away for many years, there are only one or two moments that are even remotely comparable. 
It is the memories of this night that illustrate why football is known as the beautiful game and what makes supporters love football. It serves as a crucial reminder that, while fixtures such as Tuesday's clash involving Manchester United are played behind closed doors, football will not really be back until it is creating memories like these in front of loyal supporters. This only makes the Premier League's £14.95 pay-per-view scheme, which has now been scrapped, all the more insulting and unforgiving to many football fans.
Wolves fans travelled home from Istanbul with memories to last a lifetime,  but also with a feeling of confusion over how the public and mainstream media have ended up being so wrong in light of one terrible night in early 2000. As 900 Wolves supporters found out in Istanbul, the truth can often resemble something completely different.
If this pandemic has taught us anything, it is to not take for granted luxuries such as live sport and travel ever again. So, to fellow football fans who are reading this, if your club plays in Istanbul in the coming years and you are able to go, then I assure you it will be worth it.
---
Like this? Check out more from Redbrick Sport:
Battle of the Sports: Shining Light Through COVID Darkness
Where Sport at UoB Stands in Lockdown