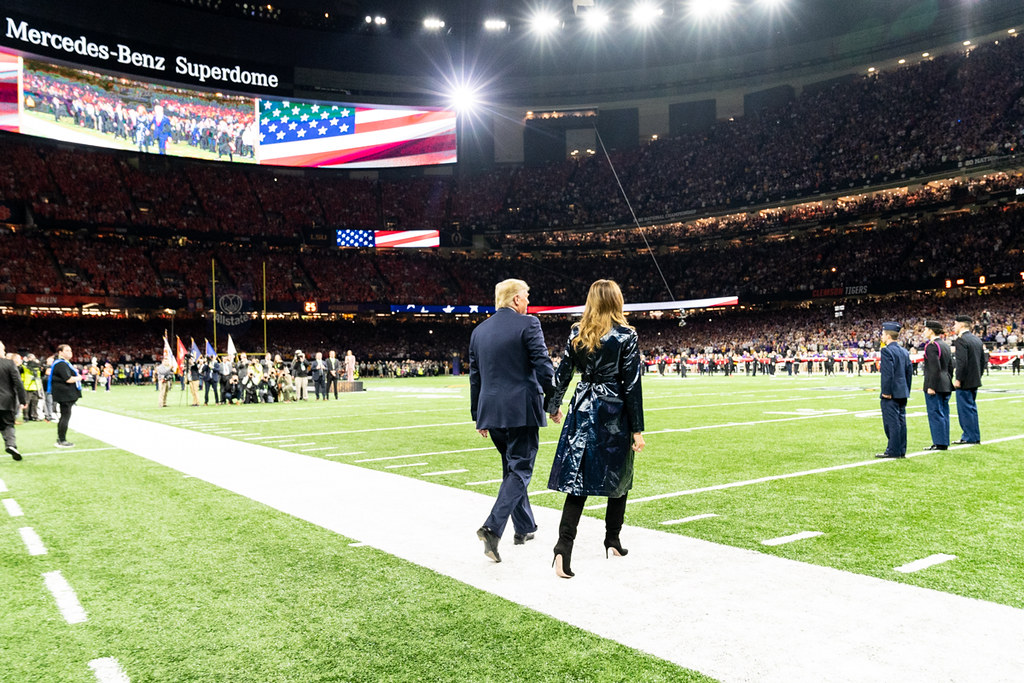 Sport writer Jasper Watkin discusses how the U.S. election will affect American sport at both collegiate and professional level
As the dust settles in Washington D.C., for now, I am sure I will not be alone in reflecting on what was a poor week for my sleep schedule and the nerves that came with it. That, and of course the close bond I now feel with the BBC's John Sopel after the U.S. election.
The heated administration of Donald Trump included many run-ins with different sports stars across the country. From Megan Rapinoe to Colin Kaepernick, his term in office has been full of direct altercations with outspoken sports stars, emphasising how blurred the lines are in American society between sports and politics. The president's relentless attacks on these athletes, however, seems to have come back to bite him. In recent months, we have seen an outpour of athlete activism across the world of American sport. LeBron James is heavily involved in the More Than a Vote group, encouraging African Americans to have their voice heard. Steph Curry openly endorsed Joe Biden. An MLB Star, Jack Flaherty wrote after Biden's victory, "you love to see it".
Whatever the next few months and years may mean for American society as a whole remains a complex and difficult to answer question. Included in this is what a Biden administration could mean for sports across the pond.
The most obvious outlier in this discussion is that surrounding the stark difference between the president and the president-elect's attitude towards dealing with COVID-19. For months we have seen stadiums across the world devoid of fans, having a knock-on effect to the finances of franchises in the NBA, MLB, and NHL. How Biden would aim to halt the damage of the virus was one of the foundations of his election campaign. In clear support of a national mask mandate and having already named a COVID-19 task force to tackle the pandemic as aggressively as possible from his inauguration. There is no knowing for sure at this moment how quickly Americans can expect to be returning to stadiums yet, but the news of a potential vaccine, Biden's diligence, and the elaborate plans to have NBA arenas up to 50% by December are all causes for hope for sports fans across the states.
Trump's administration has certainly had an impact for student-athletes participating in sports at a college level in the U.S. The Department of Education (DOE) under Trump passed a civil rights law under the name Title IX, which sought a number of changes to college sport. The most pertinent perhaps is the DoE's stance that the inclusion of transgender girls in cisgender girl's athletic events was a violation of Title IX, which seeks to guarantees equal education opportunities for women, including in athletics. Biden has also made his stance on this matter very clear in his election campaign promises, stating that on his first day in office he will reinstate 'Obama-Biden guidance' that will restore 'restore transgender students' access to sports.' A more accepting, non-divisive experience for trans athletes in American colleges could be within reach.
Often a hot topic of discussion surrounding college sport in the U.S. is on whether athletes should be able to profit off of their name, image, and likeness. Republican legislators have generally had less interest in NCAA reform in comparison to Democrats, as might be expected. A key element of the playing field now is that in Vice President-elect Kamala Harris, those for reform have a strong supporter in The White House. Whilst in the Senate, Harris was in favour of the college athletes' Bill of Rights, first presented by Cory Booker and Richard Blumenthal, senators of New Jersey and Connecticut respectively. The bill sought to even go beyond issues of profitability for athletes and extends to providing more secure medical care for injured players, as well as forming a board of current and former NCAA players to give a louder voice for athletes in relation to rule-making. With a keen supporter of this bill in Harris, there is more hope for those in favour of NCAA reform that they are being seen and heard by those at the very top.
Much is still up in the air surrounding the transition between POTUS 45 and 46, including what it will mean for sports. However, following the election, it certainly appears more hopeful for athletes at all levels across the country than had we been resigned to four more years of Trump.
---
Like this? Check out more from Redbrick Sport:
The Value of Amateur Football During the Pandemic
Politics in Football: Liverpool, Franco, and Brum