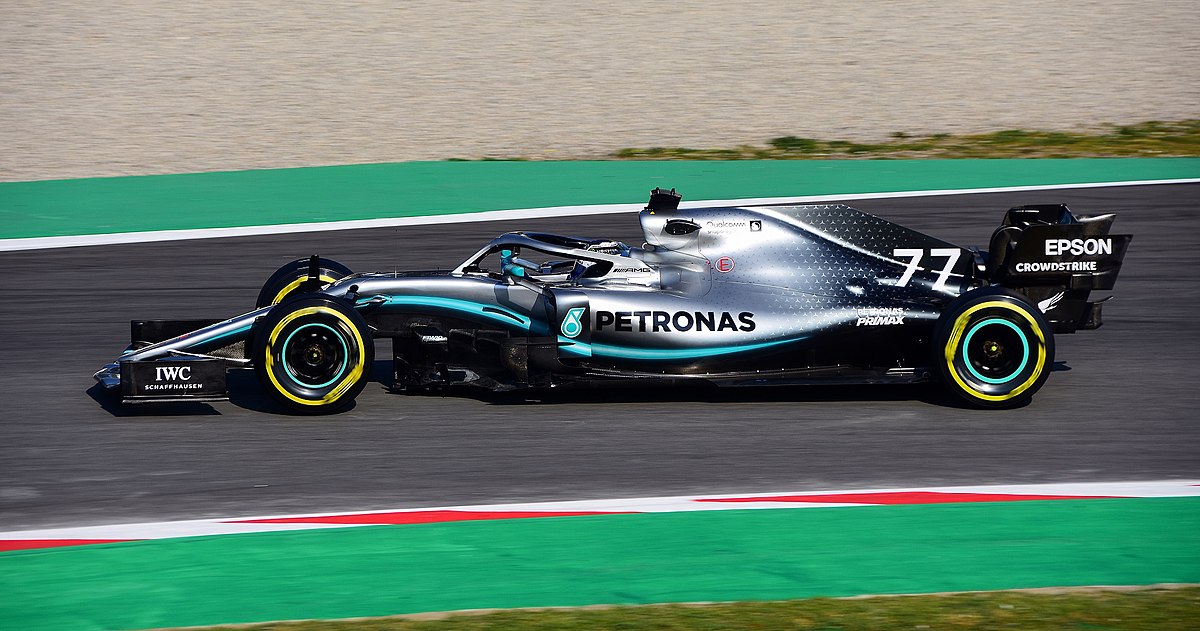 Gaming Editor Kyle Moffat ranks the Formula 1 constructors ahead of the start of the new season, as several teams welcome new driver
In the 2021 Formula 1 season, we will see a mix-up of drivers and teams. Seven teams have opted to change at least one driver and two teams have been rebranded. It will be interesting to see how the driver and team changes impact the Constructors' Championship. Let's see how I think the ten teams will finish in 2021.
10. Haas
It was difficult to choose between Williams and Haas, but I have some reasons for Haas finishing rock bottom. Since the 2018 season, Haas have gradually declined. In 2020, they earned just three points and that was with two very experienced drivers. Now, with two rookie drivers in Mick Schumacher and Nikita Mazepin, it will be difficult for the American team.  Even if the newcomers perform well, the car has been slow and will be near the back of the grid.
9. Williams
Unlike Haas, Williams have retained their two drivers from 2020. Granted, they are not very experienced, but they know the car well enough to earn some points. Nicholas Latifi might earn a couple of points if he is in the right place at the right time. George Russell, on the other hand, could reach double figures in points for the team if the car has seen improvements from last season. Both drivers can perform, but have been unlucky with Williams performance issues. If the car is just a bit better than in 2020, they can earn a handful of points and finish above Haas.
8. Alfa Romeo
If the Ferrari package has improved, we can expect Kimi Raikkonen and Antonio Giovinazzi to earn points for Alfa Romeo. How many points these two drivers earn is the big question. In 2019, we saw Raikkonen have a great season in the team, earning 43 points and finishing 12th in the Drivers' Championship. If you give him a car that suits him, his talent can be showcased. Meanwhile, Giovinazzi performed well compared to Raikkonen in 2020, so they have two drivers who can score if given the opportunity. One problem for Alfa Romeo, however, is having that opportunity. While I believe they will be competitive, the level of other constructors means they will not finish in the points regularly.
7. AlphaTauri
AlphaTauri occupy are one of the more curious constructors. They seem to be well ahead of the bottom three teams but catching up to the rest of the midfield will prove difficult. Luckily, I believe Pierre Gasly and Yuki Tsunoda can challenge the midfield pack and earn points regularly. Gasly had a decent season in 2020, winning in Monza and scoring 75 points. I expect him to score around 60 points this season simply because we have a 23-race calendar. As for Tsunoda, he could achieve 30 points. While they would like to challenge and earn a high place in the Constructors' Championship, seventh seems reasonable.
6. Alpine
Rebranding could spell success for Alpine, but I cannot see it happening in 2021. Esteban Ocon was disappointing in 2020 so based on those performances, he may not be at the quality Alpine need. As for Fernando Alonso, he is a solid driver, but many teams seem to be improving around Alpine. Alonso and Ocon can do well but it really depends on how the team begins the season. I would also not be surprised if Alonso and Ocon have a conflict at some point.
5. Aston Martin
Like Alpine, the newly branded Aston Martin could see success in coming years. However, 2021 is a season in which they just need to establish themselves. I am not so confident about the partnership of Lance Stroll and Sebastien Vettel. Both have had their conflicts on the track, so it could be a challenge for them to work together. They both can be professional so if they avoid butting heads, they can earn vital points for Aston Martin. Vettel has the much-needed experience that will help them earn points in the most challenging of situations. Perhaps Stroll can learn from Vettel and earn many points in 2021. Aston Martin overall could have a strong line-up, but it could also fail if Vettel does not regain his form and if Stroll lacks luck.
4. Ferrari
Partnering Charles Leclerc with and Carlos Sainz is an intriguing choice. Both drivers will be competitive and will want to be the first driver. At times, this could cause friction within the famous Italian constructor. Despite this, both are solid talents who can challenge the top teams and drivers. Leclerc has the experience of winning races, so he knows that when the chance arises, he must take it. Sainz is not a race winner yet but he is a very consistent driver. Overall, I think fourth is fair considering the mentalities of both drivers and the capabilities of other constructors.
3. McLaren
It was tough to choose between McLaren and Ferrari. In testing, Daniel Ricciardo looked incredible as he set some solid lap times. We all know he has ability, and he will earn some podiums in 2021, perhaps even a win or two. Lando Norris, in contrast, is not as experienced as Ricciardo, but I see him as a great talent who will contribute many points. In addition, McLaren have reverted to a Mercedes engine, which cannot be a bad thing and could be the deciding factor in the battle for third.
2. Red Bull
Sergio Perez was a wise acquisition for Red Bull. He will add experience and consistency where Alex Albon and Gasly could not. His teammate, Max Verstappen, has been the closest contender to Mercedes, and I expect nothing to change in 2021. Combining both drivers should allow Red Bull to secure second in the Constructors' Championship. There should be a comfortable gap between Red Bull and third place because of their driver quality. Even if Perez does not perform, I expect Verstappen to have another impressive season.
1. Mercedes
Since 2014, Mercedes have been completely dominant in F1 and I expect nothing less in 2021. Lewis Hamilton will likely win the Drivers' Championship once again and win at least half of the races. Meanwhile, Valtteri Bottas will again make many podiums and notch a couple of wins. Their power unit is unmatched on the grid, which will allow them to achieve pole position on many occasions, setting them up for success before races even begin.
---
Like this? Check out more from Redbrick Sport:
Is Manchester City's Dominance a Problem for Football?
India Fight Back to Level T20 Series
The Return to the Ricoh: Coventry City are Going Home