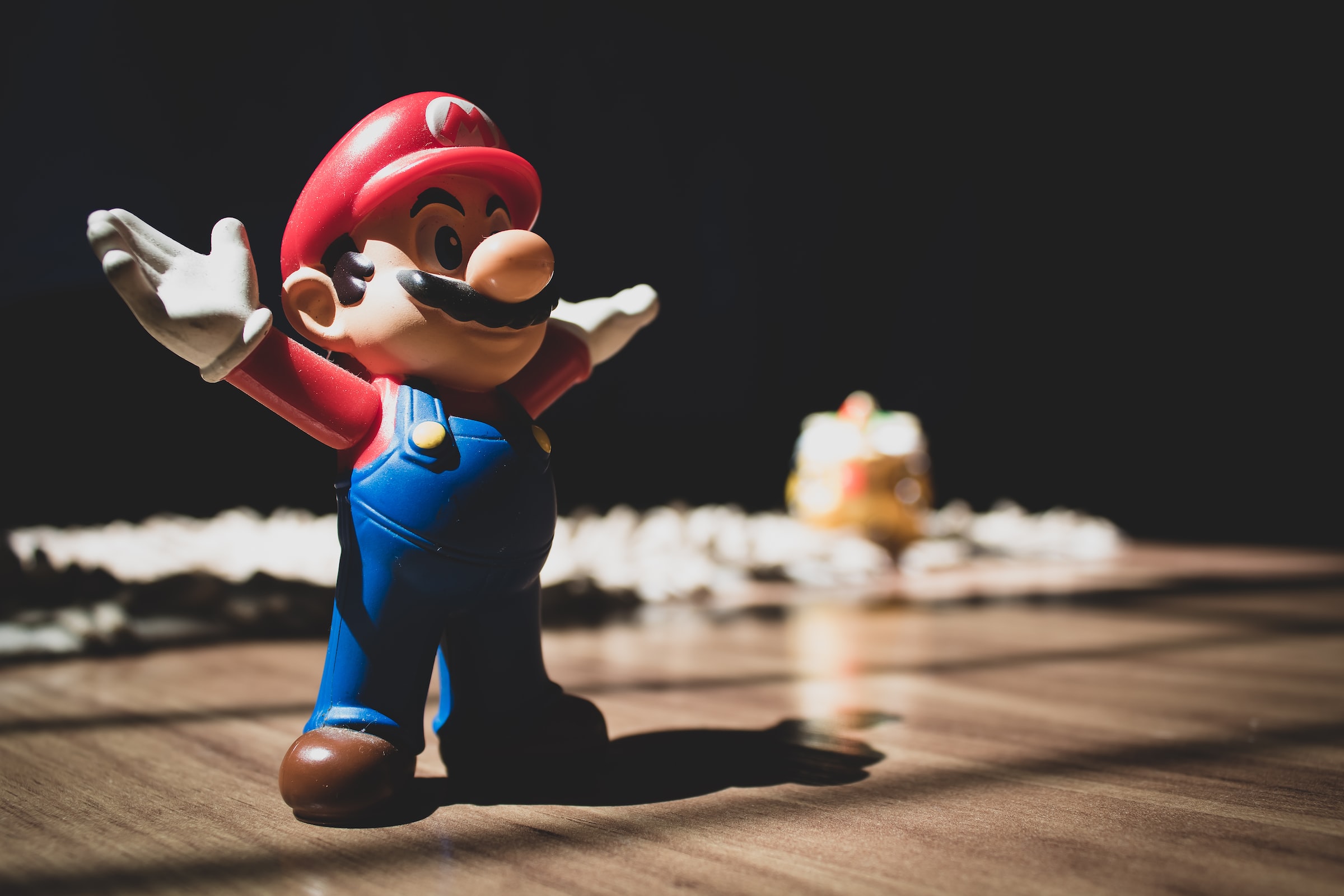 It's the 35th birthday of Super Mario this year, and doesn't he look young? Sam Nason takes a look back at the history of the jumpman himself.
The festivities of Super Mario's 35th anniversary have truly begun. Super Mario 3D All Stars celebrates three of the plumber's most iconic outings, while a huge range of clothing, gadgets and digital events have been announced to celebrate the occasion. Of particular note was the limited edition Game & Watch: Super Mario Bros, housing the original NES classic and its Japanese-exclusive sequel in a tiny, 0.15lb portable device. While its inclusion may appear rather rogue in a sea of more conventional anniversary tributes, Super Mario's history with the Game & Watch line of systems is more extensive than one may expect.
The Game & Watch handhelds were a series of portable games released from 1980 to 1991. Each system had an LCD game built in as well as a clock and alarm function – hence the rather literal name 'Game & Watch'. Most systems had 'GAME A' and 'GAME B' options, with the latter usually being a faster and more difficult version of GAME A. Various different models were released depending on the title; some occupied a simple, single screen setup; some took on a clamshell design, reminiscent of the Nintendo DS; and yet others attempted to emulate the look and feel of an arcade machine.
The handhelds symbolised Nintendo's earliest success in video games, shifting about 43.4 million units worldwide. Games available ranged from the generic and simple – for example the juggling game Ball – to the more popular and ambitious, like Mickey and Donald and Ice Climbers. Yet even at the advent of handheld gaming it was Nintendo's perilous plumber who stole the show, appearing in 11 Game & Watch adventures.
Mario's handheld debut arrived in the Game & Watch version of Donkey Kong, released in 1982. This dual-screen version of the arcade classic sees Mario traverse upwards to defeat Donkey Kong and rescue Pauline. As with most Game & Watch titles, this game didn't feature levels – rather one stage was repeated over and over with increasing difficulty, the aim being to accrue the most points. As you can imagine, this was one of the most popular Game & Watch units, selling 1 million copies worldwide. It was instrumental for two reasons; firstly for emulating an arcade experience in the palm of one's hands, and secondly for introducing the world to a method of control that would become staple for years to come – the cross-shaped directional pad, otherwise known as the D-Pad.
Donkey Kong was not the only Mario game adapted from the arcades; its two sequels Donkey Kong Jr. and Donkey Kong III also found their way to the Game & Watch in 1982 and 1984 respectively. Also appearing was the Game & Watch exclusive Donkey Kong II, an indirect sequel that played almost identically to Donkey Kong Jr but with different levels.
Mario Bros also appeared on the handheld – yet it was released in March 1983, predating the arcade game and thus being the first one to feature Luigi. As a result, the Game & Watch version of Mario Bros bears no similarity to the arcade version. In this game, Mario and Luigi must exchange packages from one side of a conveyer belt to the other, with the objective being to load them onto the truck at the top of the conveyor; players must contend with changing directions and juggle the two characters so the packages don't fall. Like Donkey Kong, this unit is also dual-screen, except the two screens are sideways, looking more like a book than a Nintendo DS. This allowed more convenient multiplayer in what was a cooperative game.
A slew of original Mario games were also released for Game & Watch units; Mario's Cement Factory and Mario's Bombs Away were two simple games both released in 1983, the former seeing Mario assume the role of construction worker, and the latter a soldier in Vietnam. Seriously. If 35 years of video games have shown anything, it's that Mario is nothing but versatile.
The following year saw two more Donkey Kong units released – Donkey Kong Circus sees the player having to juggle a number of items while moving around on a barrel, while Donkey Kong Hockey is a two-player game of ice hockey with external controllers. Donkey Kong Circus was one of the only Game & Watch units produced in full colour, and Donkey Kong Hockey was one of the only multiplayer systems manufactured. The differences between each individual game should give you an idea about the sheer variety of Game & Watch units, and their appeal to collectors.
The production of Game & Watch games continued past the arcades; Super Mario Bros was released in 1986 and saw the player traverse eight auto-scrolling levels filled with obstacles and enemies. Though shorter and simpler, the presentation of the game is similar to the NES version, making it a somewhat faithful recreation of the iconic original.
Mario the Juggler was released in 1991 and was the final unit produced. It is a rework of Ball, the first-ever Game & Watch game produced, with Mario themes and images. Given its later release date, this system contains more vibrant colours and drawn characters on its screen, making it more aesthetically pleasing than the games before it. A version of this game will also appear on the Game & Watch: Super Mario Bros system, meaning the legacies of Game & Watch and Super Mario are tied with their coexistence in this anniversary gadget.
Game & Watch was originally conceived as a watch that could double as a game to kill time. The fact the systems endeared for over a decade and developed the character of Mario epitomises the reach and success the systems enjoyed. Game & Watch: Super Mario is a celebration of the plumber's little known exploits on the early handheld market in a number of wacky and ridiculous roles. From ringmaster to soldier, Mario has truly done it all – here's to another 35 years!
---
Check out some more of our articles!
Fall Guys: Ultimate Knockout Review
Min Min Joins the Battle in Super Smash Bros. Ultimate