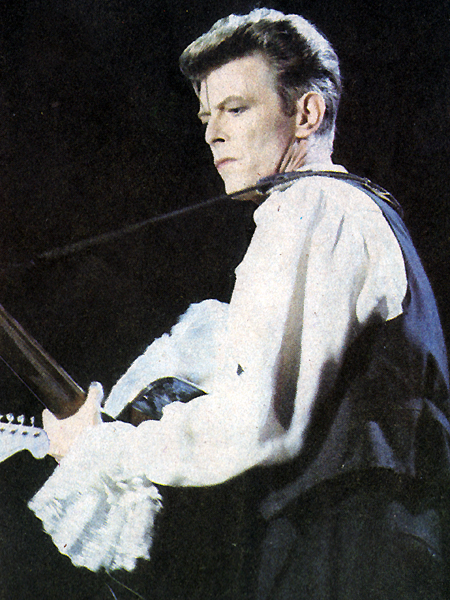 Deputy Digital Editor Dylan Lucas reviews and details the painstakingly chosen top five tracks that have shaped his life the most
This is a project I've had in the works for over a year; constantly shifting between who to include and tussling with my own Spotify playlists and Bandcamp didn't help. I just couldn't narrow it down to the point where I could start writing. This culminated in a, frankly ridiculous, list consisting of nearly 200 artists. At this point I decided I was being somewhat dramatic and instead decided to work with the 5 names which I felt held the most influence. 5 songs which have developed my taste and allowed this whole project to snowball into chaos. As much as it hurts to omit the likes of Radiohead, Funkadelic, Slowdive and Joni Mitchell, the following songs are my Greatest Hits.
---
Talking heads – 'Born Under Punches (The Heat Goes On)'
Remain in Light is arguably my favourite album of all time. It seamlessly blends elements of post-punk with afrobeat and ambient, throwing nods to the likes of Fela Kuti as well as Brian Eno (who provides production and some instrumentation across the album). 'Born Under Punches (The Heat Goes On)' is the perfect opener to this astonishing album. It introduces the listener to funk polyrhythms which define the album's never-ending groove, while also establishing David Byrne's staggering personality. The awkward gestures and shouty repetition of 'Look at These Hands' adds a layer of disassociation from the rest of song. In a way it's hypnotic, losing yourself in the heavily looped nature and prepares you for arguably the best experience of any studio recording. The track also features a guest guitar solo from touring band member Adrian Belew which wonderfully displays the chopped up and unique nature, which pulled me away from traditional guitar sounds and broadened my mind about what a post-punk group could sound like. More than anything, this album's influence on me comes down to how many artists it's introduced me to. Trumpet work from Jon Hassel has shown his own career, as well as those he's worked with; similarly with Eno. The sheer legacy of this track and album traverses so many landscapes from New York punks like Parquet Courts, to later solo collaborations between David Byrne and St. Vincent. Remain in Light has changed my life.
Björk – 'Black Lake'
Björk's discography is one which has influenced me greatly. Her willingness to completely overhaul her sound between albums makes her endlessly interesting and I've discovered a myriad of, now favourite, artists simply through their collaborations with her. Vulnicura is maybe my favourite of her works for its sombre blend of electronics and strings, intertwining beautifully with Björk's vocals. This is only boosted by the production work of Arca. Now an established electronic musician in her own right, with the fabulous Kicki, Vulnicura was my exposure to Arca and her Midas touch for the mixing desk. This is easily Björk's most melancholy release, with much of the content focusing on heartbreak and the title originating from the Latin translation of 'Cure for Wounds.' 'Black Lake' is the crown jewel of this, at a staggering 10 minutes in length, the track feels like the album's centrepiece. The beat is akin to a heartbeat, adding a claustrophobic atmosphere. It almost feels too personal to listen to, but this also feels like what Björk was going for. Björk introduced me to so many different moods and soundscapes; opened me up to so many genres and artists. Yet, Björk herself still feels like the queen of the Avant Garde in pop music, armed with one of the most creative minds in all of music.
Alice Coltrane – 'Something About John Coltrane'
My initial thought here was to include a work by Miles Davis, arguably the most influential career in jazz for me. However, while Sketches of Spain and Live – Evil have informed my opinions of jazz to no end, there's no work in Davies' career or anyone else's that quite matches the heights of Alice Coltrane's Journey in Satchidanda. This was the first jazz album to really captivate me and now, having listened to so many true gems of the genre, I've never found one that sounds quite like it. Coltrane is one of the few jazz musicians to incorporate the harp as a band leader, creating a gentle mood to the whole album which is only matched by the immaculate playing of her backing band. Most notably alto-sax player Pharoah Sanders of the John Coltrane band fame and double bassist Cecil McBee, the latter of whom really controls this song. The bassline is unmistakeable and is maybe the bassline I associate most with jazz as a whole, in spite of the genre's legends like Jaco Pastorius and Charles Mingus. 'Something About John Coltrane' can only really be described as tranquil, and for that it is maybe my favourite jazz piece of all time. 
Animal Collective – 'Summertime Clothes'
Perhaps the strangest song on this list (which is saying something), Animal Collective have made their entire career on being abrasive and bold. Yet, Merriweather Post Pavillion can be seen as their pop album. Compared with the seemingly intentional inaccessibility of their debut, Spirit They've Gone, Spirit They've Vanished, 'Summertime Clothes' feels much more like an intended pop classic. For me this did much to show me what pop music could be. It's weird, harsh and incomprehensible but undeniably pop music and that's a wonderful thing. Joyous and summery, it somehow feels danceable in spite of its feels (I see the pun and I do not regret it). I've played this song at parties to great success and even discovered the song on the soundtrack to skateboarding video game, Skate 3. It's a song which feels affirming and opened my horizons to simply being accepting of all music no matter how approachable or otherwise it might be. I have no doubt that 'Summertime Clothes' is the groundwork for my love of the modern PC Music scene and the likes of Charli XCX and Sophie, all of whom making pop music as weird as it is wonderful. 
David Bowie – 'Sound and Vision'
David Bowie carried a very large weight over my youth. He was beloved by my parents and thus, many of his songs were played in my home from a very young age, albeit not necessarily impacting me too greatly. I liked it but never truly listened. Then in 2016 he passed away. Suddenly there seemed to be a newfound resonance to his music. Despite being gone, his music made him feel more alive than ever. I listened to Blackstar, the perfect swan song, and finally felt connected to Bowie's works. However, it was trying his 1977 release, Low, which truly showed me what David Bowie as a character was all about. The album encapsulates everything magic about Bowie and this is best explained through its standout track, 'Sound and Vision.' Despite containing only one verse, and barely a chorus at all, the track carries so much emotional weight. Opening with a gorgeous guitar sequence before showering the whole track in synth, Bowie set a stage for what feels like his definitive moment. Of all the rock n' roll classics of his age, none have connected with me like Bowie has, and even fewer retained such consistently eclectic discographies right up to the end. With Low, and the other two instalments of the Berlin Trilogy, Bowie documented himself as the premier music legend.
---
Check out some more of our recent top picks:
BBC's Best of Glastonbury – The Highlights
Single Review: SKETCH – Do You Love Me Yet?
Album Review: HONNE – no song without you
EP Review: Oh Wonder – Home Tapes