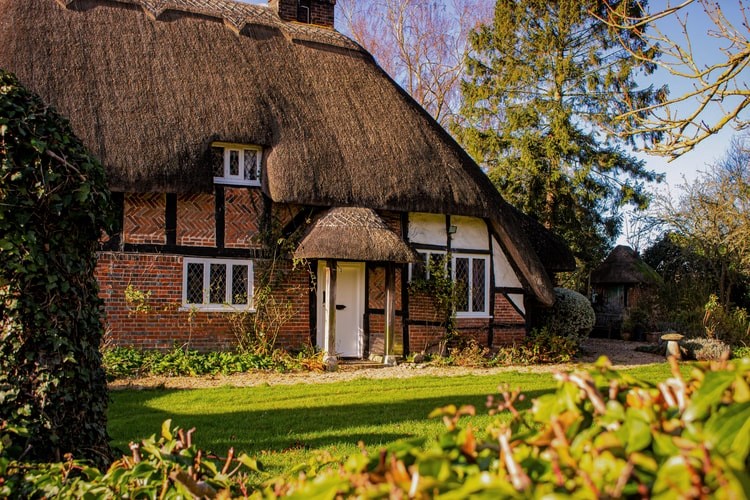 For the next edition of our aesthetics series, Life&Style writer Saskia Hirst walks us through 'cottagecore' and its celebration of idealised rural life
Foreword
Cottage core. Mmh. Sounds Romantic— the capital R Romanticism, I mean. Not some sort of one-star spin-off of Love Island for agricultural or country folk. In a nutshell, cottage core is minimalism: countryside edition. It's the modern-day romanticism, where an escape to the countryside is not only idealised but, as this paranormal pandemic has shown, a form of essential travel for even the busy, urban bees of Britain. Ah, a breath of fresh air.
At its extreme, it's aim is to retreat back to a more rural pre-industrialisation way of life, and I say extreme because some even milk their own cows. It's a very do-it-yourself aesthetic (and lifestyle) to say the least. Growing up in the nice and sunny countryside of Surrey, it's hard to imagine Cottagecore not being woven into my life somehow— quite literally. Cottagecore is a big fan of arts and crafts, with knitting and handmade woven baskets being no stranger to the soft aesthetic. Every Sunday when I was younger, it was tradition to go for a walk in the one of the many nearby woods and come home to bake a cake. By myself. From scratch. I know. This shocks me too, but somehow Victoria sponge was the best thing since sliced bread and this is an example of Cottagecore at its finest. Pat on the back to younger me.
All jokes aside, cottage core, like most aesthetics, is no stranger to perfectionism. But rest assured if you'd like to achieve this style or take inspiration from it because, really, it's hard to go wrong. It's all about being free-spirited and embracing minimalism, which thank God, includes minimal effort. So there's no real possibility of getting it 'wrong' or exclusion from the community for 'cherry-picking' which aspects to ditch or die hard for. In this way there's a lack of so-called 'gate-keeping' in the aesthetic. Refreshing. Cottagecore, however, it must be noted, is more than an 'aesthetic': it manifests itself from a way of living and is therefore a lifestyle too. But this brushed aside however, there are distinctly dainty, classic 'feminine' features of the look of this lifestyle that has made it so aesthetically iconic and so famous in a world that values a fast-paced, let's-get-this-bread hustle culture that is sure to eat away at itself. 
Clothing
One thing you might assume by now is that cottage core is about nature. You'd be spot on. Therefore, the colour palette of clothing should be neutral and of natural tone: white, brown, beige, green (khaki and olive are perfect), even a pale mustard yellow and some dark and light blues or pale pinks are welcomed. But bear in mind, pastels stray off course into the ethereal sub-genre, fairy core- so use these with caution. Pops of pastel in a flower crown or on a jacket for example is appreciated. Chefs kiss. Think Taylor Swift's new era of style that accompanies her very Cottagecore sister album series, folklore and evermore (the dream for cottage core enthusiasts). Desired patterns include simple floral prints and gingham. Plaid, to me, is also very suitable. 
If you like the appeal of this aesthetic, but (like me) adore pastels and colour, fairy core may be the companion you're looking for to Cottagecore. Likewise, if you prefer a darker style, it's sub-genres such as dark academia or gothic core may be better suited to your taste. Cottagecore is broad and has a variety of nostalgic sub-genres to say the least.
The aesthetic is linked to the lifestyle, so clothes are long and loosely fitted, as if made for gardening or farming- even though these clothes are realistically quite impractical for such tasks. An element of elegance graces the style- not at the same standard of the rosy, dainty fairy core, but textures of chiffon, lace and ruffles fit the aesthetic perfectly. Dresses are a must (if possible): be these gingham dresses, pinnacle dresses, an apron, midi skirts or loose fitting dress trousers. Layers are more than welcomed- a shirt under a floral dress for example is ideal. But it doesn't stop there: pockets, puffy sleeves and button-up blouses are classic looks when dresses aren't favoured. 
For flare, definitely include classics to the likes of lace gowns, milk maid dresses and tiered dresses. Silk, cotton, lace— these are the preferred materials for clothes, but feel free to opt for other materials so long as they fulfil other aspects of the aesthetic (or if you'd simply like to cherry-pick the style for inspiration, which I do). Embroidery is also welcomed and is a nod to the hobbies within the lifestyle. As with all aesthetics, it is up to personal preference. So don't let any of these prints, textures or colours ward you off if you like any other perks of the aesthetic. 
Accessories 
An element of effortlessness too, encapsulates this aesthetic. By consequence, flower crowns are a must: the look of being in the woods and swept through the brambles, but coming out as Mother Nature herself, or at least a not-half-bad attempt at a goddess. Claire's, yes- the kids shop, hits the mark on the most angelic and the best range of flower crowns you'll ever see. I promise. 
Felt bucket hats (hooray for us festival lovers), floppy or straw hats are also a good alternative to flower crowns. 
Dainty, simple jewellery like heart necklaces or DIY home-crafted earrings (for us less talented people, Etsy) or other jewellery pieces that resemble nature's creatures; leaves, butterflies, flowers, mushrooms- you name it. 
Ballerina flats (once again, not all the fashion is practical for ventures into the woods) or lace up boots pass the vibe check for the aesthetic. 
If you aren't feeling bold enough for a hat or flower crown, a vintage hair pin or simple ribbon will suffice as a beautiful substitute. Chefs kiss. It's all about the natural, with a little twist to catch the eye. I haven't seen this promoted in the aesthetic, but a bandana head scarf also seems a perfectly viable option. It has flair, boldness and a slight twist, giving a 1950s vibe and offering a little spin on the style that still falls within the aesthetic. It's shooting two birds with one stone. Speaking of hair accessories…
Hair and Makeup 
Down, half-up, braids, low space buns, low ponytail— anything natural-looking but elegant. Feel free to experiment within these styles, braids going into a space buns is a cute experimental cross between the accepted hairstyles. I personally think a fringe really tops it off but that is, of course, optional (learn from my a-level exam season mistake: don't do it at home). Keep your hands away from those kitchen scissors I beg. 
Makeup, as with the rest of Cottagecore, is minimal. The main feature is blushed cheeks and rose pink lips, but winged eyeliner is also surprisingly very popular. Fake freckles may be a good addition too- anything that achieves a youthful look. It's a very 'your-face-but-better' makeup, extenuating your features for a natural, youthful glow (God, don't we all wish we had one of those). Sadly, we didn't wake up like this. Cries.
Some last things to remember
Cottagecore essentially  boils down to mundanity— but glamorises it. As with all aesthetics, take what resonates and leave the rest. I, for example, avoid milk dresses at basically all costs, but like to fully embrace floral patterns and lace. 
Equally, it's all about smelling 'fresh as a daisy,' as if you, by some miracle, woke up from a flower bed in the forest. We wish. So it's safe to say Marc Jacobs will be your best friend. 
It's safe to say I admire Cottagecore, even if by now it only tangibly manifests itself aesthetically in floral dresses and flower crowns, and if I only partially experience the lifestyle with an odd walk in the woods and some hobbies. By some I mean watercolour painting, only watercolour painting. 
This is only a brief glimpse into the realm of cottage core, but, I certainly hope, is a useful springboard into the mystical aesthetic that has taken the internet quite by storm. The versatility of this aesthetic's flare and its roots in a lifestyle is what distinguishes itself from the rest of the internet's classic aesthetics. It is something we could, and should, all take inspiration from to seek peace in this pandemic . At its 'core', if you like, Cottagecore is a rejection of established society. In Cottagecore music itself, Taylor Swift's 'The Lakes' references Wordsworth himself, with the 'lake' being a nod to the Lake District, believe it or not. The aesthetic rejects the 21st century hustle culture and, like the 18th century urban revolution, at the crux of Cottagecore are hopeless Romantics breaking free. Unlike most things nowadays, it's timeless.
Enjoyed this article? We think you'll love these: