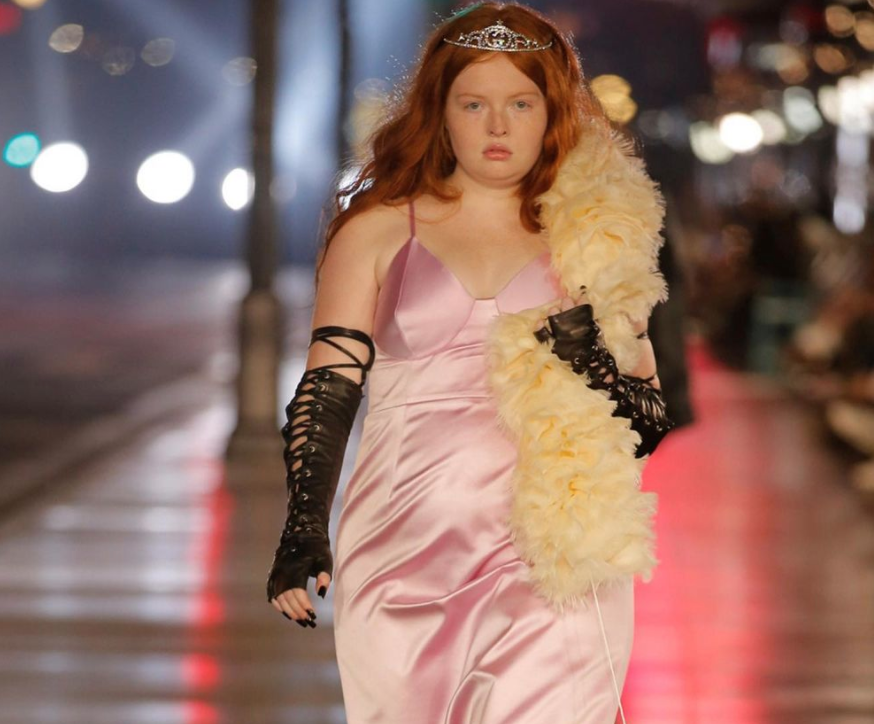 Life&Style's Georgia Quirke reflects on the issue of inclusivity within the luxury fashion industry, concluding that much more still needs to be done to tackle elements of tokensim and strive for genuine change
Content Warning: brief mention of suicide
Luxury fashion is repeatedly associated with exclusivity, rather than inclusivity. It is therefore undeniably refreshing to see more diverse bodies being recently represented. The industry is more diverse than ever, with an increase in plus-sized, disabled, transgender and models of colour walking the runway and featuring in advertising campaigns. However, this change raises the issue of tokenism; are brands are simply choosing more diverse models to portray themselves as an inclusive brand? The public are demanding true change and challenging the luxury fashion industry to remove its toxic history of promoting unrealistic standards. We want to see our body types represented on the runway and in campaigns, but with the knowledge that this representation is about more than just filling quotas and increasing sales, for the commitment to true diversity.
The rise in social media platforms in 2010 sparked the modern 'body positivity movement.' Luxury fashion brands came under increasing pressure to be seen as diverse and representative, especially for those from underrepresented backgrounds in the industry. Luxury brands are particularly known for promoting unrealistic beauty standards, marketing themselves with only one type of model; the size four, tall, white female models. With UK studies showing one in eight adults have suicidal thoughts over their body image, surely it is time for the fashion industry to change?
Luxury brands have an opportunity to accelerate change and strive for inclusivity. They have challenged the exclusion that the industry had been based upon and are more diverse than ever. The most recent season, Spring/Summer 2022 was the most racially diverse, with 48% of models being people of colour. Additionally, curvier models have quadrupled from Autumn/Winter 2021 campaigns. Ellie Goldstein became the first ever model with down syndrome to gain a high fashion modelling campaign, posing for Gucci's makeup line. We must recognise how far the luxury fashion industry has come
Diversity in the fashion industry has become a major buzzword, raising questions of whether this newfound diversity is a sustained change or simply for the sake of being politically correct and avoiding backlash? This has led to a sense of 'tokenism' in the industry, as people question if it is genuine progression.
This month Tess McMillian made history as the first plus-sized model to have ever walked the Gucci runway during the Gucci Love Parade show. This is long overdue, but we must question if McMillian's size fourteen (smaller than the national average) is really plus-size. Fashion currently categorises 'plus-size' models as anyone size twelve or above. With nearly half of British women a size sixteen or above does this really encompass diversity? Size fourteen model Jill Kortleve featured in the Chanel 2020 campaign as 'plus sized' caused a stir as the public took to twitter, with one user writing 'She is literally a normal sized woman – a medium. Ugh the fashion world…'. We must question whether these luxury brands see body diversity as nothing more than an opportunist exercise in public relations and image.
The question of tokenism is epitomised in the fact that despite luxury brands having diverse models on the runway and in campaigns, women still find it difficult to find clothes that fit properly. Myla argues that this is because 'high end fashion brands don't cater towards big bodies at all as they hold the ideology that plus-size bodies somehow don't like to dress up.' We must continue to challenge luxury brands who fail to produce products in the full range of sizes and shapes. When brands are faced with questions as to why they are not making a greater range of sizes, they often cite financial implications. This avoidance is simply not good enough.
It is fair to say that luxury fashion has a long way to go before genuine diversity is achieved. Despite progress, the industry is still falling behind in tacking inclusivity. Luxury brands need to increase efforts to drive change and open up new opportunities. Additionally, the idea of tokenism remains blatantly apparent, especially with the supposed plus-sized models only being a size fourteen – smaller than the national average. Luxury brands need to reinforce that diversity is not just a 'trend' or a numbers game, but is here to stay. I hope consumer activism and social media will challenge brands to encompass lasting change. The more diversity in the fashion industry the better. After all, we all have different bodies and size is just a number. If we all stand for diversity in the luxury fashion industry undeniably, we all thrive in a more inclusive fashion community.
---
Read More from Life&Style:
Love Island and the Issue of Tokenism
Reading and Leeds Festival: The Lack of Female Artists