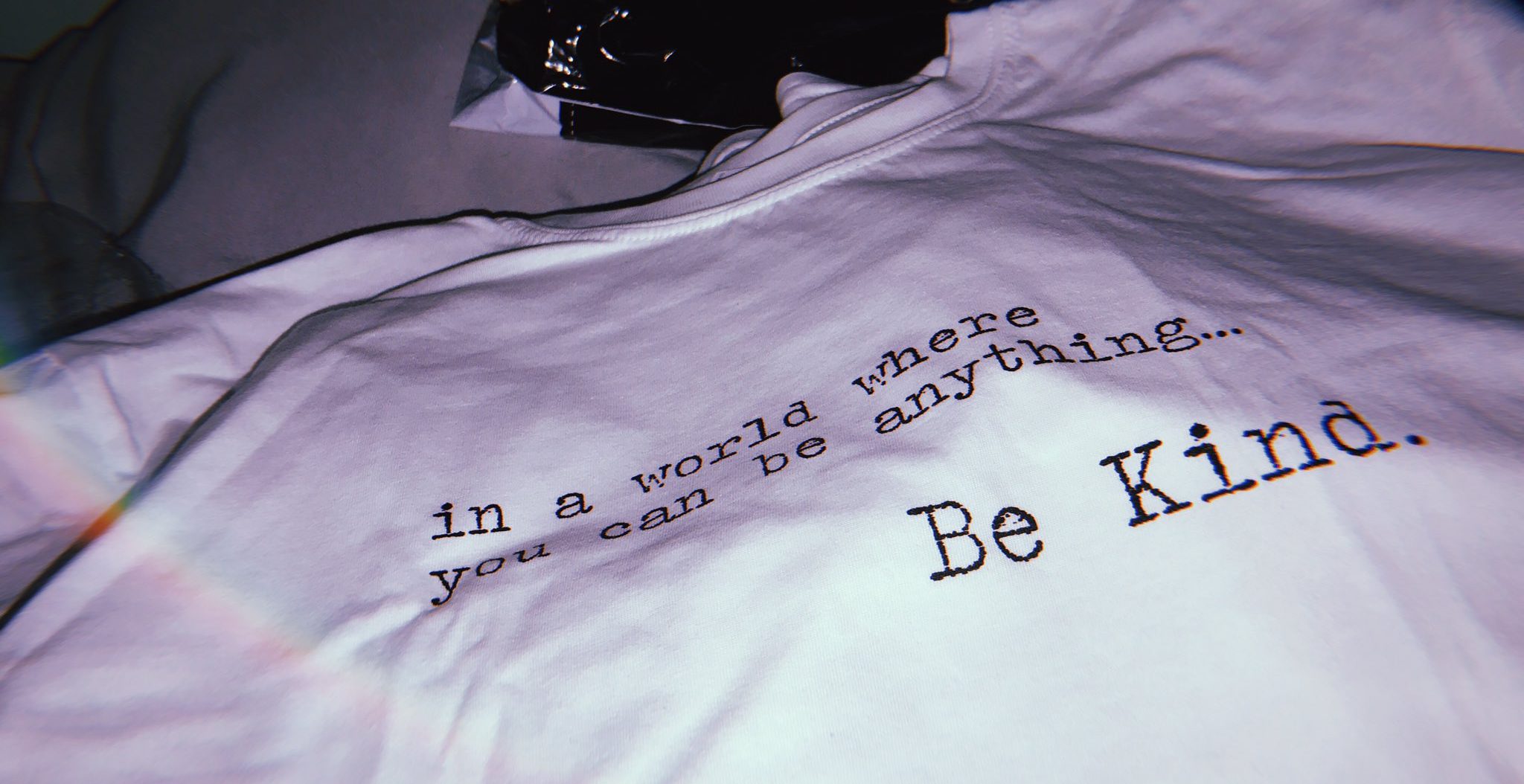 Life&Style's Niamh Nicholls celebrates fashion brand InTheStyle's decision to release #BeKind t-shirts in light of Caroline Flack's death, raising over £200,000 for charity
Content warning: This article discusses suicide and mental health.
InTheStyle, following the tragic and unfortunate death of TV host
Caroline
Flack
, have released a t-shirt with a quote that
Flack
posted onto her Instagram account in December saying, 'in a world where you can be anything, be kind.' News of
Flack
's death left many fans in shock and has sparked discussions on mental health and how we should be kinder to others.
Flack 
had been harassed by media in the months leading up to her death following her alleged assault on her boyfriend and often posted on her Instagram account calling for people to be kinder to one another.
To help raise awareness and promote Flacks plea to be kind to people, InTheStyle are selling the t-shirts for just £10, with all proceeds being donated to the Samaritans, a charity which supports people battling with mental health and suicidal thoughts.
Selling out instantly and raising an incredible amount of over £200,000 within a day, InTheStyle hopes the t-shirt will '[raise] further awareness to mental health and the impacts surrounding this.' The brand is making no profit at all, and instead are making a loss as they are not charging delivery fees, amplifying the brands desire to raise awareness of how we should treat each other. A spokesman from the company claimed, 'The sole purpose of these #BeKind tees was to spread love, raise awareness and donations for charity and it's definitely done that,' further stating that the 'money raised will have such a huge impact for so many people who need it.'
InTheStyle isn't the only clothing brand to spread awareness following
Caroline
Flack's untimely death. Molly-Mae Hague, who is in partnership with the online clothing store PrettyLittleThing, also confirmed that she will donate 100% of her proceeds from her most recent PrettyLittleThing collection to a mental health charity called Mind. In a recent Instagram post the Love Island star announced, 'PrettyLittleThing and I will continue to support this matter which is close to our hearts. Please from the bottom of my heart remember, Always Be Kind.'
Many people have been praising these fashion brands for all their efforts and dedication into honouring
Caroline
Flack
and continuing her message of spreading kindness. Sam Faires reacted to InTheStyle stating, 'This is amazing guys [clapping emoji] so thoughtful [love heart emoji],' while Molly-Mae Hague received praise for her gesture by many influencers such as last year's
Love Island
winner Amber Rose Gill who responded 'Amazing Molly' under Molly-Mae's Instagram post.
With the money brands are donating to charities which focus on mental health, along with the messages they are spreading promoting kindness, hopefully change can come about on how we treat people and how to communicate with people who are struggling with mental health.
Caroline
Flack
's upsetting death shocked people, but also opened our eyes to how we should be mindful of people's feelings, showing we never truly know what can be going on in people's lives.
---
You might like: