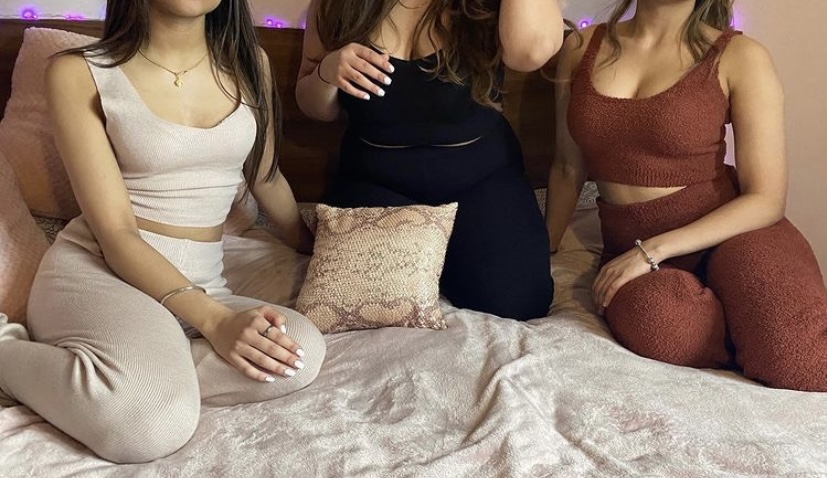 Life&style Editor Emma Stephenson interviews the Birmingham student who has launched the black-owned, female led business REIGNSZN
On the back of last year's Black Lives Matter movement, Birmingham student Ekbal Sabil and her friend Adaline Opare-Anim decided to start their own black-owned business promoting women and black entrepreneurs. Their first loungewear collection for REIGNSZN sold out in 12 hours. I had the opportunity to interview them about their new brand.
What inspired you to start your business?
As BLM died down in the media, we saw the same brands that had promised to do better go back to their old whitewashed habits. We wanted to see more diversity so we decided it was time to take matters into our own hands and create our female led, black-owned business.
Where did the name REIGNSZN come from?
Adaline was brainstorming, and she wanted the brand to be viewed by and representative of powerful women hence why the first part of the name is REIGN. She played around with other phrases before coming up with the second part SZN which I feel ties in with the modern way we sell and promote our products, and our general approach to seasonality.
How do you design/source your products?
When it comes to designing our products, we like to involve our customers with selecting what we should design and source next. We encourage them to send us ideas of what they believe would make our brand stand out. Once we have an idea we tend to ask our followers for their thoughts using Instagram polls. Based on the feedback we receive from our followers, and talks with our suppliers, we decide whether we should progress with the idea and how large the range will be.
This is a process we are currently working through for our summer pieces, which we believe will include some much-requested sweatpants and sweatshirts as well as some other lounge pieces. We contact our supplier with all of our ideas detailed in a tech pack, have a sample made and then work from there! Sometimes samples have to be tweaked and sometimes they have to be totally scrapped and we have to go back to the drawing board – it's a very fluid process. If we are satisfied, with the sample's appearance and how it looks on (we always test our samples ourselves), then we progress to buying in bulk from our supplier.
We decided that as a small business it's in our best interest to source our products from a well-established supplier, as it gave us the ability to build and develop a strong relationship with the supply team and means we can easily scale up in future if needed. We want to ensure that our products are made to the highest quality by people with lots of experience.
What does it mean to you to be customer focused in business?
Our customers are our main priority and our first thought. As we believe diversity is vital in our business, we aim to establish a positive mutual engagement with all our customers. When we first announced our business online, we received a lot of suggestions and feedback on what people wanted to see in our collection, and this allowed us to create loungewear which sold out in the first 12 hours. As we work on our next collection, we are keen to increase the types of loungewear we offer so we can cater to more audiences.
Is being black-owned important to your brand?
For sure! There is a huge issue with the under-representation of black people in the fashion industry, particularly when it comes to leaders and owners. The resurgence of the BLM movement brought visibility to many ignored issues in society, starting with looking at blatant racism and ending with recognising the lack of representation black people, and other people of colour, have in predominantly white spaces like the fashion industry. As two black females, we continually struggle with finding fashion brands that represent us. As a brand, we want to celebrate inclusivity and diversity, and we believe our first focus for that should be racial diversity.
What is your policy on sustainability?
We have done our best in to be conscious of sustainability when creating the business. At the moment, our packaging is as harmless to the planet as possible. We changed our vinyl stickers to recyclable paper stickers following our first launch, which means all of our packaging is now biodegradable or widely recyclable and totally plastic free. We are still actively looking for more ways to improve our sustainability, one of which is working towards producing clothing from recycled and environmentally friendly materials in future.
How has Instagram played a role in your business model? Will you stick to this platform? 
Instagram has significantly contributed to the growth and success of the brand so far – it had been an amazing marketing tool for a small start-up business like ours to expand our business' reach and engagement. It has given us the ability to interact with not just our current customers but to also reach potential new customers. We currently sell through the direct message feature and this gives us the unique opportunity of being able to speak directly to customers in a "return to brick and mortar" style approach to customer service. We will definitely continue to use Instagram as our main social media platform in the long run to maintain the interactions and updates between us and our customers!
What comes next? Where do you see yourself going with this project in the future? 
Over the next few years, we definitely want to see our business expand. We have already experienced a really amazing amount of growth gaining over 700 followers since our launch on 15th January. We are looking to be able to ship internationally and to also offer a made to measure option by the end of this year to create an inclusive space as we recognise all women come in different shapes and sizes! We're really excited for our brand to grow and become even more inclusive.
---
Read More From Life&Style Here:
How Pinterest is Promoting Inclusivity in its Beauty Search Results
Not Your Bitch: Why the Dictionary Definition of 'Woman' Needs to Change
Spotlight On: The Resurgence of the #MeToo Movement