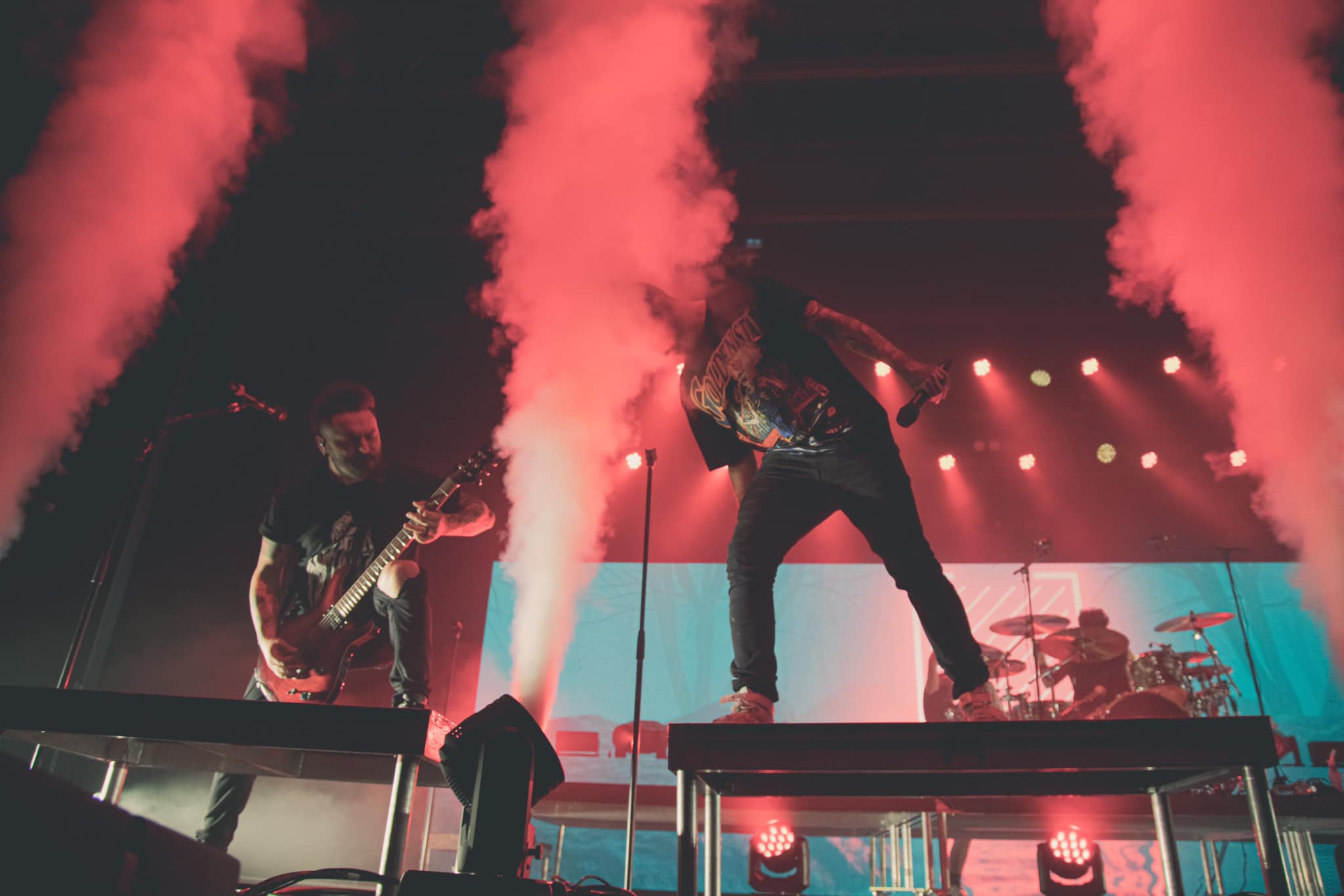 Film Editor James Evenden reviews I Prevail's show, praising their unrelenting intensity and control of the chaotic audience
This Mother's Day, after I phoned my Mum of course, I went to a gig that entirely and enjoyably lacked the sweetness of the holiday. Much to my excitement, and I'm sure the excitement of other metalcore enthusiasts, I Prevail are back, and back with a vengeance at that. Their True Power tour truly took over the O2 Academy on Sunday night, with a show that whilst focusing more on the clean vocals of Brian Burkheiser, still managed to turn the venue into a captive audience of mosh pits and brutal screams. I Prevail's show cements what they do so well, marrying pop-metal and metal into a rageful blend. With their undeniable stage presence, killer set list and fun roster of supports, I Prevail's return this past Sunday was a display of their true power (sorry, I had to at least once).
Starting off the night with the supports of Blind Channel and Trash Boat, these two sets warmed up the crowd for the headlining set that was to come. Blind Channel's recent Eurovision springboard has given them the platform to share their brand of nu-metal that appropriately compliments the poppier side of I Prevail's dual sound. Following this was Trash Boat, with a heavier set that took a step away from their pop-punk roots. Focusing mainly on their rockier sound from their 2021 record 'Don't You Feel Amazing?', the band had time and confidence for a great cover of Linkin Park's 'Given Up'. In an emotional tribute to the late Chester Bennington, and a quick appearance from I Prevail's Eric Vanlerberghe on the unclean vocals, the two support acts effectively livened up the crowd, who to be perfectly honest, did not need much of an excuse to start pushing each other anyway.
Then it was time for I Prevail. Starting off with the electronic inspired 'There's Fear in Letting Go', the opening song signalled a grand entrance for the band. With the ominous opening drums from Gabe Helguera, the tension was palpable from minute one. I Prevail had total control over the rhythm of the crowd, and as they waited with bated breath for the beat to drop, the opening song set the tone for the controlled violence that was to come. Then, as the monstrous 'Body Bag' came on, the crowd went insane. The opening scream from Vanlerberghe practically split a hole in the venue itself. Putting 'Body Bag' after the opener was a smart move because it allowed the energy to ebb and flow along with the cleans and the uncleans. 'Body Bag' is a truly ferocious track, and the screams that it issued are bound to put a huge smile on anyone who even casually enjoys metal.
As the set went on, there were some drops in energy levels, which is to be expected from such an intense show. When this happened, it was the pure stage presence of the band, and notably Vanlerberghe that kept the set roaring along at what felt like breakneck speed. I am a relative gig novice, but seeing Vanlerberghe simply standing there and watching the chaos his vocals created was a sight to see. His persona remained iron clad throughout, making sure to lower his steely gaze at points to thank the crowd and convey his and the band's gratitude after their COVID hiatus.
This is not to say that the uncleans are the only reason to go to an I Prevail gig. I am not always a fan of the band's Americanised clean vocals, and the band's recent EP True Power had a greater emphasis on the cleans than I would have preferred. It makes sense that a True Power tour would mirror this, and whilst this show did not change my opinion on the cleans themselves, seeing them live showed me their value in their sets. I Prevail do not slow down for anyone but themselves, and the cleans from Brian Burkheiser brought moments of magic, particularly on fan favourite track 'Hurricane' and 'Deep End' from True Power. They provided welcome moments of respite, and whilst I am not the biggest fan of how they sound at times, their implementation has to be applauded.
All of this culminated into a killer encore, with the duo of 'Gasoline' and 'Bow Down' delivering the heaviest moments of the night. I love these two songs, and seeing them live was a real treat. I Prevail gave their everything, and their captive audience did the same without hesitation. I am not exaggerating when I say that the noises Vanlerberghe made in 'Bow Down' were nothing short of inhuman. The putrid screams and cries ended the show in true metalcore fashion.
I Prevail's Birmingham show was an unrelenting showcase of their command of the metalcore genre. A set that infused their multitude of styles, with an emphasis on pop-metal with a bit of rap-metal for good measure, I Prevail announced their return in the only way they know how, with a frenzied hour of unforgiving screams, energetic instrumentals and an impressive stage presence. I Prevail know you are watching them, and their gig showed they don't intend on slowing down anytime soon.
---
Enjoyed this? You might also enjoy:
Live Review: Bullet For My Valentine