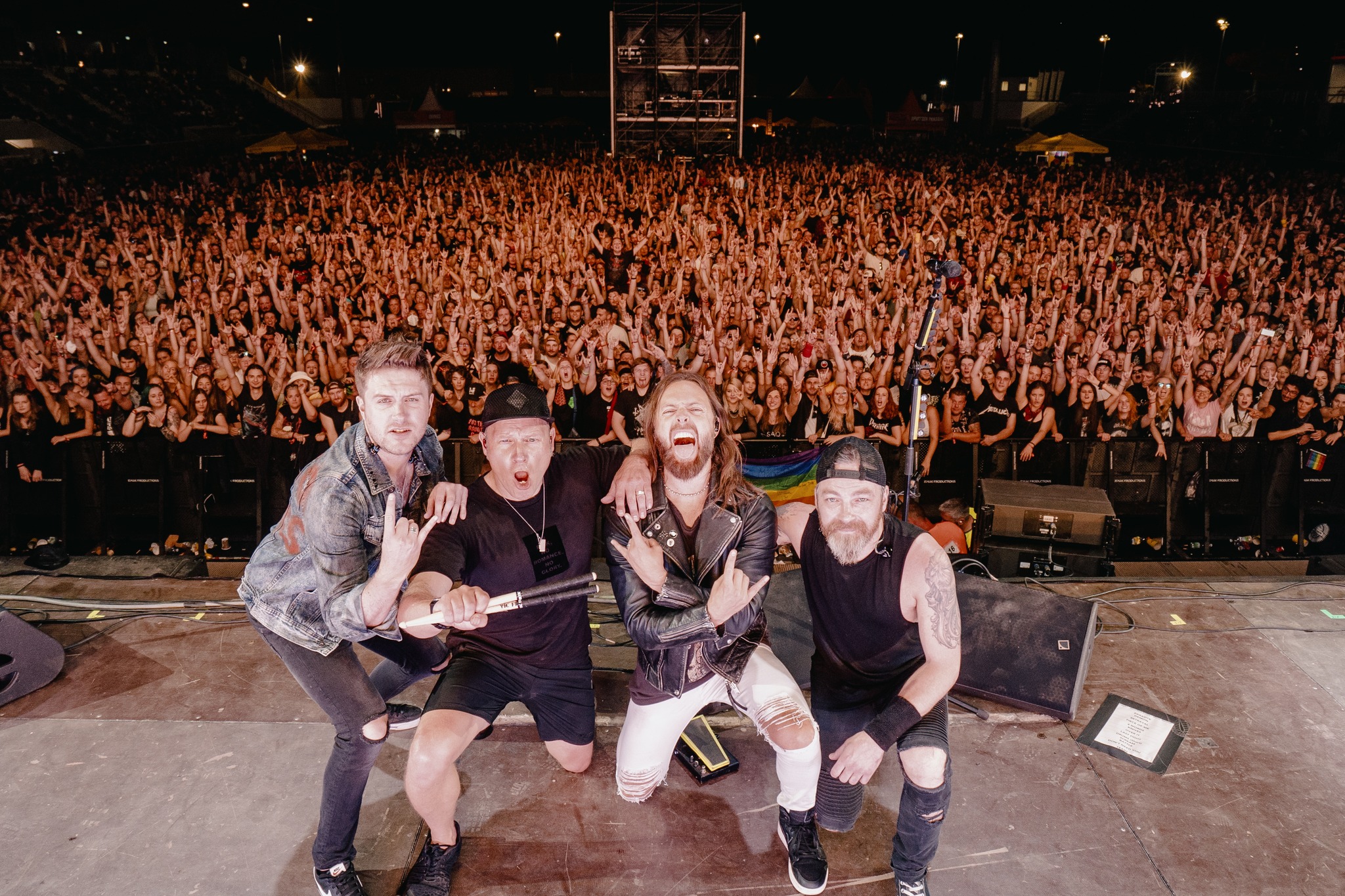 Music Critic Danielle Ramiah reviews Bullet for My Valentine's Birmingham show at the O2 Academy on the 7th March, describing it as "a buzzing atmosphere"
In honour of the 'RAWRing 20s' (I know, I'm sorry), I had to check in with melodic metalcore veterans Bullet for My Valentine at their latest gig at Birmingham's O2 Academy. The band's newest release in 2022 – the deluxe version of their eponymous album – presented fans with gruffer vocals and heavier guitars than ever before. I was intrigued to see how these would hold up in a live performance; had the group matured gracefully or simply passed their mid-2000s prime?
Upon arrival I was greeted with a queue that stretched around the length of the building. Wide-eyed concert goers commented on how the venue must have been sold out, and it certainly felt so once inside. Admittedly, the Welsh four-piece heavy metal band seemed to attract a slightly older audience, yet the buzzing atmosphere spawned from fans' collective pre-gig excitement meant I did not feel out of place at all.
The evening was kickstarted by Californian metalcore quintet Atreyu, whose undeniable stage presence, solid vocals and stellar crowd interaction made for an outstanding first act; their ability to conduct a crowd of metalheads to sing Whitney Houston's 'I Wanna Dance With Somebody' was particularly amusing, too. Then followed Ukrainian progressive metalists, Jinjer: their frequent djent-style tempo changes may not have been as well-received, however, the chilling growls of lead singer Tatiana Shmailyuk highlighted undeniable talent (her neon green, glow-in-the-dark bodysuit was equally unforgettable).
Energy in the venue rose once again as Bullet took the stage, jumping straight in with 'Knives' – a satisfyingly heavy track all round that made for the perfect opener. It was fitting to hear frontman Matt Tuck scream 'Let the madness begin' as a mosh pit
opened up straight away, only expanding as the night went on. An array of drumbeat-commanded flashing lights painted an appropriate, albeit basic, backdrop throughout the set.
The choice to follow with 'Over It' and 'Piece of Me', two tracks from the poorly- received album Gravity, did not have me entirely convinced (although the moshers remained ever-dedicated to their cause). The band brought it back, however, with '4 Words (To Choke Upon)' from their 2005 debut The Poison. The anthem not only contains dirty breakdown riffs, but also an empowering message of success despite criticism.
Tuck soon revealed the band's intention for the night to alternate between their old and new material, particularly due to the 15th anniversary of Scream Aim Fire. This strategy was excitedly cheered on by a nostalgia-driven audience who were able to
chant the lyrics to any song, no matter its place in the band's discography. 'You Want a Battle? (Here's a War)' came next, followed by the gentler, almost pop-punk sounding 'Hearts Burst into Fire' – an enjoyable tune, even for nonmetal fans.
As expected with Bullet the rest of their setlist did not stray drastically from the norm, and their three-piece encore of 'Your Betrayal', 'Tears Don't Fall' and 'Waking the Demon' was as strong as ever. A particular highlight was the whole room singing
along to the acoustic version of 'Tears Don't Fall' that preceded its heavier rendition.
Although more crowd interaction would have been appreciated, the band has come far enough for the music to speak for itself, at least among pre-existing fans. That being said, one sore throat, a couple crowd surfers and the odd bruise later, it is safe to say a good night was had, and emo never died.
---
Enjoyed this? You might also enjoy:
Eight Songs To Listen To Right Now